Learn what egift cards are, how to make them egift cards personal, pick out the best egift cards and avoid digital delivery pitfalls.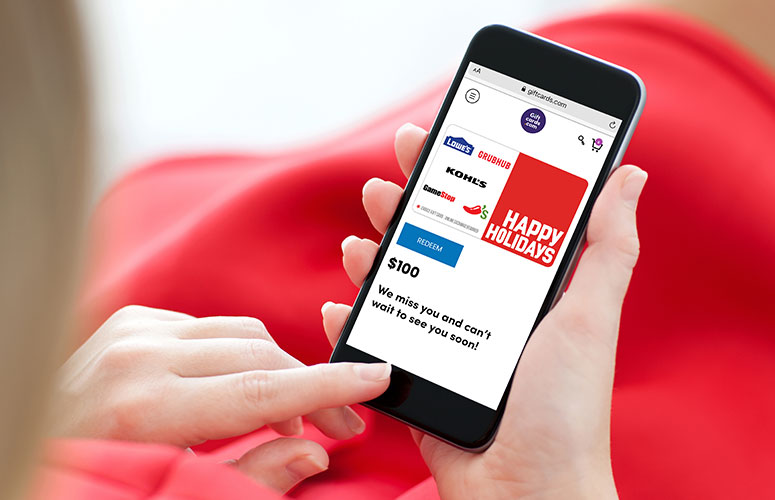 Are you ready for the world of mobile gifting? A couple of years ago, I would have answered "no" on your behalf, but things have changed. The technology is working and we've become cyber-savvy people who are accustomed to receiving our most important communication electronically. However, business messages, calendar reminders and other electronic announcements are expected to be void of sentiment. That is not the case with egift cards. As givers, we must put as much thought and effort into delivering digital gifts as we once put into picking out traditional presents.
In the guide below, I'll share my signature approach to making egift cards more personal, help you pick the best egift cards and tell you how to avoid digital delivery pitfalls. Let's start with a few definitions, though, to be sure we're all talking about the same thing.
What's Inside
What are eGift Cards and How Are eGift Cards Delivered?
How to Make eGift Cards More Personal
How to Make Sure eGift Cards Get Delivered
---
What are eGift Cards and How are eGift Cards Delivered?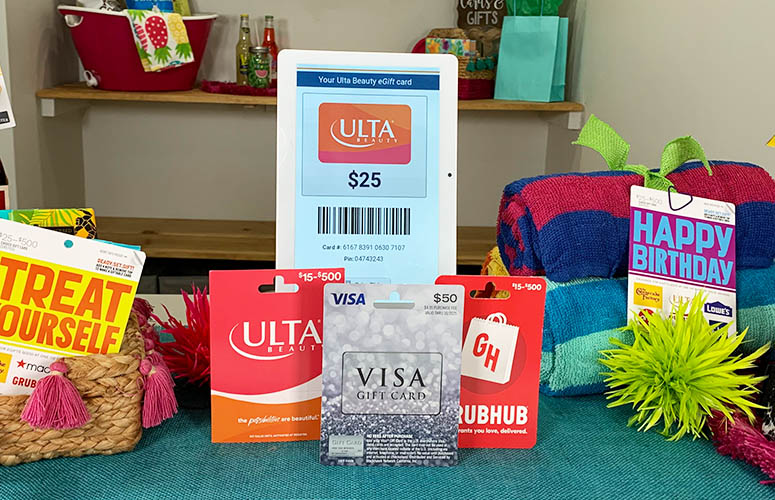 Short for electronic gift cards and known by various other nicknames (e.g. digital gift cards, gift codes, egift card codes, virtual gift cards, etc.), egift cards refer to gift cards that are delivered electronically. Simply put, an egift card is a gift card number without the physical "card." More accurately, it is a number linked to a gift card account that is redeemable for service or merchandise.
While many people are comfortable using egift cards online by entering the number into an online shopping cart, not everybody is aware that most digital gift cards can also be used in stores. Since there is no plastic gift card to swipe, the card number must be manually entered online or at the cash register. Some gift codes are also displayed as bar codes or QR codes so they can be scanned. (Read more on how to shop with egift cards.)
Pictured above are several physical gift cards on a table plus an Ulta Beauty egift card on a mobile device. As you can see in this picture, the Ulta Beauty egift card contains a bar code that can be scanned in stores plus the card number and personal identification number (PIN) that can be redeemed on the Ulta website. Both the physical and digital Ulta gift cards pictures can be used in stores and online.
In general, egift cards are delivered via email, text message, social media or mobile app, but email delivery is BY FAR the most common.
---
Top-ranked eGift Cards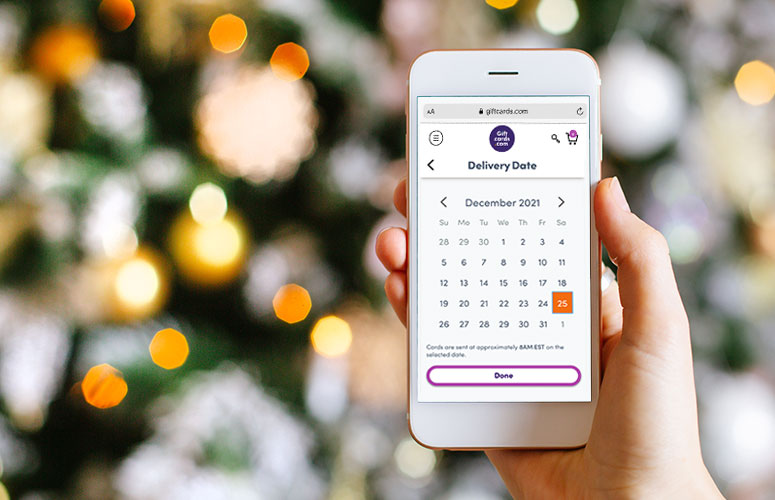 In my opinion, the best egift cards to give are the ones that provide the best possible experience for both the giver and the receiver. Frankly, I care less about fancy technology than ease of use and personalization. In reviewing the best egift cards on the market, I focused on the following criteria:
1. Design Variety
Since egift cards don't have to be ordered and held in inventory like plastic gift cards do, the best egift cards include a wide selection of designs. Lululemon.com, for example, offers 28 egift card images. Amazon.com has close to 100 standard egift card images in their "birthday" category alone, and that number does not include the animated, "suggest a gift", upload a photo or the "print at home" options. HomeDepot.com allows you to upload a video. (See egift cards at Giftcards.com).
2. Personalization
From the ability to add a message to the greeting, on up to the possibility of adding a personal photo or video, I believe egift cards simply MUST be personalized. If the gift isn't arriving in the mailbox or being handed over in-person, then this is the best way to add much-needed sentiment to the gift. (Find out what to say on an egift card.)
3. Ease of Delivery
While most egift cards can be e-mailed, a few can also be delivered via social media or text message. I especially like when a company offers a "print at home" option, because it gives consumers expediency while not eliminating the possibility of an in-person presentation.
4. Ease of Redemption
Here's the crux of the egift card conundrum. The card must be as easy for the receiver to use as it is for the giver to buy. Factors that make this possible include having a range of delivery options to fit various technical abilities and hardware, ample notification of the delivery, and customer service if there is a problem. (A couple of years ago, I sent my brother a mobile gift card from a smartphone app. When he didn't receive the gift, I discovered he didn't have a smartphone. Read how to make sure egift cards get delivered below.)
5. Scheduling
The beauty of digital gifting is that you never have to miss another occasion–as soon as you remember it's your best friend's birthday, you can have a present on its way. If you remember ahead of time, you may even be able to schedule delivery. At LandsEnd.com, the default delivery time is immediate, but you can schedule delivery up to six months in advance. The same is true here at Giftcards.com.
6. Flexible Dollar Amounts
Like the versatility in design, it's nice when consumers have the option to enter dollar amounts that work for their budgets rather than be limited by a range of pre-set choices. Flexible dollar amounts also facilitate creativity such as $49 for your 49th birthday.
7. Notifications and Reminders
Because egift cards are purchased and delivered online, merchants have contact information for both parties and know the status of the digital gift card at all times. Basic "sent" messages are appreciated, but notifications on whether or not the gift code has been opened, claimed or redeemed are even better.
8. Low or No Fees
Since there is no plastic to mail, mobile gift cards should be shipped free of charge. Although you pay to activate Visa and Mastercard gift cards, the shipping and handling doesn't cost a dime.
Want to see how your favorite merchant's digital gift card stacks up? Check out my comparison of egift cards offered by the top stores in the nation.
---
How to Make eGift Cards More Personal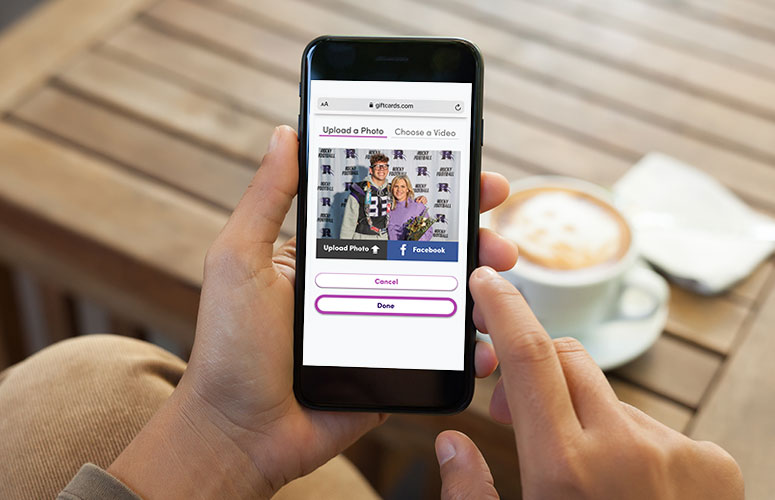 I believe any gift card can be made to appear more thoughtful with just a little effort. With plastic gift cards, that "effort" can be as simple as packaging the gift card with a small present (e.g. a movie gift card with a box of theater candy, a Footlocker gift card tucked into a new pair of socks, etc.) Although delivering more than the gift card is not possible when going digital–unless you select the "print at home" option–below are a few steps you can take to ensure egift cards are delivered thoughtfully.
1. Deliver on time
There's no blaming the post office for a card that doesn't arrive in the mail. Since egift cards are practically instantaneous, deliver them on or before the special day. (If you're afraid you're going to forget the gift, select an egift card delivery that can be scheduled.)
2. Add a Photo or Video
With a variety of digital designs to choose from, select an image that the recipient will appreciate. If possible, upload a personal photo or a video—either makes the digital card one of a kind.
3. Add a Personal Message
I'm looking for more than "Happy Birthday" here. Given that sending a mobile gift card takes less time and effort than five minutes of scrolling Instagram, a moment spent writing a sentimental greeting shouldn't be too much to ask. Some suggested one-liners are:
"Wish I could deliver this in person."
"Miles apart, but always in my heart."
"Gift now, hugs to follow."
"Wish we could spend this day and this gift card together!"
Read this post for more suggestions on what to write in an egift card.
4. Pick the Right Card
Just like plastic, electronic gift cards should be convenient to redeem, given in a usable amount and have no restrictions.
Before sending an egift card, check to make sure the recipient can use it at a nearby location or online. Give a dollar amount that allows the recipient to buy a "whole gift," meaning they shouldn't have to spend their own money just to make use of the gift card. And read any of the fine print to make sure the gift card is usable for an extended period of time and on the things the recipient is interested in. For example, you can find plenty of gaming gift cards, but you want to make sure to get the card that aligns with the recipient's system. If you're not sure, get a gift card that has more flexibility such as a Visa gift card or a multi-store gift card.
Read my tips on how to pick the perfect gift card every time.
---
How to Make Sure eGift Cards Get Delivered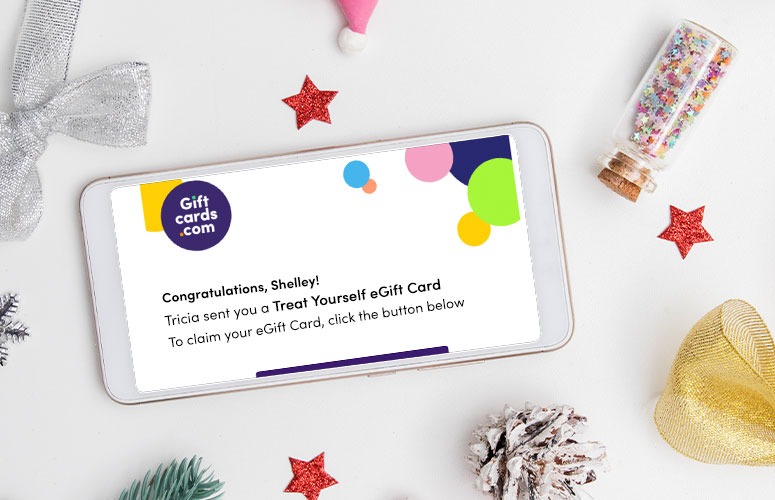 Since electronic gift card delivery is most likely automated, making sure digital cards get delivered isn't really the concern. We want to make sure they get RECEIVED by the intended recipients. So send your virtual gift via the technology the receiver uses most often. If your friend is posting her Candy Crush scores on Facebook every day, then a Facebook-delivered gift code is perfect. If she's more apt to check her e-mail than how many likes she got on a recent post, then select electronic mail delivery instead. Before sending a gift card via text message or a gift card app, make sure the recipient has the correct smartphone. If you nail the right technology, then you only need to do three more things:
1. Send to the Correct Address
People often have more than one e-mail address. Sending an egift card to a seldom-checked address could turn your just-in-time birthday wishes into a belated present. If you're not sure which address to use, send a test e-mail to see if the recipient responds.
2. Notify the Recipient
It's a good idea to put the recipient on high-alert to expect an incoming message. You won't ruin the surprise simply by saying, "Don't forget to check your e-mail tomorrow!" If nothing is received, the intended recipient will bring it to your attention since you are the one who mentioned it in the first place.
3. Follow Up
If you don't hear from the recipient within a day or two, check to see if he received the egift card. It's awkward, of course, but better to ask and find out than to have your surprise sit in a SPAM folder indefinitely.
Word of Caution!
When ranking the best egift cards available, I noticed that several merchants have terms and conditions stating that the customer is responsible for providing an accurate e-mail address and that the delivery obligation is fully satisfied when an e-mail containing a valid egift card is successfully sent to the designated recipient. That means you may not receive help or reimbursement if an egift card is sent to the wrong address or the recipient has difficulty accessing it.
Unlike a plastic gift card that is often purchased and given without the merchant having delivery details, with egift cards, the merchant should be able to tell whether or not the digital card has been received, claimed or redeemed. So save your confirmation e-mail or receipt in case the delivery fails in one way or another.
If there is a problem, call customer service to resolve the situation. Never put the burden of troubleshooting the gift delivery on the recipient. An egift card is supposed to be a present, not a problem.
---
How to Redeem eGift Cards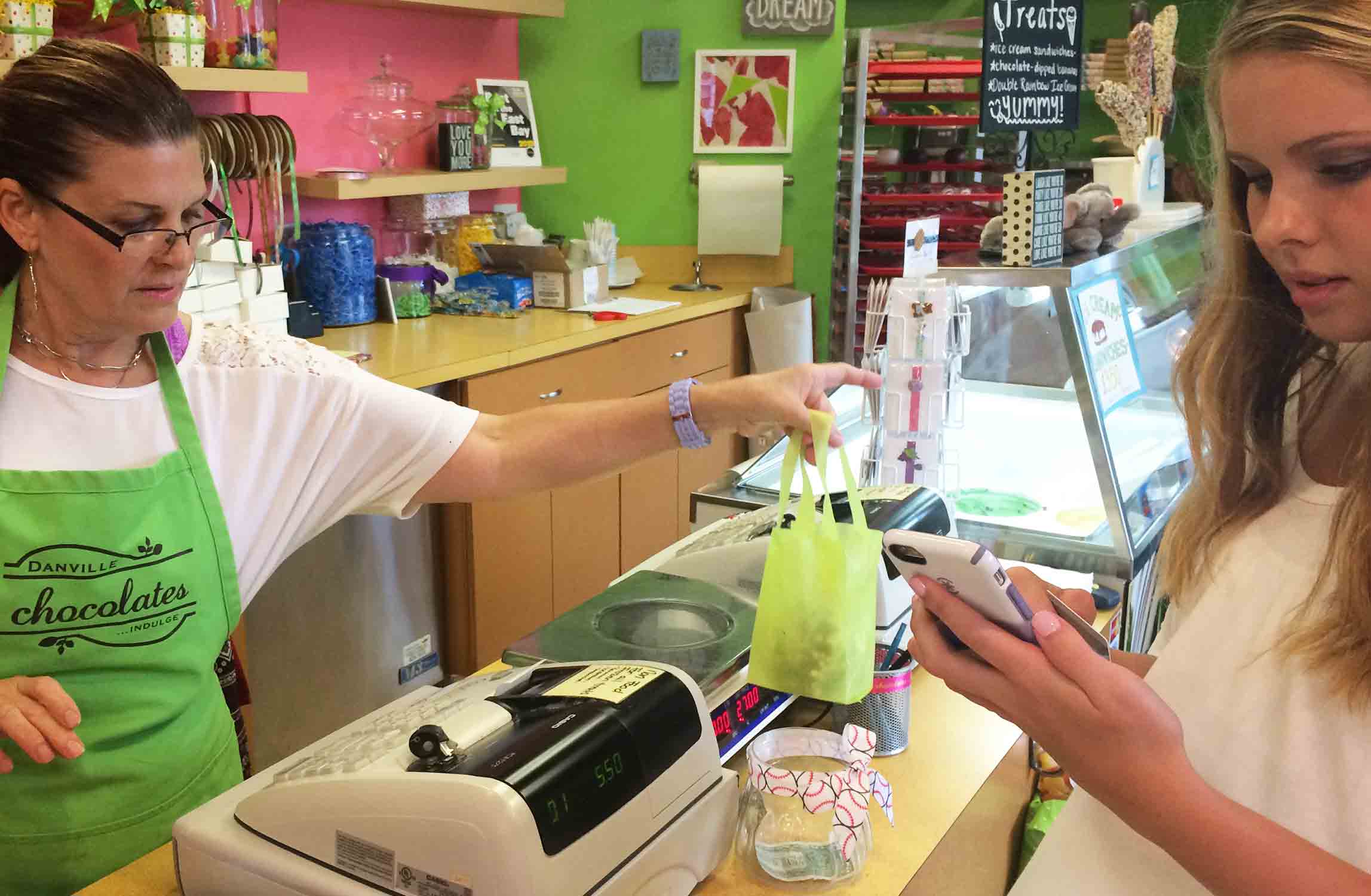 Redeeming an egift card online is as easy as manually entering the number into a website's shopping cart. Redeeming an egift card at a store isn't much harder, but since there is no physical gift card to hand to the cashier, the process is less intuitive. Below are four ways to use gift codes in stores:
1. Print a Paper Copy
If received via e-mail or social media, print the gift code (including the PIN if applicable), on your printer. At the store, hand the printout to the clerk for payment.
2. Take a Screenshot
Rather than printing the code onto paper, store it as an image on your smartphone. When you get to the cash register, hand your phone to the clerk to key-enter the number or scan the barcode, if there is one.
NOTE: This is my preferred method of using egift cards in stores because I don't have to worry about remembering where the egift card is stored on my mobile device or rely on the store's wifi to make it easily accessible.)
3. Access the eGift Card on Your Phone
Access the egift card directly on your smartphone by clicking the link just as it was originally delivered in the text message, e-mail, Facebook post and so on. If displayed as a digital image, the cashier may be able to scan the card instead of manually entering the numbers.
4. Use a Mobile Gift Card App or Mobile Wallet
Load the egift card code into an app on your smartphone. When you get to the register, hand your phone to the clerk. If the app converts the code to a barcode or QR code, the clerk may be able to scan the virtual card instead of key-entering the numbers.
For a more detailed explanation of each option, read my post on how to use egift cards at the cash register.
---
The Future of eGift Cards
As someone who has both given and received digital gift cards, I can honestly say that the technology has improved dramatically. A few years ago, I would have said that plastic is here to stay for quite some time. While I still believe that to be true, 2020 shortened the timeframe to full adoption. Since we are increasingly accustomed to handling all of our affairs electronically, gifting is no exception. Just a few years ago, for example, texting was considered the most impersonal communication method around and we heavily criticized teenagers for using it to the detriment of their social interaction. But now us moms use it just as much, if not more, than our kids do.
As sending and using egift cards becomes easier than buying and using plastic, and our attitude toward doing so softens, we could be "opening" birthday gifts without ever getting out of bed or having personal contact with anyone. While that might seem lonely, I submit that taking the steps needed to ensure mobile gift cards still feel personal, contain the right message and are properly delivered will be the ingredients needed to make cyber-gifting as sentimental as possible.
What other questions do you have about egift cards? Reach out to me in the comments below, on Twitter (@GCGirlfriend) or on Instagram (@Gift.Card.Girlfriend).
Happy Gift Carding!
~Shelley Hunter, Gift Card Girlfriend
About Gift Card Girlfriend

From gift card tips and practical advice, to inspiring ideas and insights into the gift card industry, Shelley Hunter, Gift Card Girlfriend and spokesperson for Giftcards.com, is your go-to guide. As a gift card expert, she can address any gift card question or concern you have, plus share her signature way of turning gift cards into thoughtful, personalized gifts.

Learn more about Gift Card Girlfriend.