Pop Quiz! What's the best gift card to give a teacher? And how much money should you spend on a gift card for teacher? We asked parents and teachers on Facebook and this is what they said.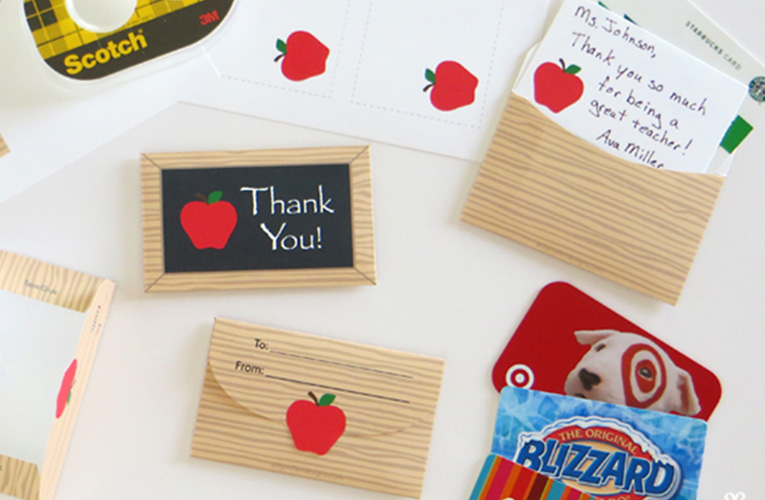 Image credit: Amy Miller Designs
What Do Teachers REALLY WANT for Thank You Gifts?
My sister is a school teacher, and every year, her husband looks forward to the influx of gift cards she receives during Teacher Appreciation Week. Though she enjoys the handmade gifts and is grateful for every gesture made (seriously, every gesture), gift cards are simply more useful than most other gifts. The "#1 Teacher" mugs pile up, the apple-themed teddy bears get dusty and the handmade paperweights start to take over the desk. Gift cards, on the other hand, rarely get old, dusty or take up too much space.
That said, we did an informal poll on Facebook and asked other teachers to tell us the best gift they've ever received. While gift cards are popular, they are outranked by two other things.
Most POPULAR GIFTS for Teachers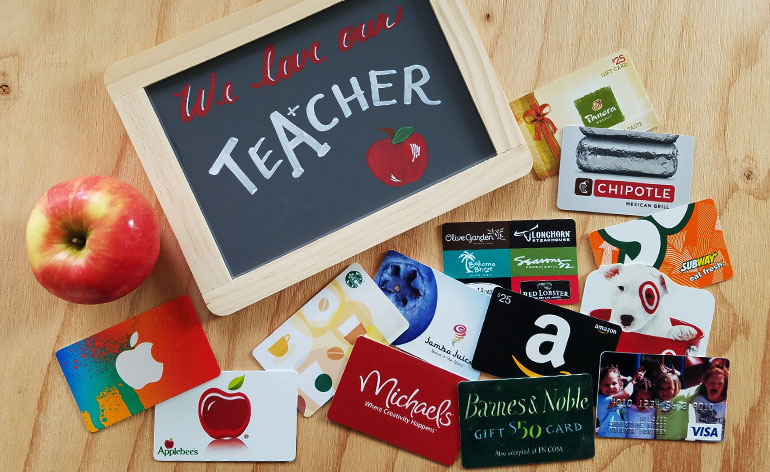 When teachers responded to our poll on the best gifts for teachers, we discovered (not surprisingly), that many teachers just like to know that their teaching and presence mattered in the lives of the pupils and that the kids learned something. These are the three things teachers said they appreciate most when it comes to thank you gifts:
1. Thank You Notes
Above all, teachers appreciate heartfelt, handwritten thank you notes from students and parents. The note doesn't even have to be from current pupils. One educator reported that her best teacher gift came in the form of an invitation to a former middle school student's college graduation. Another teacher loved receiving a letter from a student who used his best penmanship to write her a thank you note. Below are a few of their comments:
"I received a letter written by my special needs student, thanking me for being more than a teacher–for being his eight hour mom when he is at school. It hangs in a frame on my wall at work."
"I received a poem and a drawing from one of my middle school students. I love middle school kids!"
"My kids gave me cute drawings and messages about my beauty. LOL!"
"A written letter from a parent thanking me for the difference I had made, made my day."
2. Service, Smiles and Creativity
In a addition to receiving sweet letters, simple gestures of service are often the most memorable teacher appreciation gifts. From the hoodie with all of the kids' names on it to the class picture decorated with candy kisses, teachers are often moved by small and simple acts of gratitude. Below are just a few examples:
"In lieu of a gift, my students learned a song and sang it just for me. It was beautiful."
"The best gifts I ever got were the little, yellow dandelion flowers. When a little one hands you this with a smile and tells you, 'I picked this just for you,' that means a lot."
"Our parents all got together to watch our classes so the teachers could all sit together, socialize, and enjoy a catered lunch. It was divine!"
"Best gift? a hug and handmade picture from a student who didn't have much, but always had a smile."
3. Gift Cards
Besides those priceless missives and shows of affection, gift cards rank right up there as the best gifts you can give teachers. The question is, what gift cards should you buy? Our customizable 'Thank You' Teacher Appreciation gift cards are perfect, of course. Here's a list of my top picks for teacher appreciation gift cards that you can buy on our site:
1. Personalized Visa Gift Cards or Mastercard® Gift Cards (Like the ones shown below.)
3. Crutchfield Electronics Gift Cards
5. Peet's Coffee Gift Cards (or Starbucks or Dutch Bros)
6. Staples Gift Cards or Office Depot
8. Barnes and Noble Gift Cards
9. Applebee's Gift Cards (Apple for teacher!)
10. Favorite Restaurant Gift Cards
See more customizable 'Thank You' Teacher Appreciation gift cards here.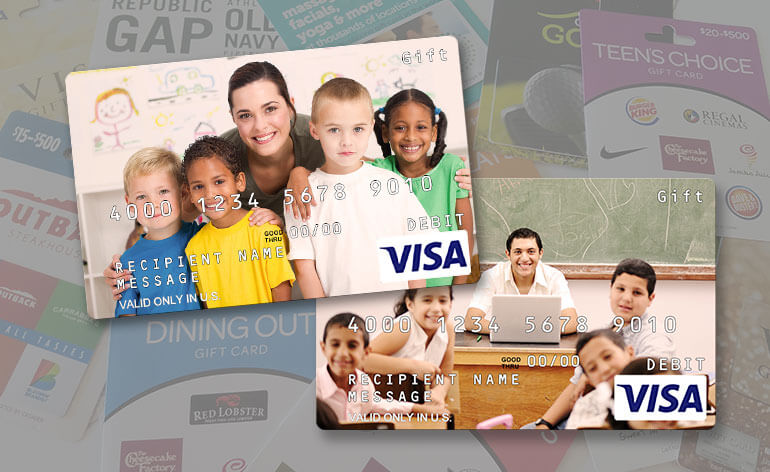 How Much Do You Spend on Teacher Gift Cards?
I am a firm believer in only buying gift cards that fit your budget. You should never spend more than you can afford simply to impress someone or to use the dollar value as a symbol of your appreciation. If you are concerned that the dollar amount will not be useful, then just make sure the value of the gift card is usable without requiring the teacher to spend additional money. So, for example, if you are getting the teacher a gift card to a nice restaurant, then I suggest spending at least $25, probably even $50. If you are getting a gift card to the coffee shop or a smoothie shop, then $10 is a nice amount. Even $5 is useful at a store like Target. Here's a post with more advice on how much money to spend on a gift card.
I tend to contribute $10 to $20 when I am donating money to a group gift card for the teacher, but spend at least $20 if I am giving an individual gift card. What do you think? Please take the poll below to see how your teacher gift card contributions compare to others.
Poll on Teacher Gift Card Spending:
Individual or Group Gift for Teacher?
While we're on the subject of buying gift cards for teachers, do you typically buy your own gift card for a teacher or are you more likely to contribute to a group gift? Please answer the poll below. And if you want to provide a little background on your answer, then add a comment at the bottom of this post too.
I am most definitely in the camp of contributing to a group gift, for two reasons. The first is that teacher appreciation week, end of school year and the holidays are generally busy times of year. It is simply easier for me to send $10 with my child or Venmo the room parent to contribute to the group gift than it is to buy a gift card of my own–and package it up pretty, of course. The second reason I like group gift cards for teachers is because then I know the teacher is likely to get one or two gift cards with a significant amount to spend versus several smaller gift cards that he or she has to carry around in a wallet. But that's my opinion. How do you typically give gifts to the teachers in your life?
Here's a link to a popular printable for a teacher group gift.
Poll on Individual or Group Teacher Gift Card:
How Do You Present Teacher Gift Cards?
The last item to discuss is how you present gift cards for teachers? Although you can certainly add a handwritten note and simply tuck the card into an envelope, the creative people below have some free printables you can use as well. I have paired each one with a gift card suggestion.

Discount Superstores
Gift cards to stores like Walmart and Target are great for teachers because the stores carry a wide variety of merchandise, so teachers can redeem for personal use or for the classroom. Tuck a Target gift card into this free printable for an easy teacher gift.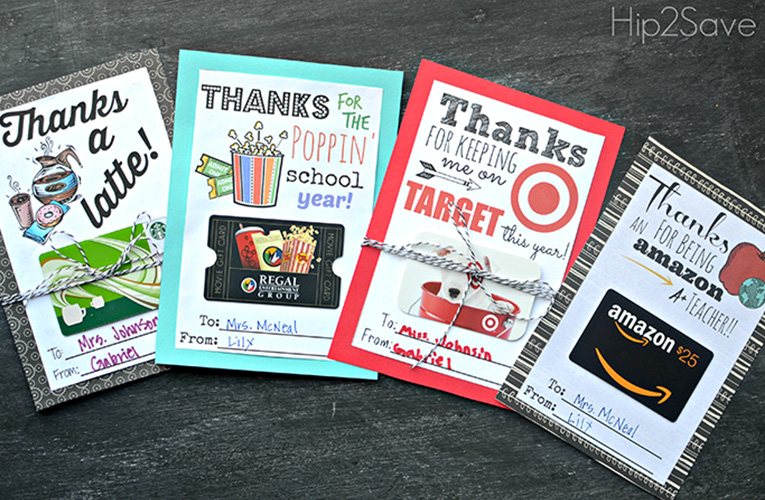 Image credit: Hip2Save

Bookstore
Since teachers typically enjoy books or at least champion the value of reading, a bookstore gift card is a great choice. Like the suggestion above, this gift card can be redeemed for personal use, for the classroom or maybe a little of both. Here's a cute way to give a bookstore gift card to a teacher. It's a bookmark that holds a gift card.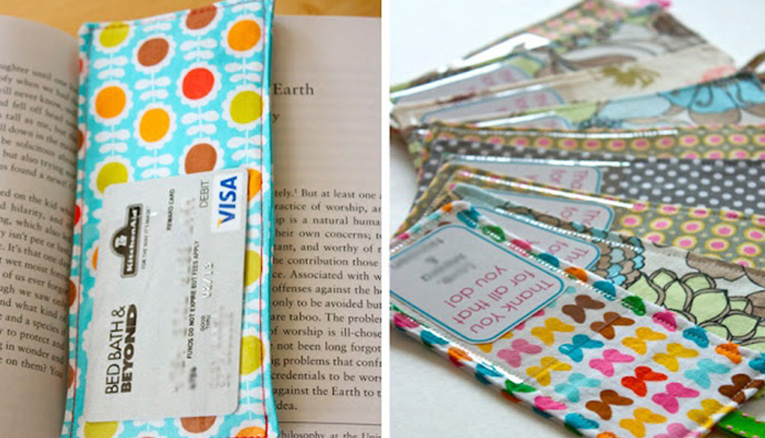 Image credit: Zaaberry

Office Supply
Although I wish our school systems provided all the supplies teachers need, we frequently hear that teachers spend their own money on everything from classroom decorations to hand sanitizer and dry erase markers. With a gift card to an office supply store like Staples, maybe teachers won't have to contribute so much. You can even add a photo to personalize a gift card to Staples. Snap a picture of the kids hanging out with the teacher on their next fieldtrip and turn it into a useful and personal brand name gift card.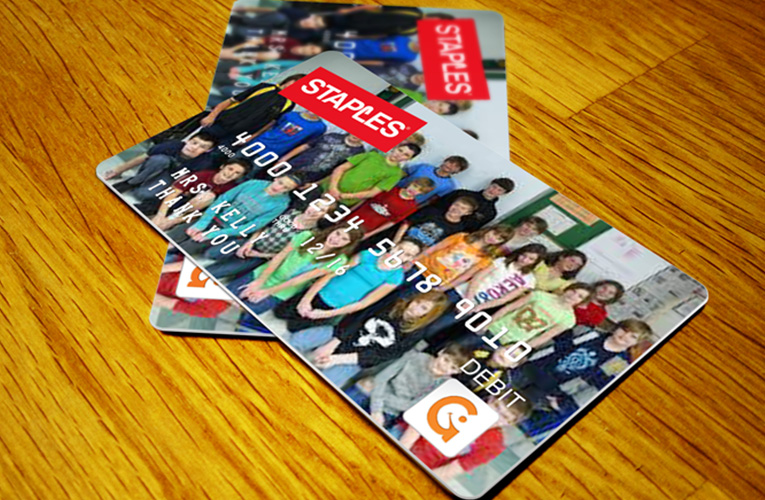 Salon or Spa
For the teacher who needs a little pampering, a salon gift card or a spa gift card is perfect. With summer vacation drawing near, she will have more time to indulge. Deliver a pedicure gift card with nail polish and this free "sparkle" printable. For the teacher who would rather blow off steam at the ball park than get a mani/pedi, a gift card to a ball game, electronics store, video store or sporting goods store will get you high marks. Add a StubHub gift card to this "simply the best" gift idea and you'll move to the top of the class.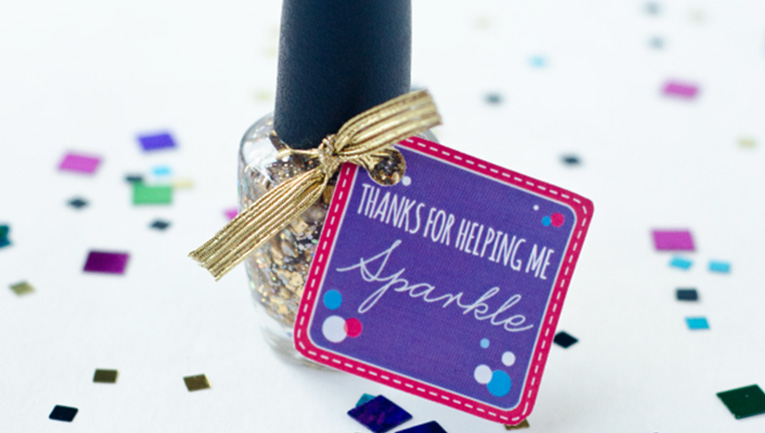 Image credit: Love the Day

Restaurant and Movie
On a teacher's salary, dinner and a movie may be too expensive. Give teachers the gift of entertainment with restaurant gift cards, movie gift cards or a combination of both. Here's a super cute way to deliver a movie gift card in a popcorn container. Did somebody say butter?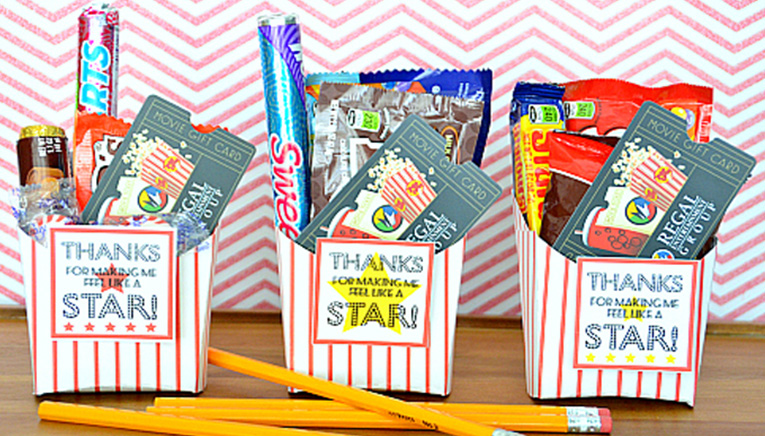 Image credit: Skip to my Lou

Hot and Cold Drinks
No surprises here. Starbucks gift cards rule the school. If your teacher prefers a different brand or would rather have a smoothie than a latte, then go with one of those gift cards instead. There is also no shortage of cute Starbucks gift card deliveries on Pinterest. Here's a coffee cup sleeve printable, tailored just for your teacher.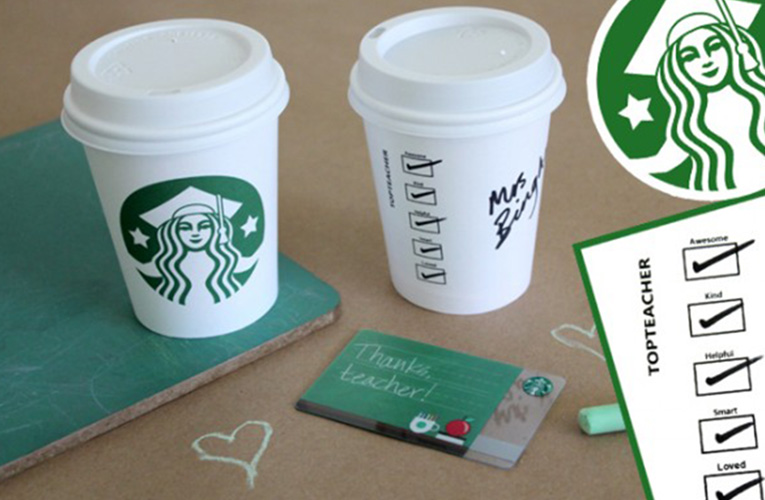 Image credit: Alpha Mom

Collection of Gift Cards
A great way to give teachers a thank you gift is to either collect money to buy a single gift card or ask parents to donate a gift card that can be put together into a teacher gift card tree or wreath. I made this teacher group gift a while ago, but it is still one of my favorite. You can ask parents to pitch in the gift cards or buy them yourself with money collected from parents in the class.
Here's a link to the free printable: Teacher Group Gift.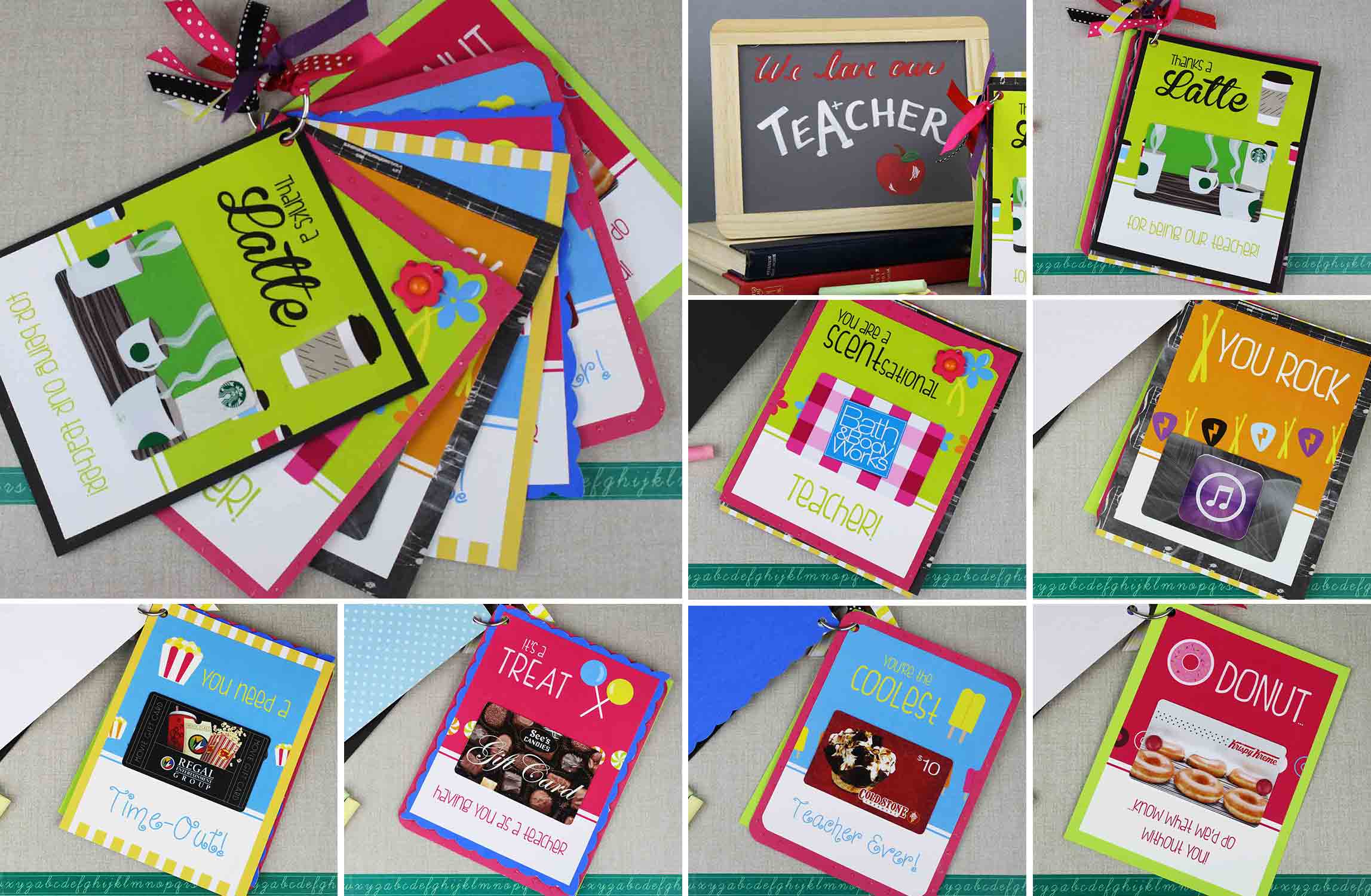 Lastly, here's a link to all of my other free gift card printables. There are other teacher appreciation gift ideas plus some for coaches that you can adapt to your needs.
Don't Forget Support Staff
Spend two minutes in an elementary school office and you'll quickly find a variety of other people who deserve to be thanked for all they do in our schools. From the janitor who has to mop up the puke in the cafeteria, to the school nurse who has to decide if kids are sick or just avoiding tests – it takes a village to teach our children. Thank goodness we have so many willing villagers. Try this "MOUNDS of thanks for all you DEW" gift for support staff. It's easy to make and would be so much fun to give.
Pinterest Thank You Teacher
Find more teacher gifts on Gift Card Girlfriend on Pinterest. While there, take a moment to appreciate the creativity of others. It blows me away. Plus, it makes me think that all these artists, photographers, designers and bloggers who share their talents with us must have had some pretty great teachers in their lives.
Happy Gift Carding!
~Shelley Hunter, Gift Card Girlfriend