Pop Quiz! What's the best gift to give a teacher? We polled teachers to find out and this is what they said: Thank yous are thank you enough!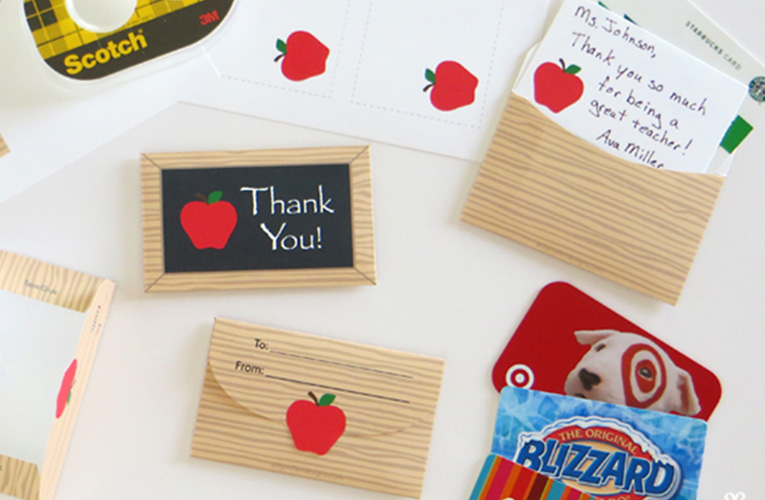 Image credit: Amy Miller Designs
What Do Teachers REALLY WANT for Thank You Gifts?
My sister is a school teacher, and every year, her husband looks forward to the influx of gift cards she receives during Teacher Appreciation Week. Though she enjoys the handmade gifts and is grateful for every gesture made (seriously, every gesture), gift cards are simply more useful than most other gifts. The "#1 Teacher" mugs pile up, the apple-themed teddy bears get dusty and the handmade paperweights start to take over the desk. Gift cards, on the other hand, rarely get old, dusty or take up too much space.
That said, we did an informal poll on Facebook and asked other teachers to tell us the best gift they've ever received. While gift cards are popular, they are outranked by two other things.
Most POPULAR GIFTS for Teachers
When teachers responded to our poll on the best gifts for teachers, we discovered (not surprisingly), that many teachers just like to know that their teaching and presence mattered in the lives of the pupils and that the kids learned something. These are the three things teachers said they appreciate most when it comes to thank you gifts:
1. Thank You Notes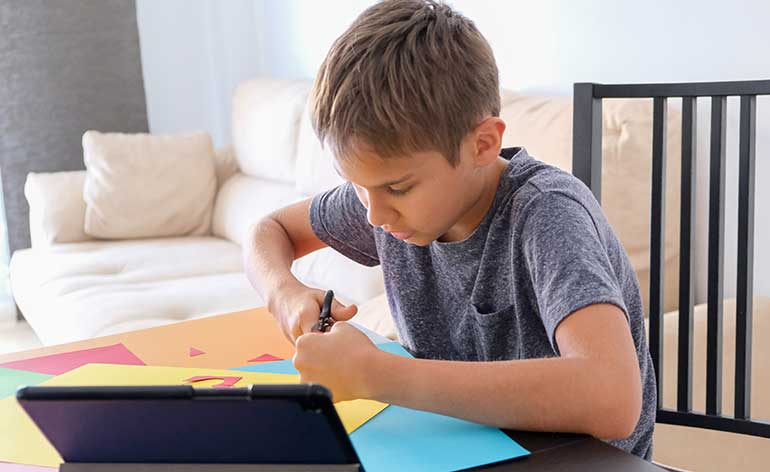 Above all, teachers appreciate heartfelt, handwritten thank you notes from students and parents. The note doesn't even have to be from current pupils. One educator reported that her best teacher gift came in the form of an invitation to a former middle school student's college graduation. Another teacher loved receiving a letter from a student who used his best penmanship to write her a thank you note.
Below are a few of the teacher comments we received:
"I received a letter written by my special needs student, thanking me for being more than a teacher–for being his eight hour mom when he is at school. It hangs in a frame on my wall at work."
"I received a poem and a drawing from one of my middle school students. I love middle school kids!"
"My kids gave me cute drawings and messages about my beauty. LOL!"
"A written letter from a parent thanking me for the difference I had made, made my day."
2. Service, Smiles and Creativity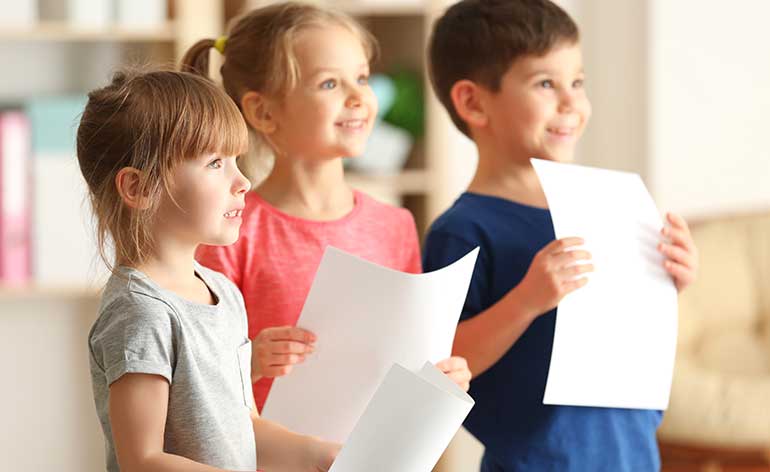 In a addition to receiving sweet letters, simple gestures of service are often the most memorable teacher appreciation gifts. From the hoodie with all of the kids' names on it to the class picture decorated with candy kisses, teachers are often moved by small and simple acts of gratitude.
Below are just a few examples thoughtful teacher gifts:
"In lieu of a gift, my students learned a song and sang it just for me. It was beautiful."
"The best gifts I ever got were the little, yellow dandelion flowers. When a little one hands you this with a smile and tells you, 'I picked this just for you,' that means a lot."
"Our parents all got together to watch our classes so the teachers could all sit together, socialize, and enjoy a catered lunch. It was divine!"
"Best gift? a hug and handmade picture from a student who didn't have much, but always had a smile."
3. Gift Cards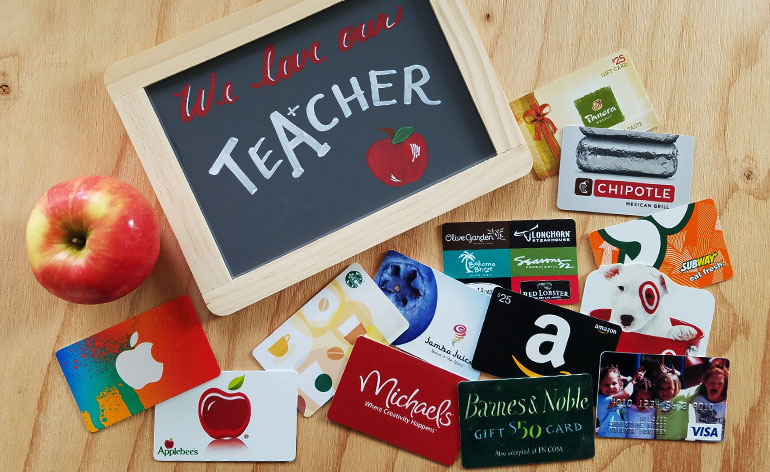 Besides those priceless missives and shows of affection, gift cards rank right up there as the best gifts you can give teachers. The question is, what gift cards should you buy?
Here are two of my favorite gift cards for teachers:
Custom Gift Cards for Teachers
Make your own custom Visa gift card or custom Mastercard gift card using a photo of the kids, a picture of the teacher doing a fun activity or select a predesigned gift card with a classroom theme. These gift cards are perfect because teacher can use them to buy just about anything. These cards can be redeemed for school supplies, dinner at a nice restaurant, clothes or even medical bills. This is one of the most flexible types of gift cards you can buy.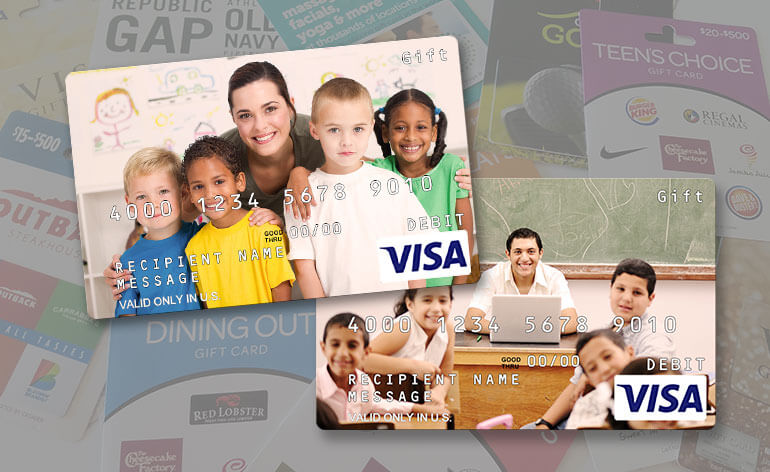 Happy Thanks Gift Card
If you want a gift card that is still pretty flexible, but don't want to pay activation fees to get it, check out the Happy to Say Thanks gift card. It can be redeemed at any of the stores and restaurants listed on the card.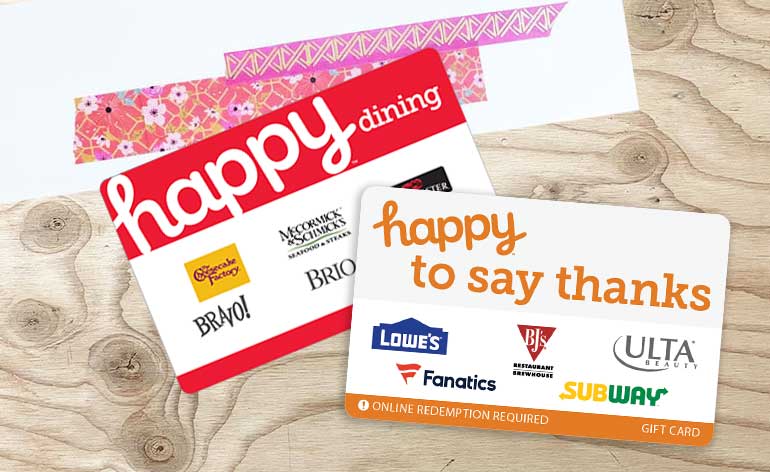 Visit my other blog post for a complete list of the Best Gift Cards for Teachers.
Don't Forget Support Staff
Spend two minutes in an elementary school office and you'll quickly find a variety of other people who deserve to be thanked for all they do in our schools. From the janitor who has to mop up the puke in the cafeteria, to the school nurse who has to decide if kids are sick or just avoiding tests – it takes a village to teach our children. Thank goodness we have so many willing villagers. Try this "MOUNDS of thanks for all you DEW" gift for support staff. It's easy to make and would be so much fun to give.
Pinterest Thank You Teacher
Find more teacher gifts on Gift Card Girlfriend on Pinterest. While there, take a moment to appreciate the creativity of others. It blows me away. Plus, it makes me think that all these artists, photographers, designers and bloggers who share their talents with us must have had some pretty great teachers in their lives.
What other gifts do you like to give to teachers? Let me know in the comments below, on Twitter (@GCGirlfriend) or on Instagram (@Gift.Card.Girlfriend). I love to learn from your generousity and creativity as well.
Happy Gift Carding!
~Shelley Hunter, Gift Card Girlfriend