A mother holds her child's hand for a short while, but holds their heart forever.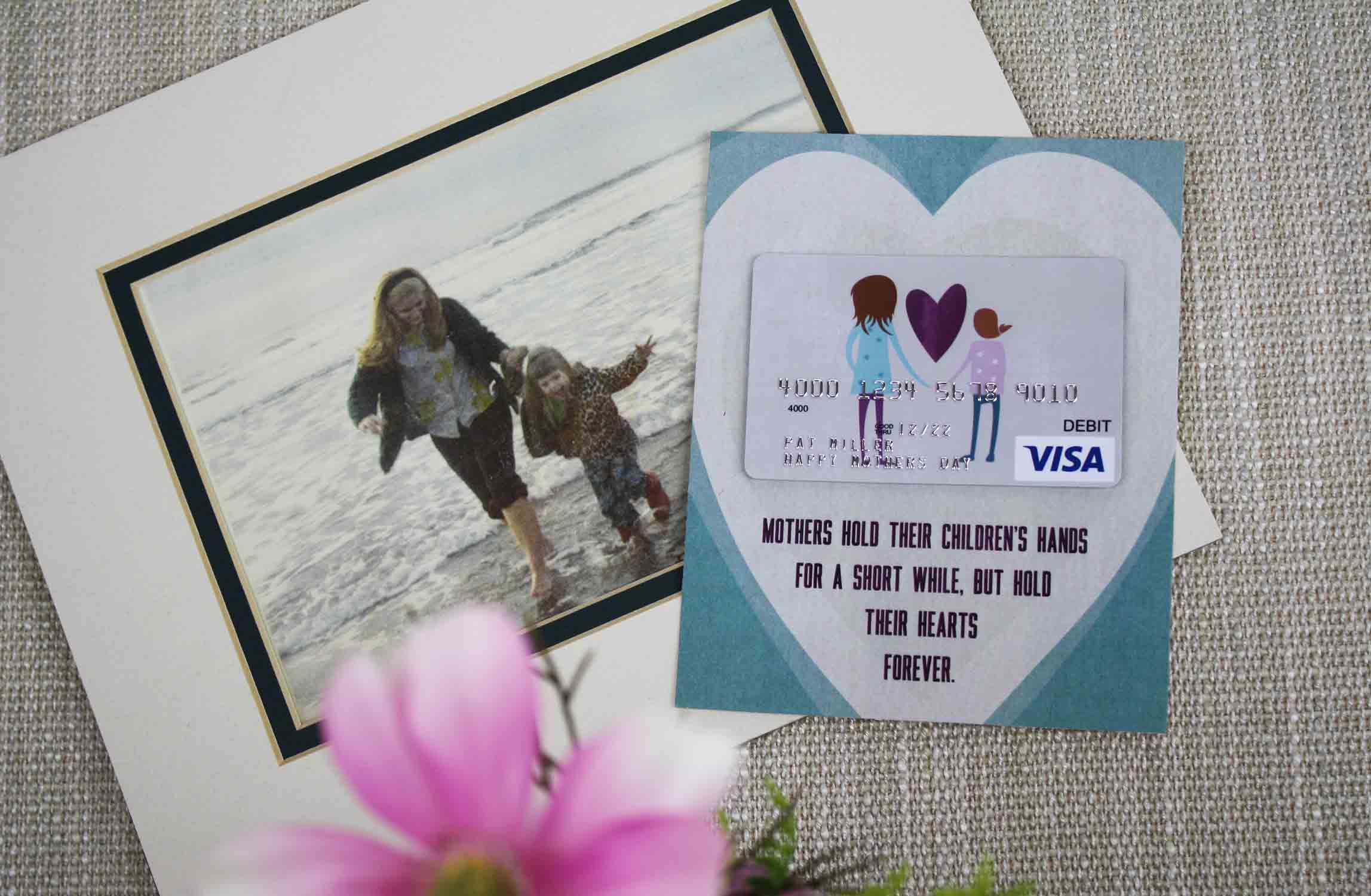 This free printable Mother's Day gift card idea is based on the saying, "Mothers hold their children's hands for a short while, but hold their hearts forever." For me, this gift is also based on this picture of my mom and I at the beach. Although we've both grown up a little since that day, the picture still sums up our relationship. My mom has always been by my side, she's always up for adventure and she still buys me cute shoes. (I loved those red boots!) I guess you could say that she held my hand for a while and now holds my heart forever. To deliver this sweet gift card to your mom, read below.


Order Gift Card and Download Printable
For this Mother's Day gift card, there are two matching printable gift card holders. You can deliver the flat one in a way that mom will immediately see the gift card or you can tuck the card into the folded gift card holder. If you use the folded holder, then any store or restaurant gift card will work just as well.
Order Child's Hand Visa® Gift Card
Download Free Matching Child's Hand Flat Gift Card Holder
Download Free Matching Child's Hand Folded Gift Card Holder

Print and Cut
After downloading the Mother's Day holder, print it on a color printer using "best quality" and "actual size" settings. (Do not select "shrink to fit" or any other setting that will change the size of the printed .pdf image.) White, card stock paper measuring 8-1/2″ x 11″ works best. Cut the holder with a paper cutter using the trim marks as a guide.
The flat gift card holder can be presented as soon as the gift card is attached to it. If you want to get fancy, add embellishments like I did here, or trim around the card and add ribbon like I did here. Otherwise, attach the card and deliver. Making the folded gift card holder, however, requires a few extra steps.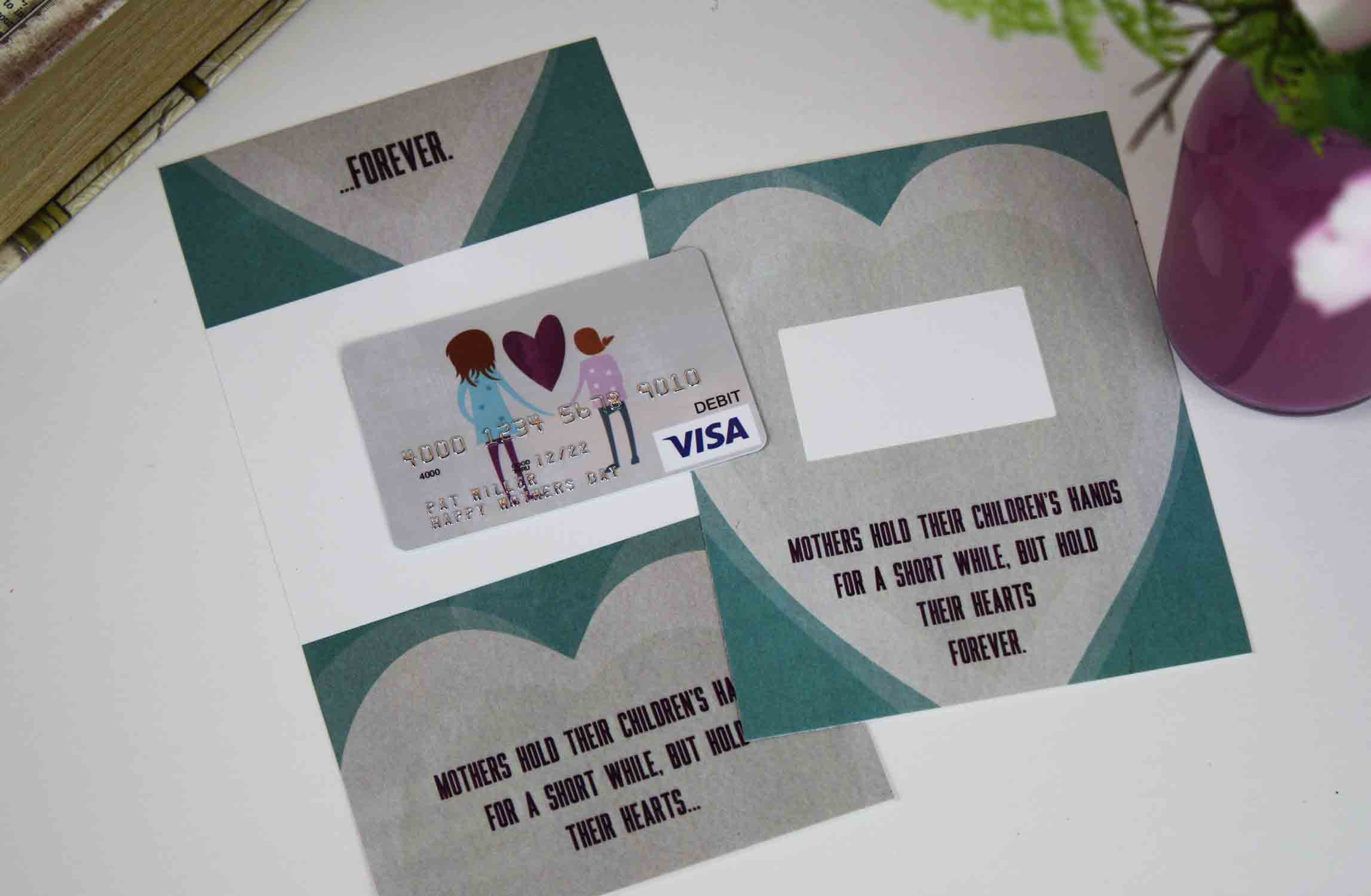 Make the Folded Holder
If you look at the printed side of the folded gift card holder, you'll see that the card should be folded where the heart meets the white space. Although the folded lines are clearly visible on the printed side, I always score card stock before folding it so the lines are crisp and clear. To score the card on the opposite side, I have to measure the card first. The fold lines are at the 3″ and 6-1/4″ marks.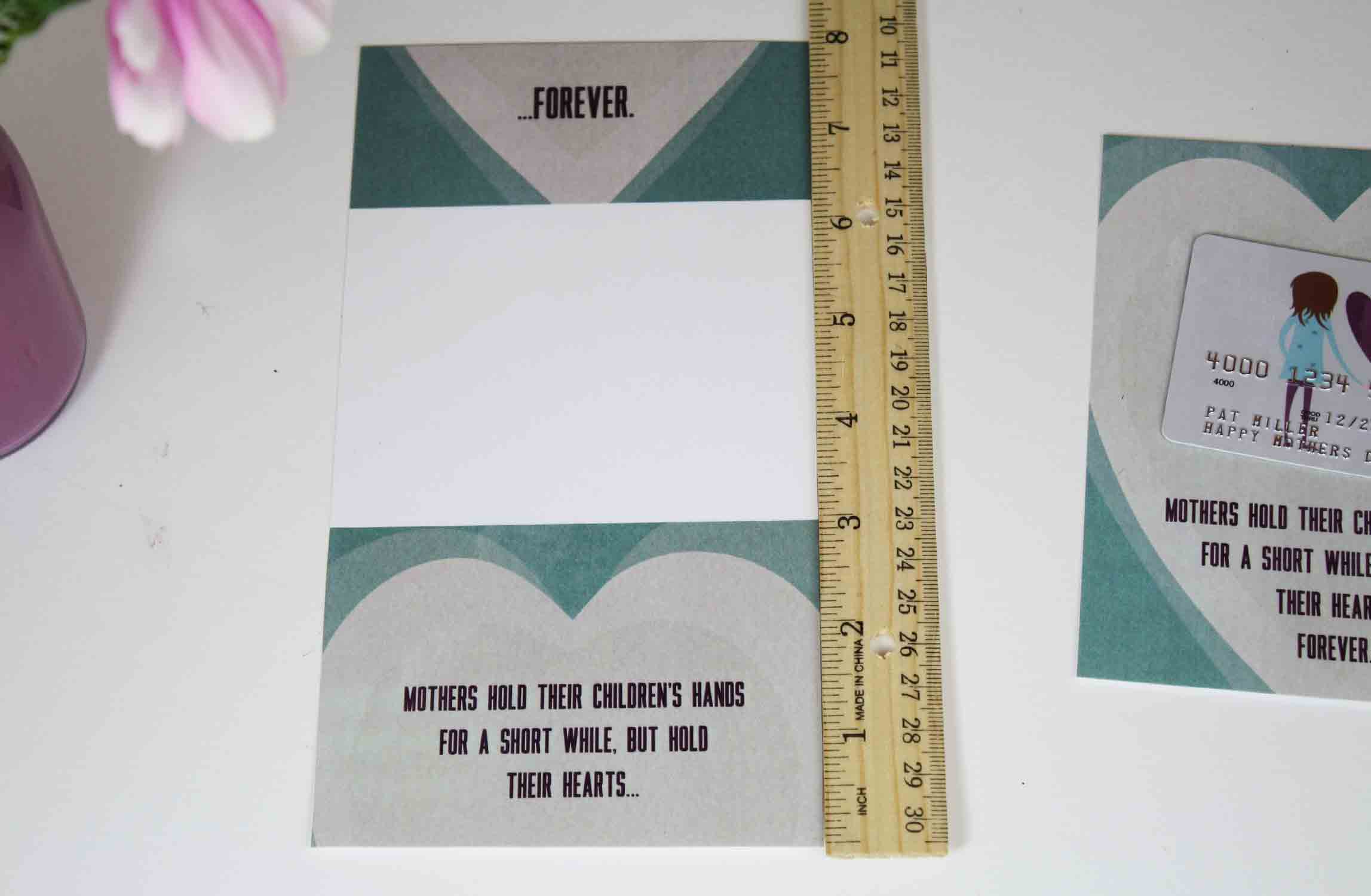 Using a pencil, mark the back side (white side) of the carrier at those measurements.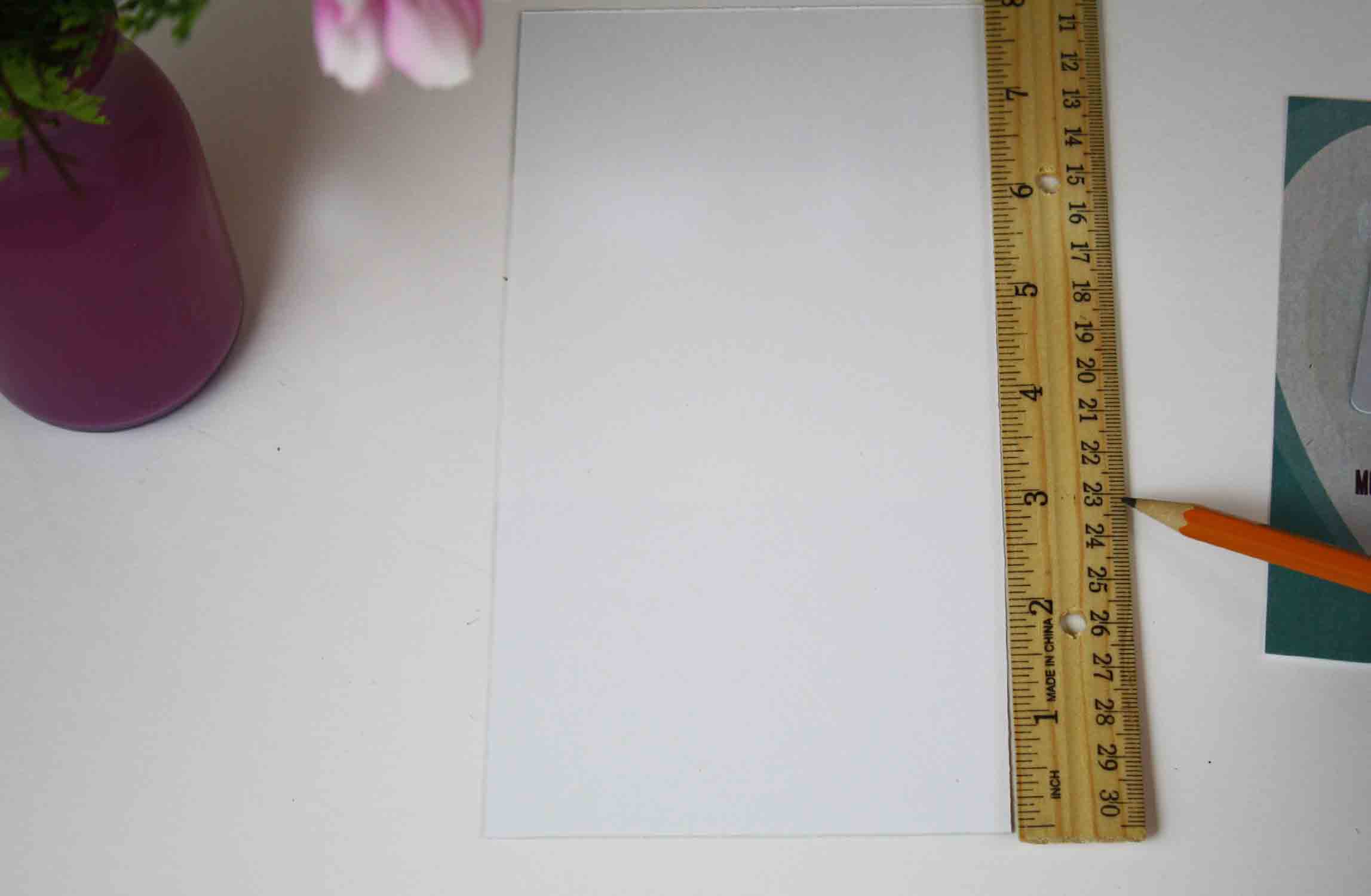 Using a bone folder (or another sorta-sharp instrument you have around the house like the back of a butter knife or the edge of the plastic gift card), use a ruler to score the paper on the fold lines.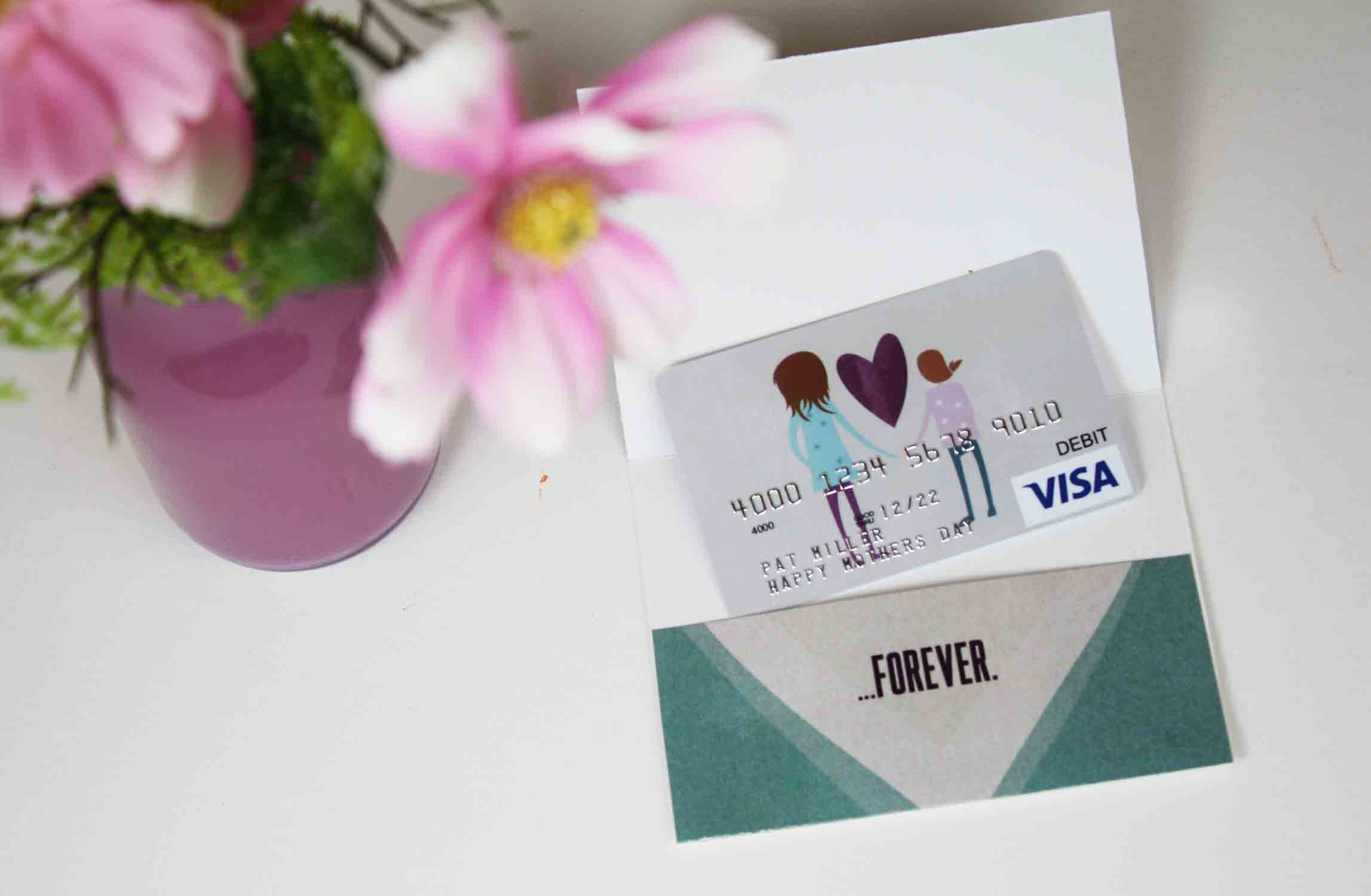 Fold the gift card holder as shown so it makes a little pocket, perfectly sized to hold the Mother's Day gift card. Using double-sided tape or a glue stick, seal the edges of the gift card pocket, then put the gift card inside. Write a personal note in the white space above the card.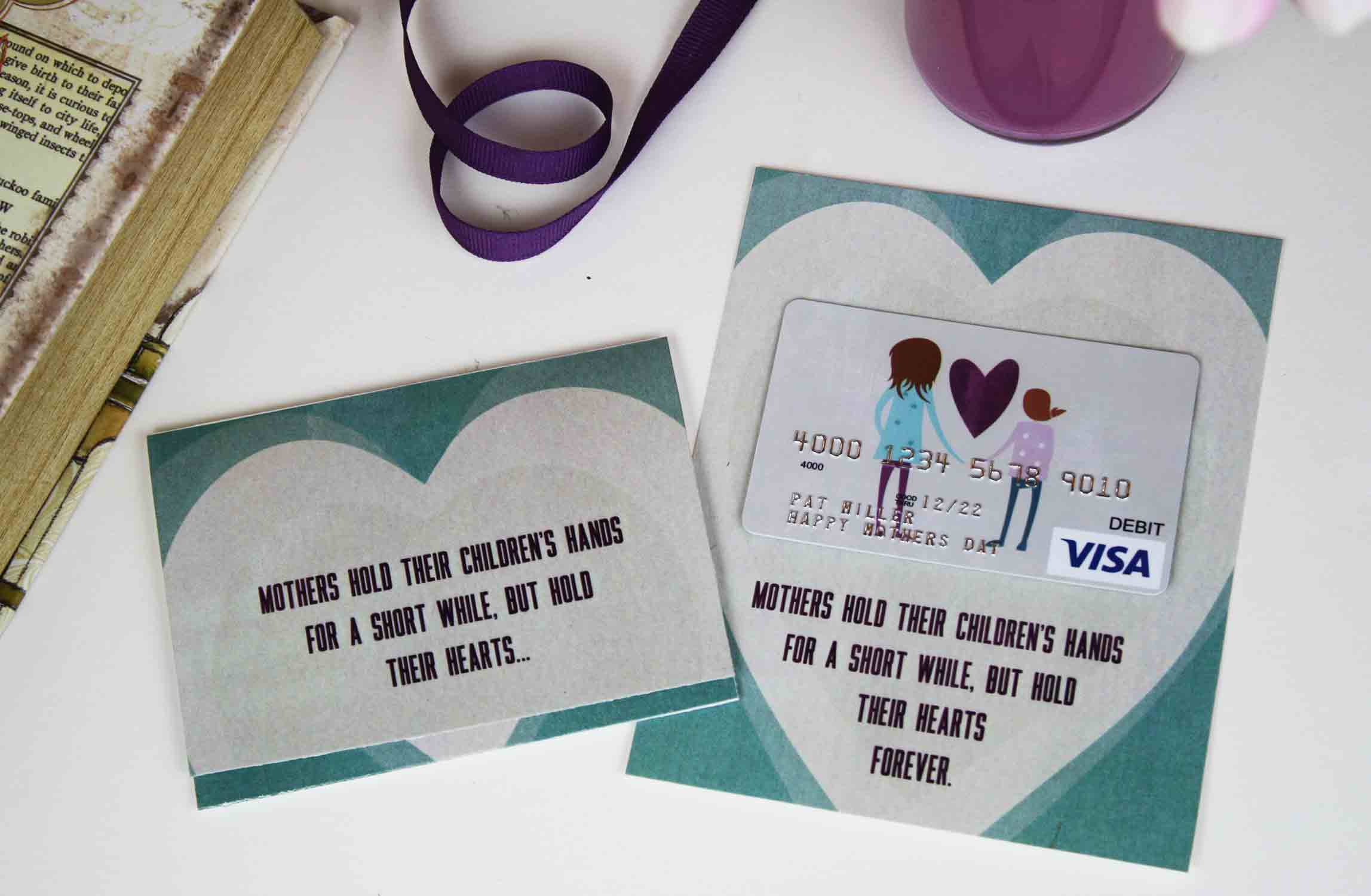 Make it a Gift
For me, the best way to present a gift card is to deliver it with something so the recipient sees that you put a little extra thought and effort into the present. The mere fact that you've taken the time to personalize the gift card and download a gift card holder is enough. But if you want to go one step further, deliver this heartfelt gift card with something else from the heart. Below are a couple of ideas.
Jo-Ann is my "go to" source for gift card crafting. I found this memory box and thought it would be the perfect compliment to the holder that says, "Mothers hold their children's hands for a short while, but their hearts forever." Deliver this sentimental gift card with a memory box that you buy or make yourself. Fill it with old photos or other keepsakes, plus the gift card, of course!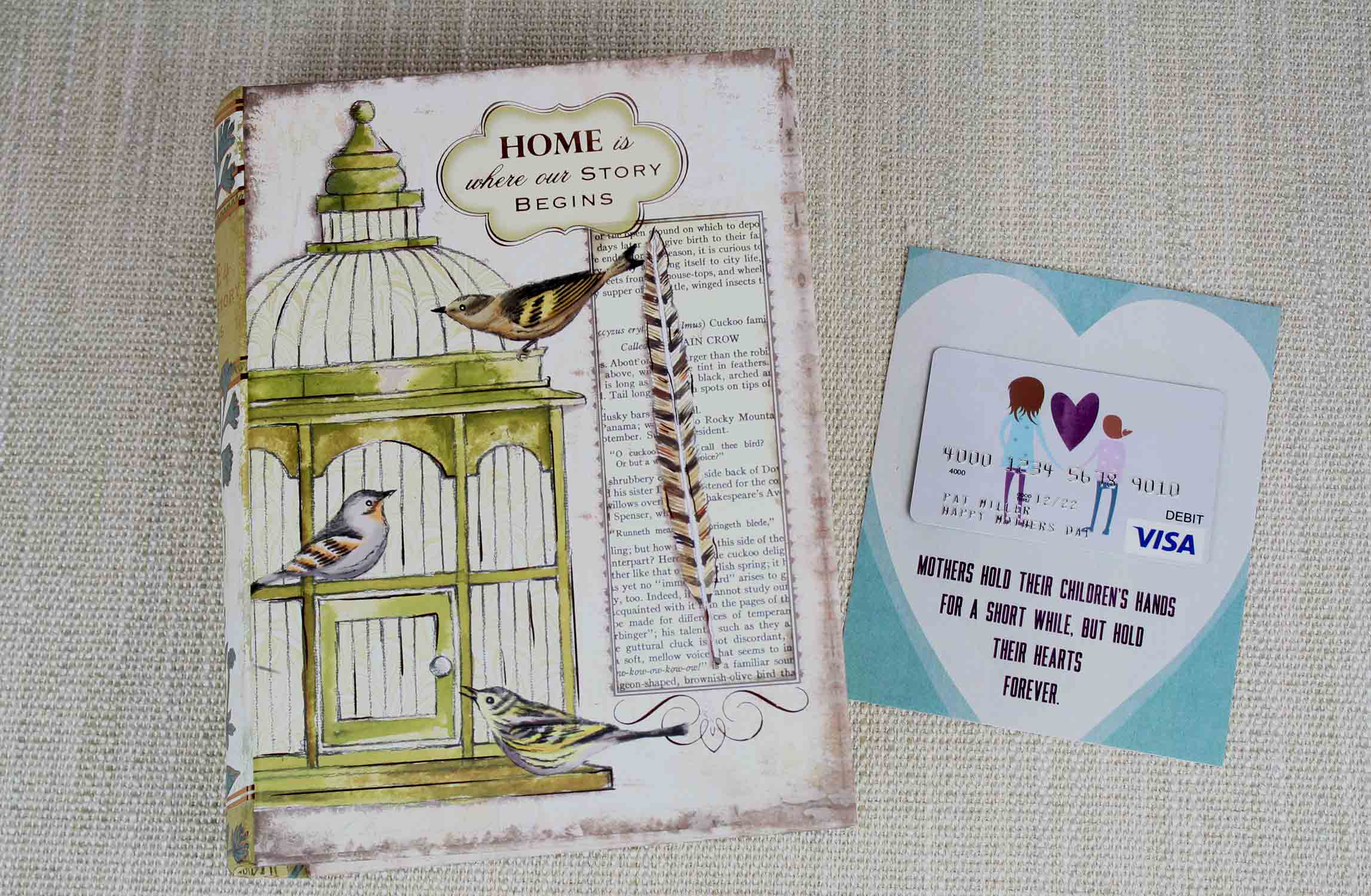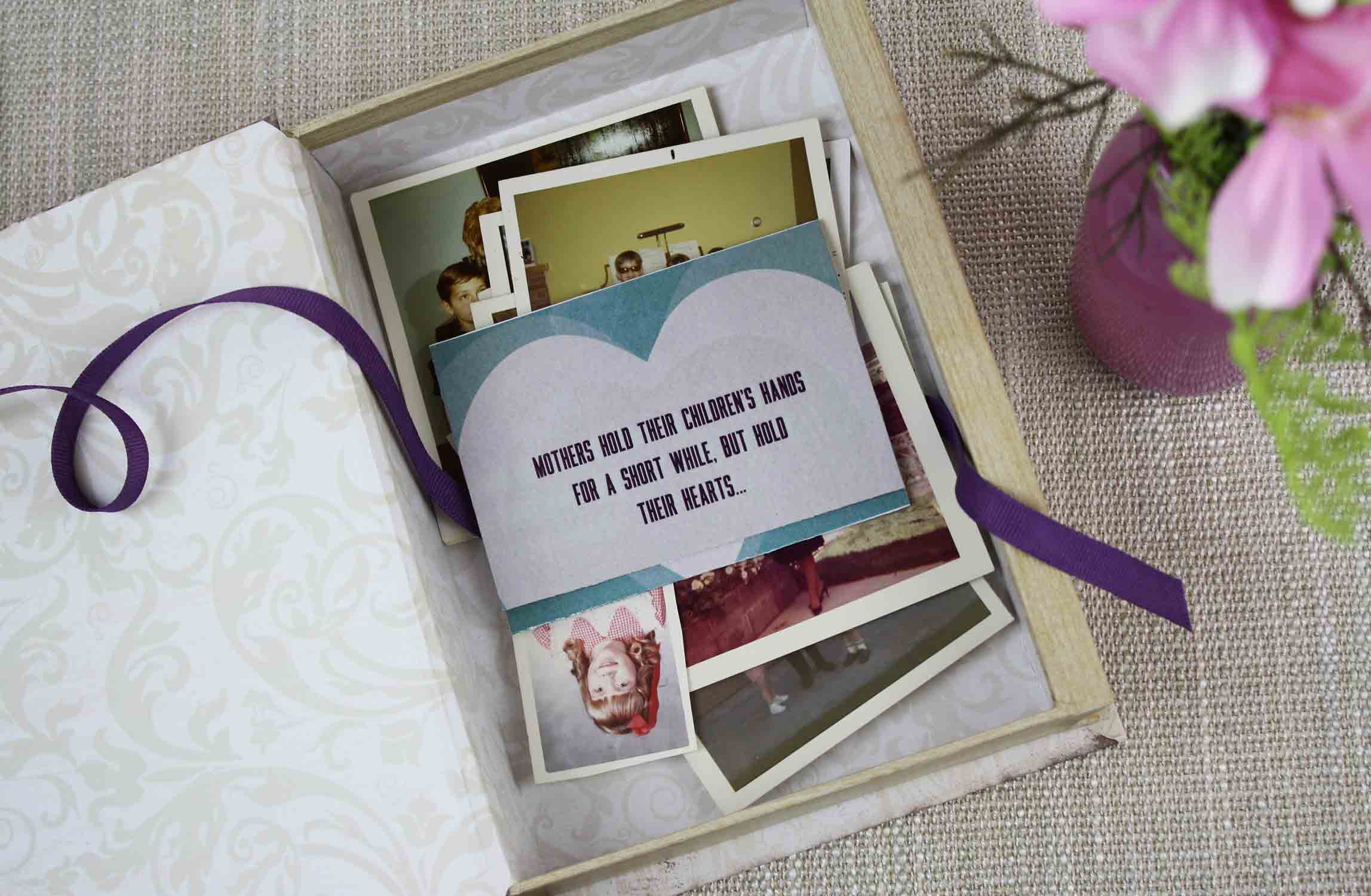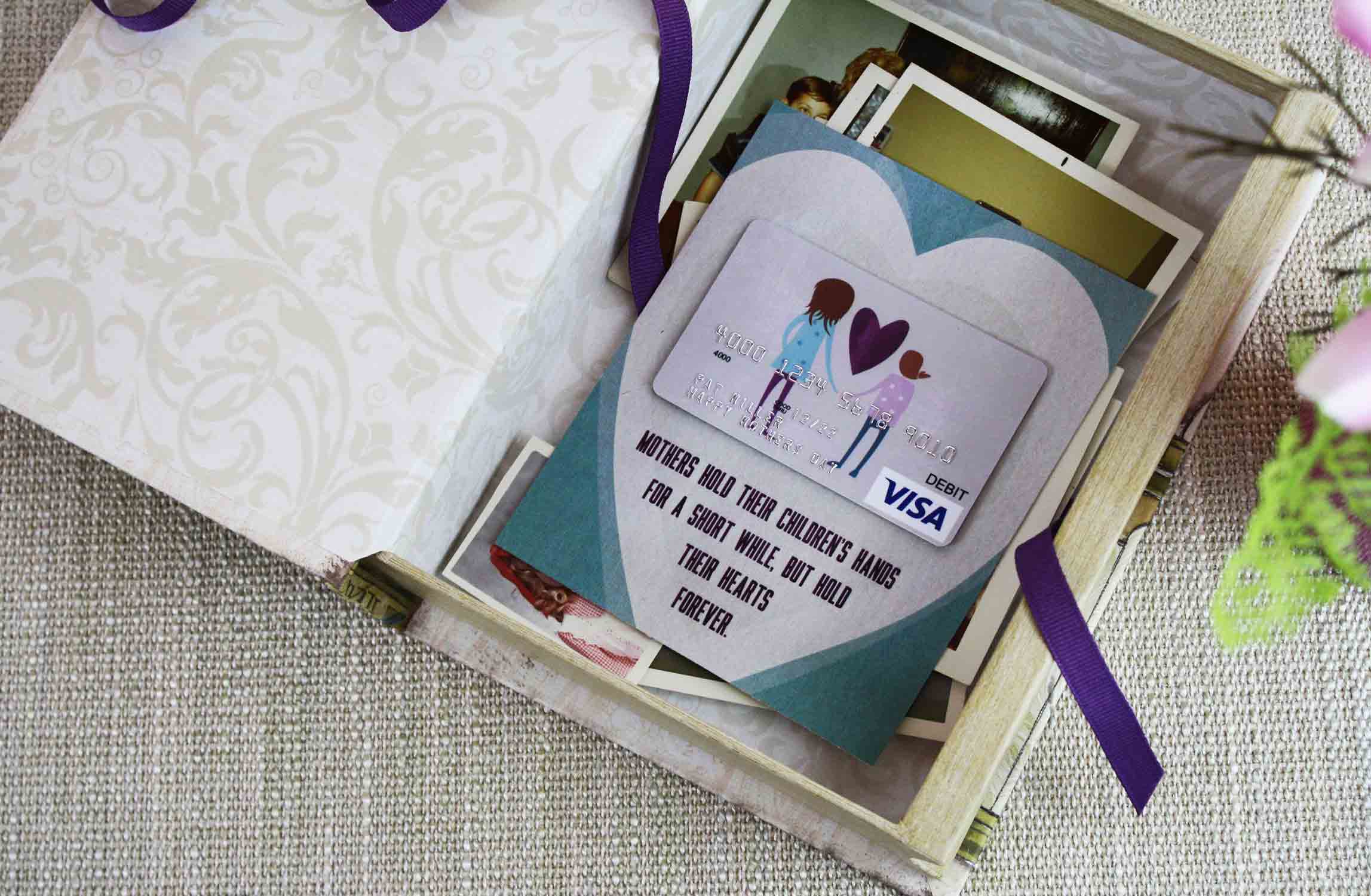 Another idea is to deliver this gift about "mother's hands" with a picture of you and your mom holding hands. The image pictured here is me and my mom. This picture is one of my favorite pictures of all time.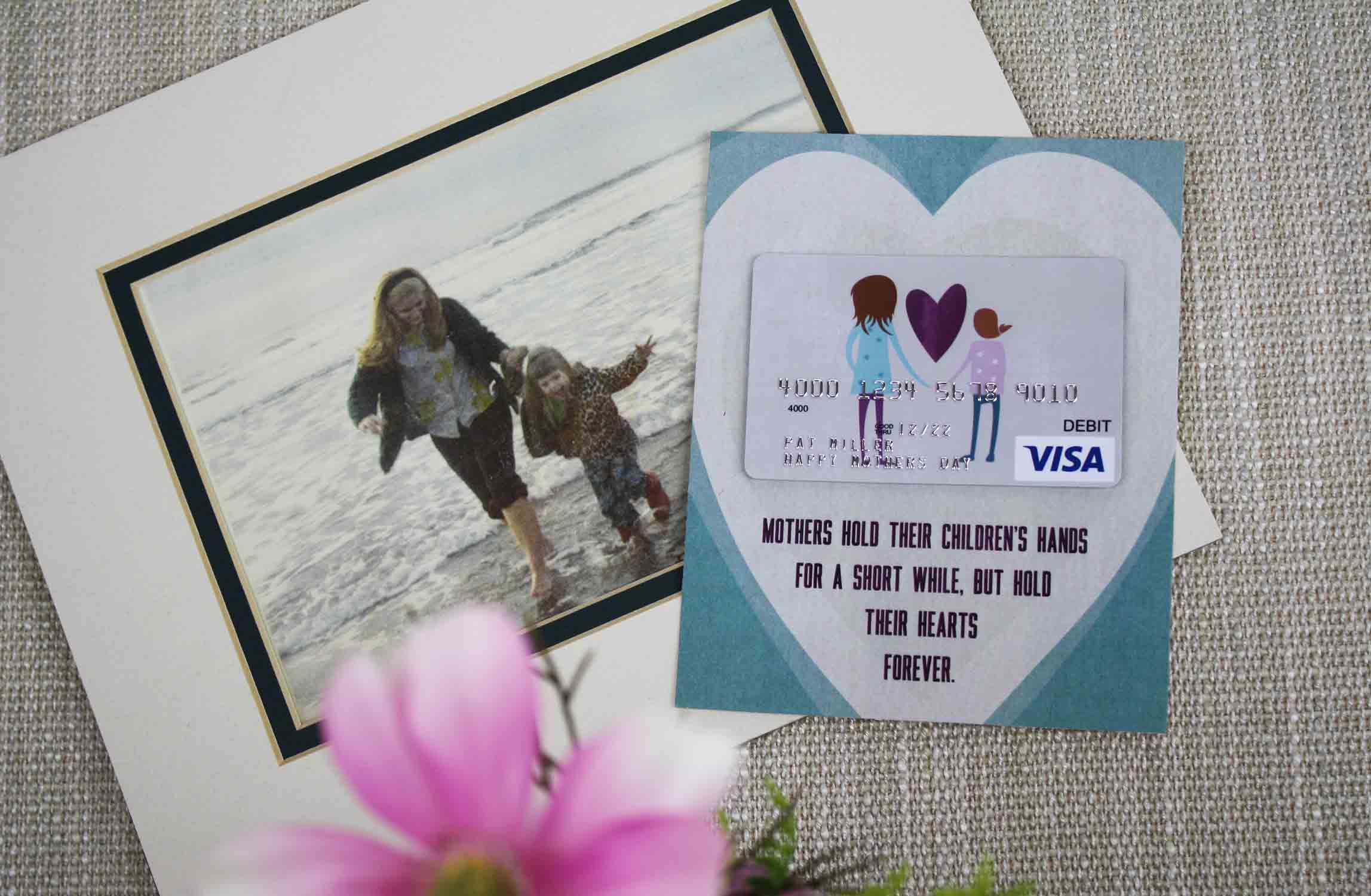 Bonus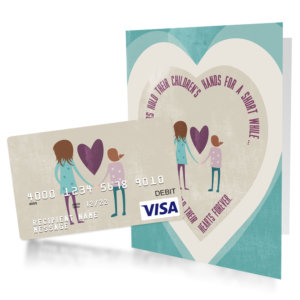 If mom doesn't live nearby, but you still want to tell her that she holds a piece of your heart, order the
Mother's Day
Visa gift card and select the standard greeting card option. Take a moment to personalize the gift card and greeting card with your mom's name and a special message. Tell us where to send the card and we'll take care of the rest!
More on Pinterest
For more free printable gift card holders, check out the
free prints page
or follow
Gift Card Girlfriend on Pinterest
. If you use this printable, send me a link to your page in the comments below or contact me on Twitter
(@GCGirlfriend)
. I want to see what inspires you.
Happy Gift Carding!
~Gift Card Girlfriend