Get a laugh this Mother's Day with a FREE printable greeting card that reads "Sometimes when I open my mouth, my mother comes out."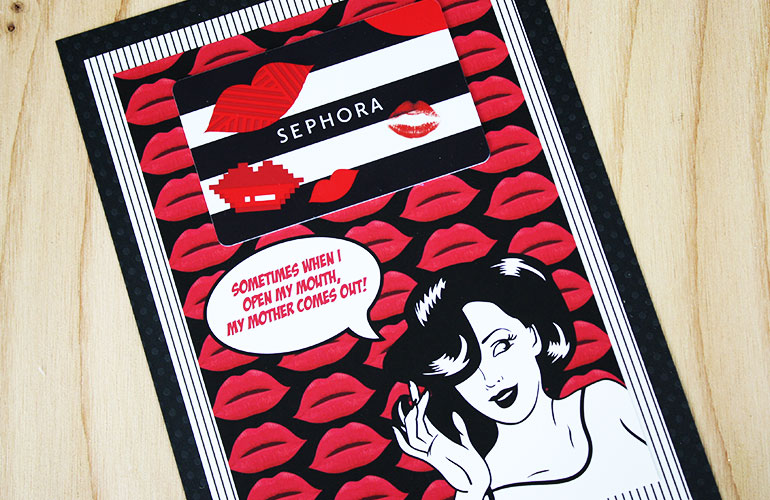 "Gifting Made Easy" by Gift Card Girlfriend
Mother's Day is coming up (on Sunday, May 8, 2022) and you need a gift! Year after year, gift cards are the most requested gift on wish lists and Mother's Day is really no exception. So rather than spending time picking out a present, take a few minutes to download this adorable gift card holder and either order a gift card or pick one up at the store. For this particular Mother's Day gift card holder, any gift card will do, but I especially love it with the black and red Sephora gift card. Below are instructions for making this funny Mother's Day gift for your mom.


Order Gift Card and Download Printable Mother's Day Card
This is one of those printable gift card holders that can be used with any gift card. The greeting card itself is what makes the gift fun and funny. So if your mom has a favorite restaurant or clothing store she likes to shop, then buy that gift card and tape it in place. I chose the Sephora gift card because the colors, style and message match perfectly. I even got fancy and added a tube of lipstick in Mom's signature color so she has something fun to wear now and a gift card to redeem after the Mother's Day celebration. Here are the links to download the printable and order the gift card:
Download the Mother's Day Gift Card Holder
Order a Sephora Gift Card or pick one up from the grocery store.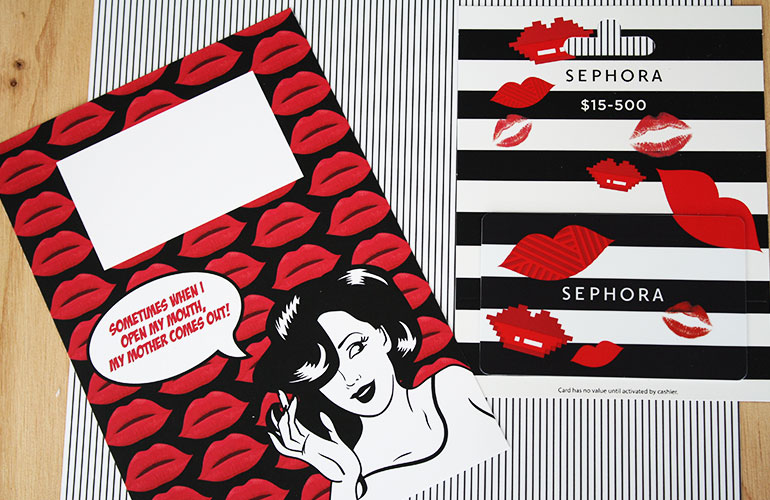 Add Some Style
After downloading the gift card holder, print it on a color printer using "best quality" and "actual size" settings. (Do not select "shrink to fit" or any other setting that will change the size of the printed .pdf image.) White, card stock paper measuring 8-1/2 x 11 inches works best. Once printed, use the guide marks and a straight-edge paper cutter to trim the gift card holder.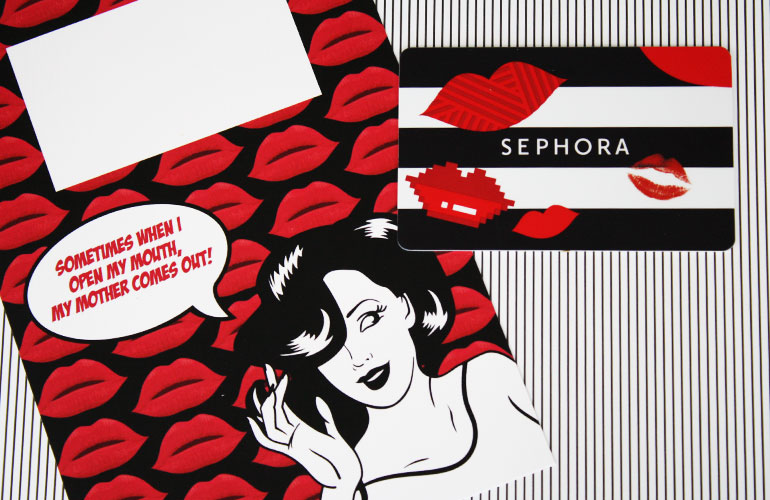 Once the gift card holder is cut out, all you have to do is attach the gift card with double-sided tape or a glue dot. If you want to get crafty, then add a couple of layers of scrapbooking paper. I couldn't resist throwing more black and white into the Sephora gift card party mix. Since the Sephora gift card and matching greeting card both have lips on them, I thought it would be cute to give mom a fresh tube of Lipstick as well.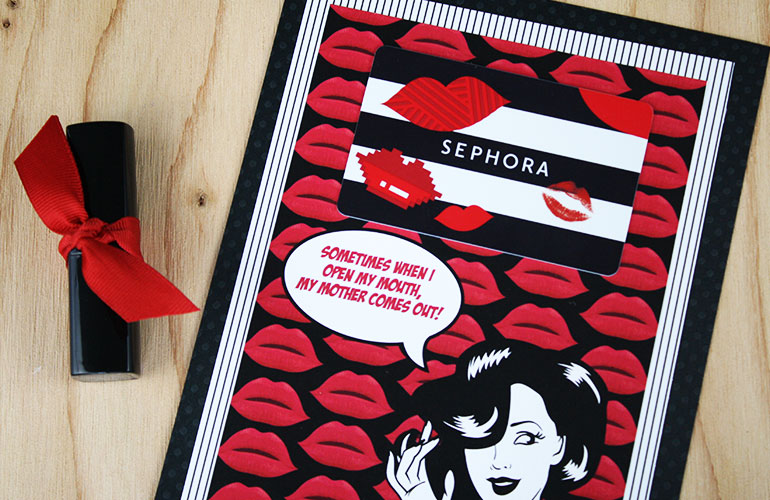 Deliver the tube of lipstick in a gift bag with the gift card or tie it to the card with a ribbon.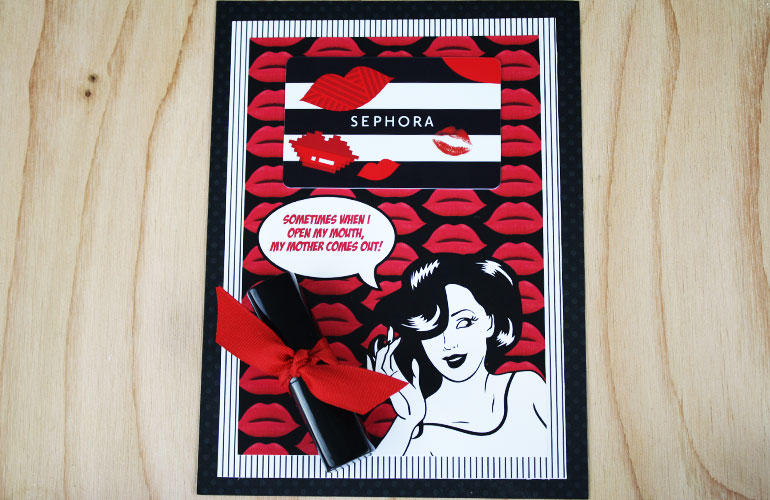 I just love this Mother's Day printable. It's fun, it's funny, it's trendy, it's easy to make and it's FREE! I hope you'll also notice that the card doesn't say "Mother's Day" on it which means you could also give this gift to your sister or to a friend on her birthday. The saying, "Sometimes when I open my mouth, my mother comes out," will probably resonate with many women. (My sisters will back me on this, and so will my kids.)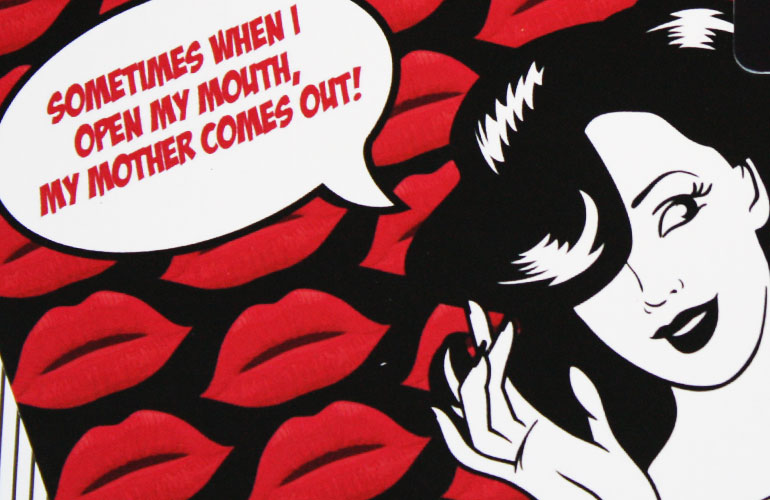 More on Pinterest
If this holder isn't exactly what you're looking for, then check out the other Mother's Day gift ideas on the
free prints page
or follow
Gift Card Girlfriend on Pinterest
. If you use this printable, send me a link to your page in the comments below or contact me on Twitter
(@GCGirlfriend)
. I want to see what inspires you.
Happy Gift Carding!
~Shelley Hunter, Gift Card Girlfriend