The best printable Christmas, Hanukkah and other holiday gift card holders on the Internet. Print at home, pop a gift card inside and you're done!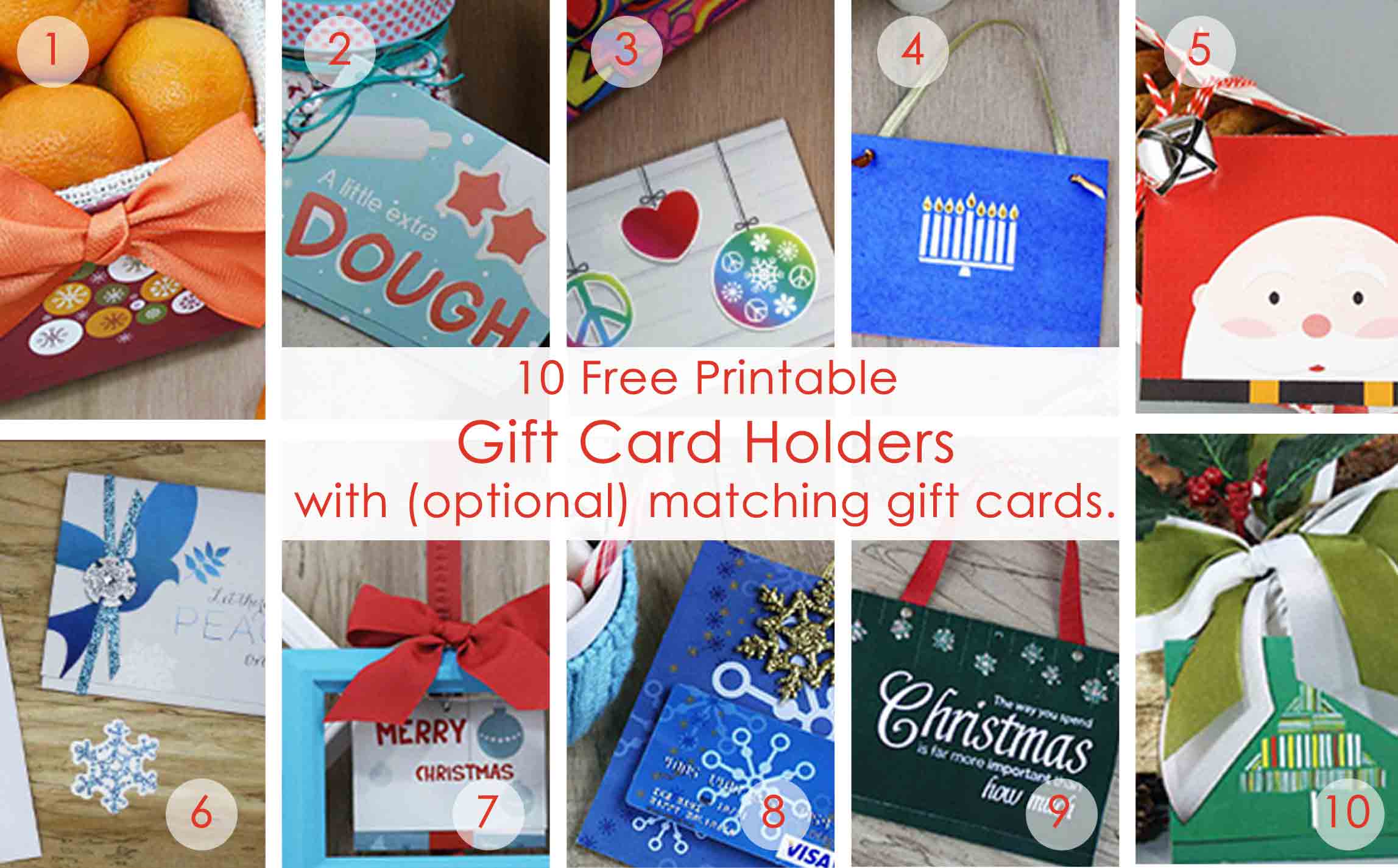 Quick question: how many gift cards do you plan to buy this holiday season? If you're like most people, you'll buy at least one gift card (probably closer to 4), and you'll spend about $200 total. With all that time you saved buying gift cards instead of shopping for traditional presents, you might have a little time left over to make your own DIY gift card holders. Below is a roundup of over 50 printable holiday gift card holders. From the simple print-and-present style, to the more elaborate crafting kit, there's a range of carriers to choose from. If you find others, let me know!
1 through 10 Free Gift Card Printables from Giftcards.com
For starters, I have to give props to the designers at Giftcards.com who created these awesome free printable gift card holders to match our gift cards. The "open face" style matches our Visa® and Mastercard® gift cards, while the "folded" styles can be used either for our gift cards or one you buy from another store or restaurant. With tutorials on how to fancy-up each one, you have 10 great choices without even leaving this site.
| | |
| --- | --- |
| 1.Season's Greetings | Are those buttons or orange snowflakes on the tree? Either way, they are adorable and perfect for this "Season's Greetings" gift card carrier. |
| 2.Little Extra Dough | Perfect match for those mason jar dump cookie dough recipes we love thanks to the words, "We Could All Use a Little Extra Dough For the Holidays." |
| 3.Hippie Holidays | Hippie Holidays, Man. Get your tie-dyed shirts and happy face magnets ready for this one. |
| 4.Happy Hanukkah | Instructions for how to light this menorah on this gift card holder with golden glitter. |
| 5.Santa's In Town | Drop the perfectly matching Santa Claus gift card inside this holder or add one from your favorite store or restaurant. |
| 6.Peace on Earth | Let there be peace on earth, and let it begin with this beautiful gift card. It lines up perfectly with the free printable holder. Add sparkles for fun. |
| 7.Merry Christmas | These whimsical ornaments are ready to hang out with your gift card of choice. Add a red ribbon and bring them both to life. |
| 8.Warmest Wishes | Deliver this delightful snowflake gift card holder in a mug filled with fixings for hot chocolate. So cute, so easy and so perfect for warm wishes. |
| 9.Thoreau Quote | The WAY you spend Christmas is far more important than how much, according to Henry David Thoreau and this free gift card holder. |
| 10.Simple Green Tree | This gift card holder says "Happy Holidays" with a simple green tree design. Perfect for just about any card and any person on your list. |
11. Santa's Nice List Gift Card Holder
I don't know about you, but my kids (ages 10 to 14) are all about the gift cards. They love having the freedom to slide their own plastic across the counter at the cash register and buy the things they want. I asked our designers to make a gift card PLUS a matching holder that says, "You made Santa's Nice List!" They did a great job. Of course, any gift card will work, but I especially love the official "seal" on the Visa gift card shown.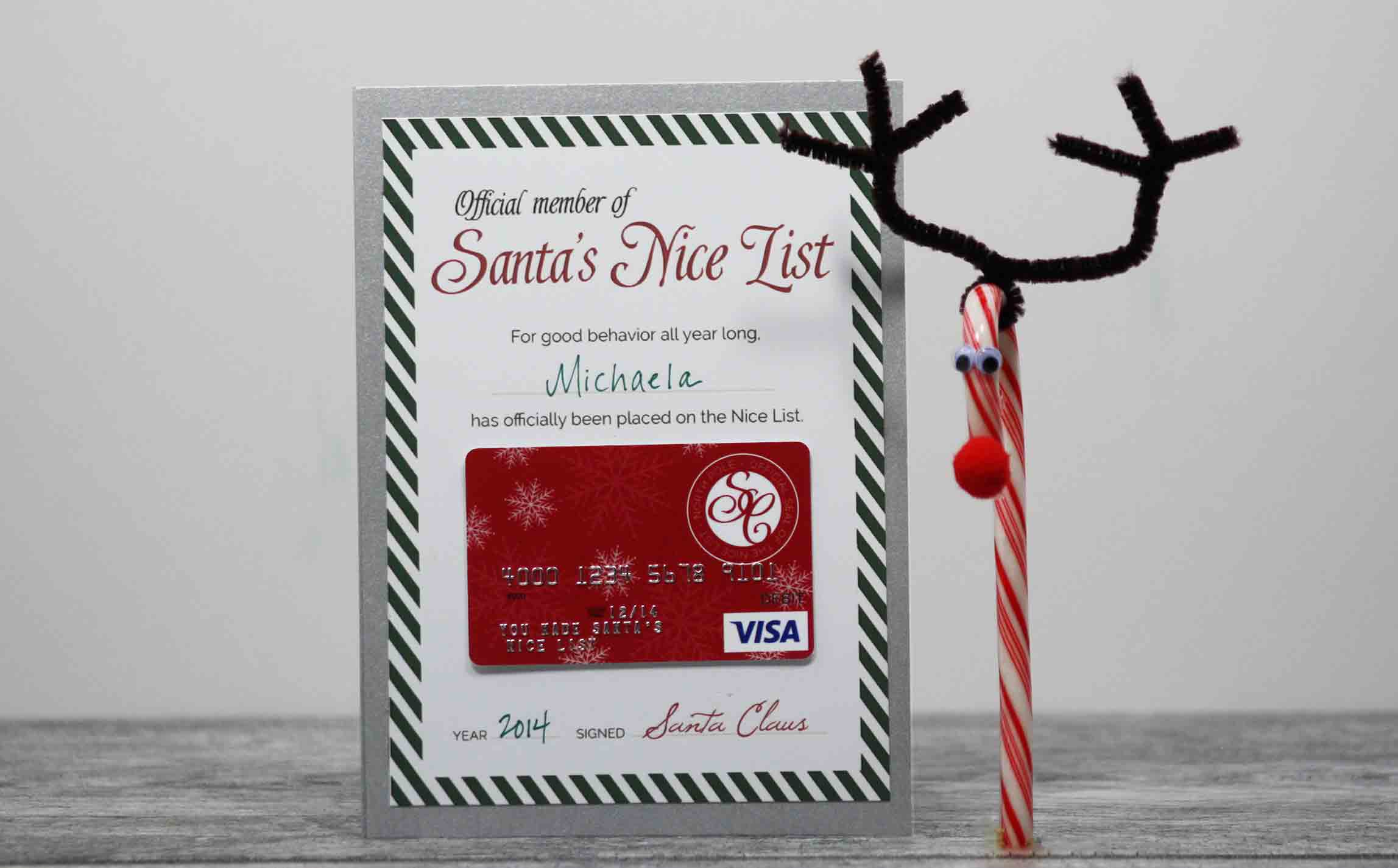 | | |
| --- | --- |
| 11.Santa's Nice List | Congratulate family and friends for being good all year with this free printable Santa's Nice List certificate. Although designed to hold a gift card (carrying Santa's official seal!), you could add a merchant gift card or plop a photograph on the front instead. |
12 through 21 More Gift Card Printables
For this next round of printables, I turned to outside designers. Although I looked predominantly for free printables, there are a few I found for a couple of dollars that are worth the price. Check out numbers 11 through 21 below…which really should count for close to 30 or more, since there are multiples in some packs. But who's counting?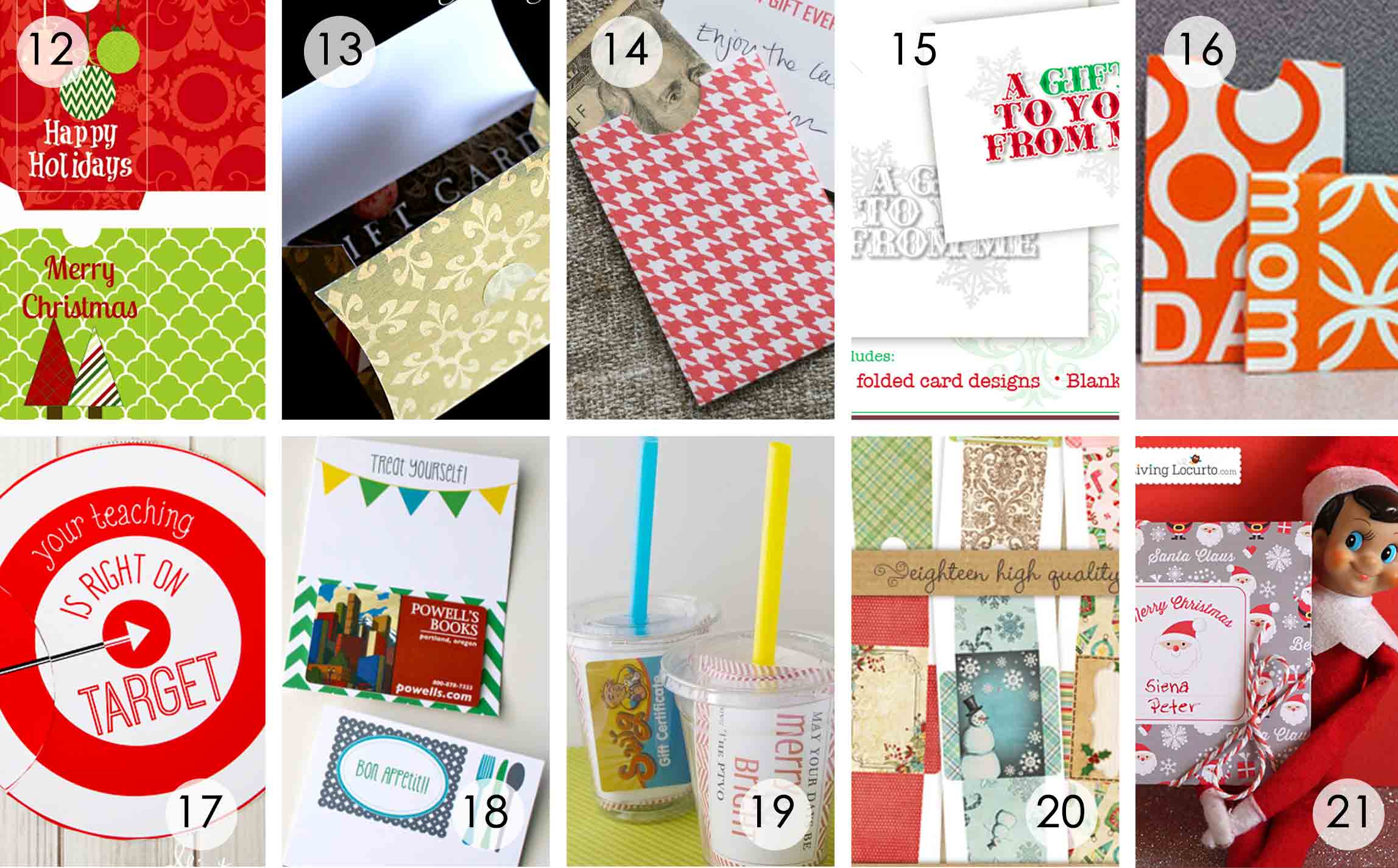 | | |
| --- | --- |
| 12.Happy Holidays | Four Happy Holidays gift card holders plus several adorable gift tags–including the trendy chalkboard designs. |
| 13.Cut-Out Template | This is a template you can download, print and trace around using decorative paper. Use it to turn your own fun holiday papers into gift card holders. |
| 14.Money Holder | Let's be honest. Money can be folded up into the same shape as a gift card. This holiday printable can be used to hold either. |
| 15.Designer Inspired | This designer may have closed up her online shop, but the downloads are still available. Grab this if you prefer something simple. |
| 16.Mom and Dad | Cute gift card holders for mom and dad. The colors aren't holiday, but they can still be festive. Add matching ribbon and present! |
| 17.Target for Teacher | The perfect gift card holder for a teacher who is always right on Target. |
| 18.Teacher or Other | This link contains two sets of similarly designed gift card holders–one set for teachers, the other for just about anybody. Enjoy! |
| 19.Merry and Bright | May your days be Merry and Bright…and a whole lot easier with these adorable gift card holders. |
| 20. Shabby Chic | These printable gift card holders aren't free, but with 18 in the download, I'd say they are a bargain. |
| 21.Elf Shelf Holder | A four-way-folding gift card holder ready to hold cards, money and other tiny treats. This is a really cute design. |
22. DIY Gift Card Envelopes
The fun thing about printables is that you can often use them simply as templates. Take the gift card holders above. Download the shape you want, print it, cut it and trace around it. Now you have a fancy DIY gift card envelope to start decorating with embellishments. The one below is a perfect example.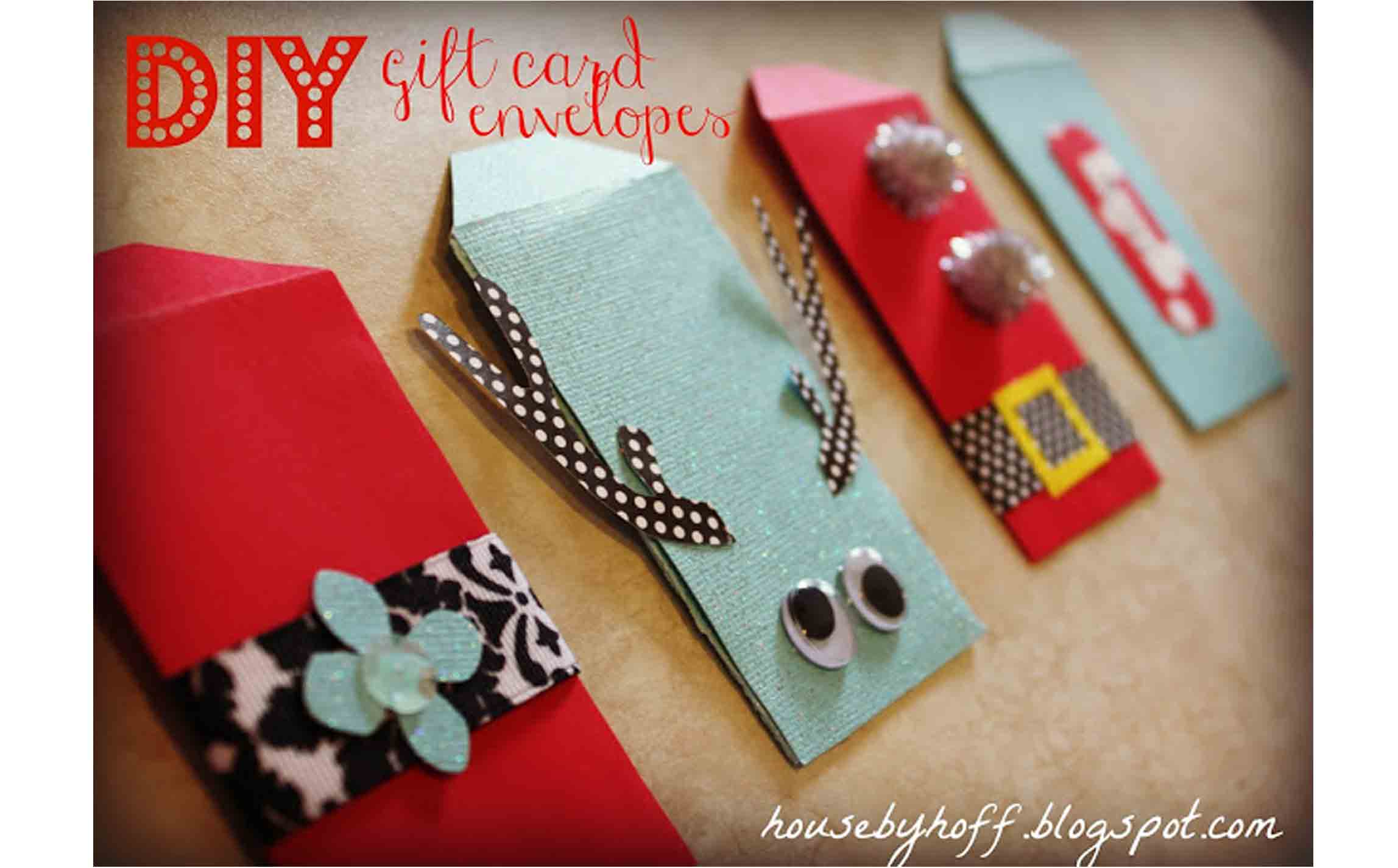 | | |
| --- | --- |
| 22.House by Hoff | Take a closer look at that gift card holder three places to the right. Santa's buttons are the best. Drop in your favorite gift card and you're ready to go. |
23 through 32 Holiday Gift Card Printables
As I started to line up this next set of gift card printables, I found myself drawn to the "green and white." Some are classic and some are new and modern, but all are delightful.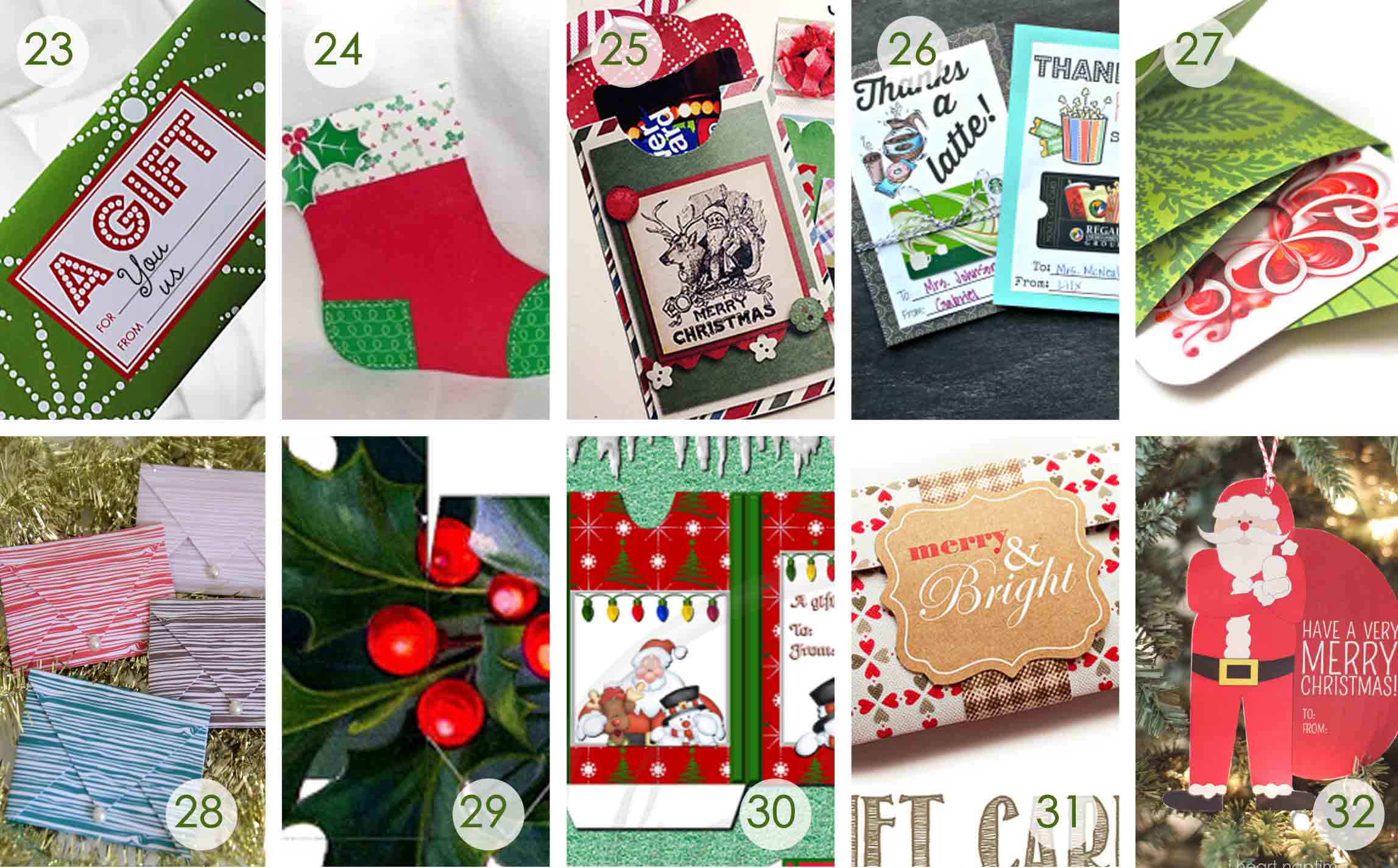 | | |
| --- | --- |
| 23.A Gift For You | This printable set includes gift card holders, gift tags and gift coupons. All are green and red, all are super cute and gift-ready. |
| 24.Stocking Stuffer | The ultimate stocking stuffer, or I should say, stocking saver. Printable stockings in more than one design, perfect for any gift card. |
| 25. Season's Greetings | Save time with these gift card holders that look like layers of scrapbook paper and embellishments, but are easy-peasy printed papers. The nostalgic look is the perfect topper. |
| 26.Thanks a-Latte | Designed for teacher gifts, these gift card holders are perfect for anybody you want to give a gift card to for the movies, department store or other locations. |
| 27.Fold and Hold | This origami-like gift card holder is a simple fold and hold. There's no printable, but the pattern is clearly marked on the website for you to copy. |
| 28.Modern Envelope | Gift card holding envelopes with a little more modern look than the others are posted here. Simple, elegant and perfectly sized. |
| 29.Milk Carton Holder | Get out the scissors, glue and your favorite scoring tool to make this unique milk carton gift card holder. |
| 30.Christmas Kids | Here are three designs with kids in mind. They're not free, but you get three holders for less than a dollar. |
| 31.Gift Card Wallet | Using your favorite scrapbook paper, this template creates a folded gift card wallet. The gift card pops up when you open the greeting card. |
| 32.Santa Ornament | Santa Claus is coming to a tree near you and he's packing a gift card in his sack! Add this to the list of uniquely shaped gift card holders we've seen. |
33. Mason Jar with Embellishments
This is a cheater one because it doesn't include a printable. But I had to show it to you because although the individual items look like they came out of the junk drawer, collectively the gift card holder is stunning. The card isn't fancy, the fabric isn't terribly unique and the twine matches stuff already in my closet. That's what makes it so special. Thrown together in this mason jar, it all comes together perfectly. Perfectly EASY, if you ask me!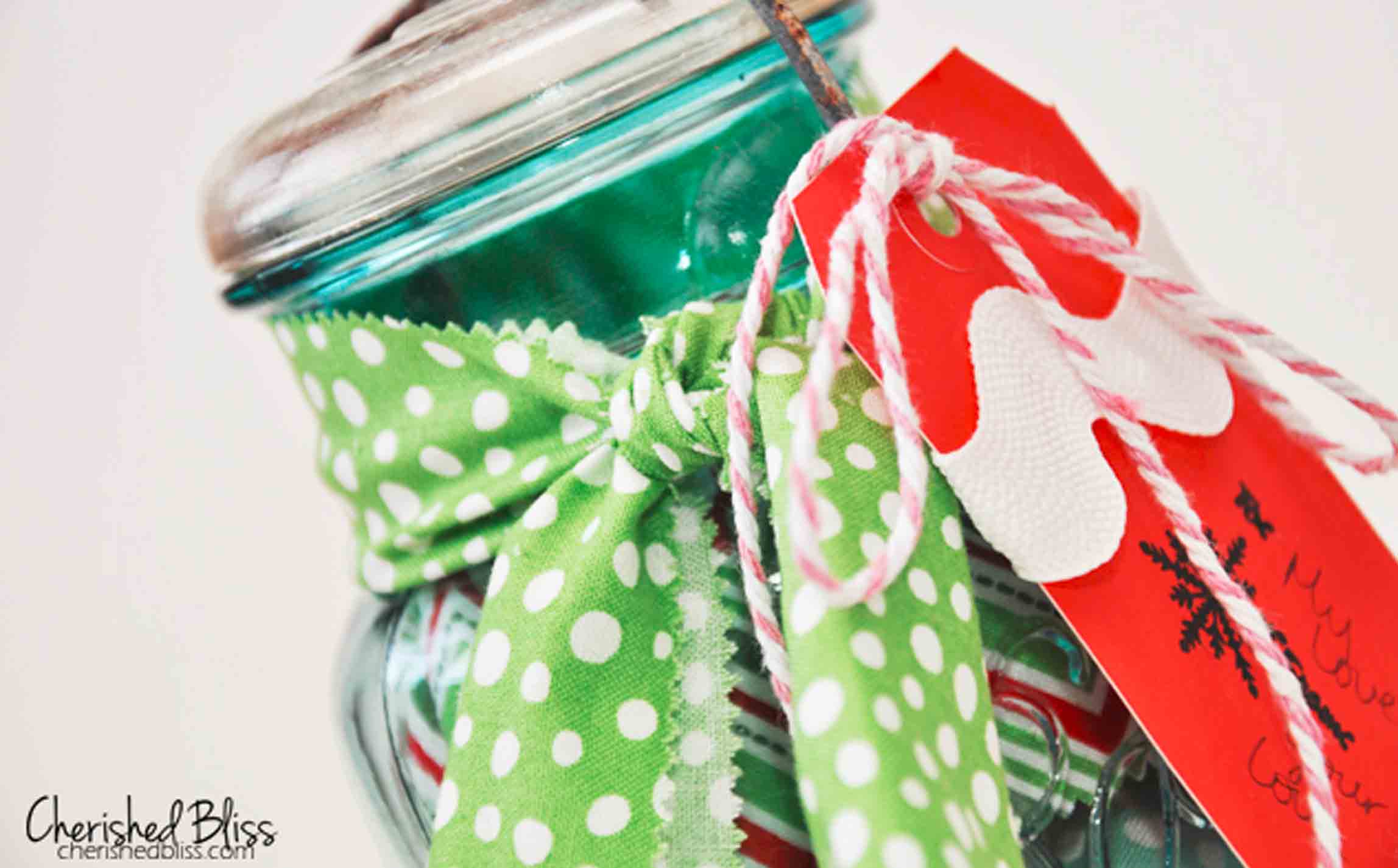 | | |
| --- | --- |
| 33.Cherished Bliss | Directions for making this mason jar gift card holder full of scraps and fun. |
34 through 43 Hanukkah Gift Card Printables
Despite the fact that millions of people celebrate Hanukkah every year, I couldn't find nearly as many printable Hanukkah gift card holders as I thought I would. I most likely do not understand the gift-giving aspect of this celebration like I thought I did. Nevertheless, it seems gift cards and dreidels go well together this holiday season.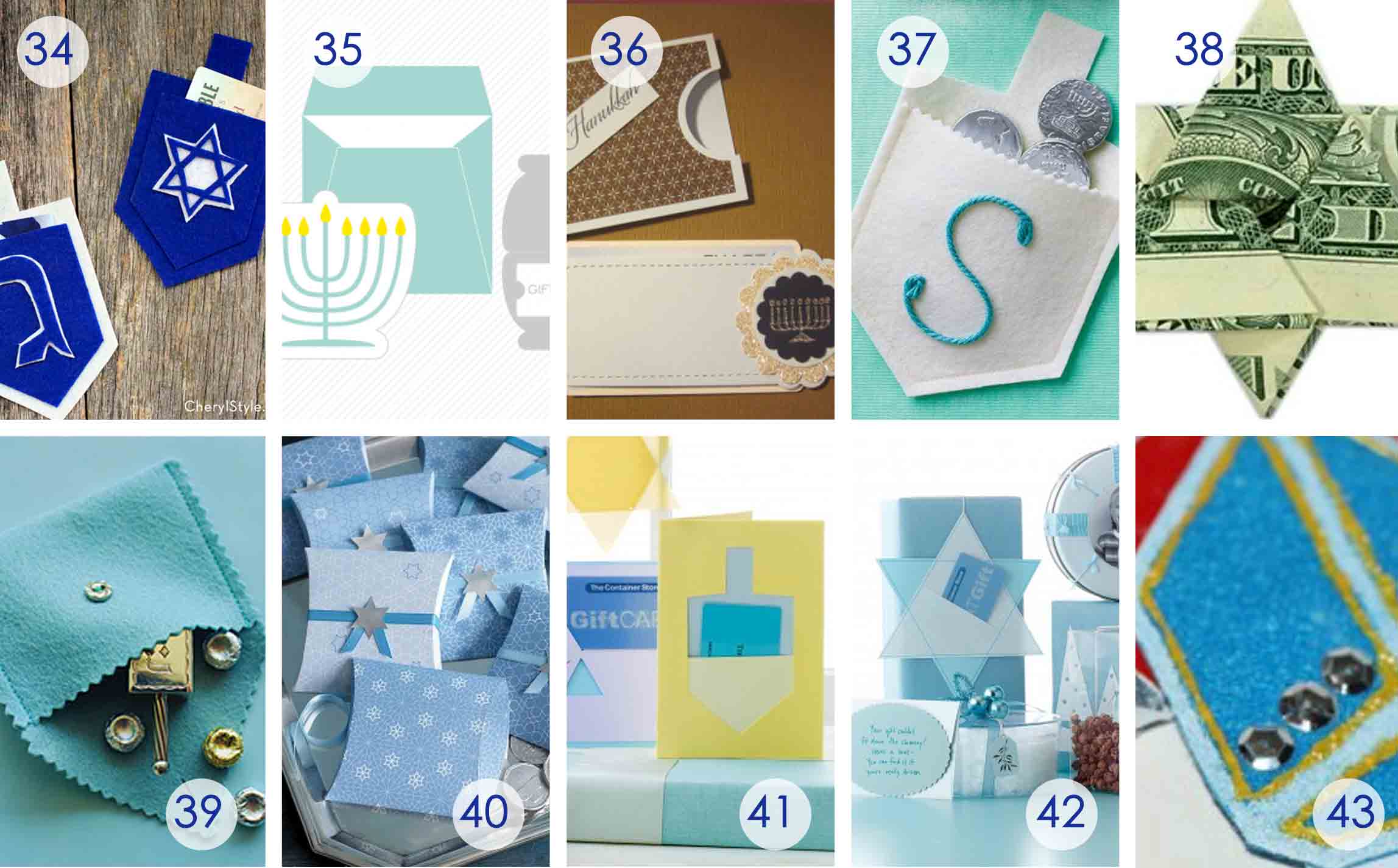 | | |
| --- | --- |
| 34.Felt Dreidel | Although I'm sure you could use this pattern to make a dreidel out of paper, the instructions will show you how to make a dreidel gift card holder out of felt. Really cute. |
| 35.Menorrah die-cut: | This menorah gift card holder and matching envelope is perfect for Hanukkah. The cost is $2 but you can use the die-cuts for personal use as many times as you'd like. |
| 36.Jewish Celebration | I like this gift card holder because it is a little different from some of the others I've found. Made of stamps and die-cuts, you might not have all the tools to make it. But there is a detailed template included that you can copy and use with whatever you happen to have on hand. |
| 37. Felt Dreidel Pouch | Another gift-card-holding dreidel for you to test out, compliments of Martha Stewart. |
| 38.Star of David | There's no pretending a gift card can be folded up like this, but I couldn't resist including it here. Maybe you can put the folded star on top of a gift card dreidel. |
| 39.Felt Envelope | Is felt fabric a popular part of the Hanukkah tradition or is it just a coincidence that I'm finding so many felt gift card holders in the color blue? This felt envelope is perfectly sized to hold a gift card, a dreidel, coins or small treats. |
| 40.Favor Boxes | Let me do you a favor and suggest putting a gift card into these clip-art card-stock boxes. Add ribbon and the Star of David and you're done! |
| 41.Greeting Cut-Outs | These cute Hanukkah greeting cards have a little place to tuck gift cards inside so you get both a greeting card and a gift card all in one, delightful presentation. |
| 42.Paper Star | This may be one of the more simple printable Hanukkah gift card holders, but I also think it is one of the best. Print the triangle template, trace around it on Hanukkah-designed paper, glue together and put a gift card in it. Simple! |
| 43.Fancy Dreidel | Could it possibly be another felt dreidel gift card holder? Yes, it is, but this one is fancy! Get our your fabric scissors, glue, puffy paints and more. |
44. Teacher Christmas Gift Card
Teachers and gift cards go together like multiplication and division, like their and there, like metaphors and similes. I guess we frequently think to give our teachers gift cards because we can't give them pay raises and apples don't quite seem like adequate gifts. Gift cards, on the other hand, are a nice way to ease a teacher's budget. So you may have noticed that this printable roundup includes more than one teacher appreciation gift card holder. That's because they just seem to be in high demand during the holiday season.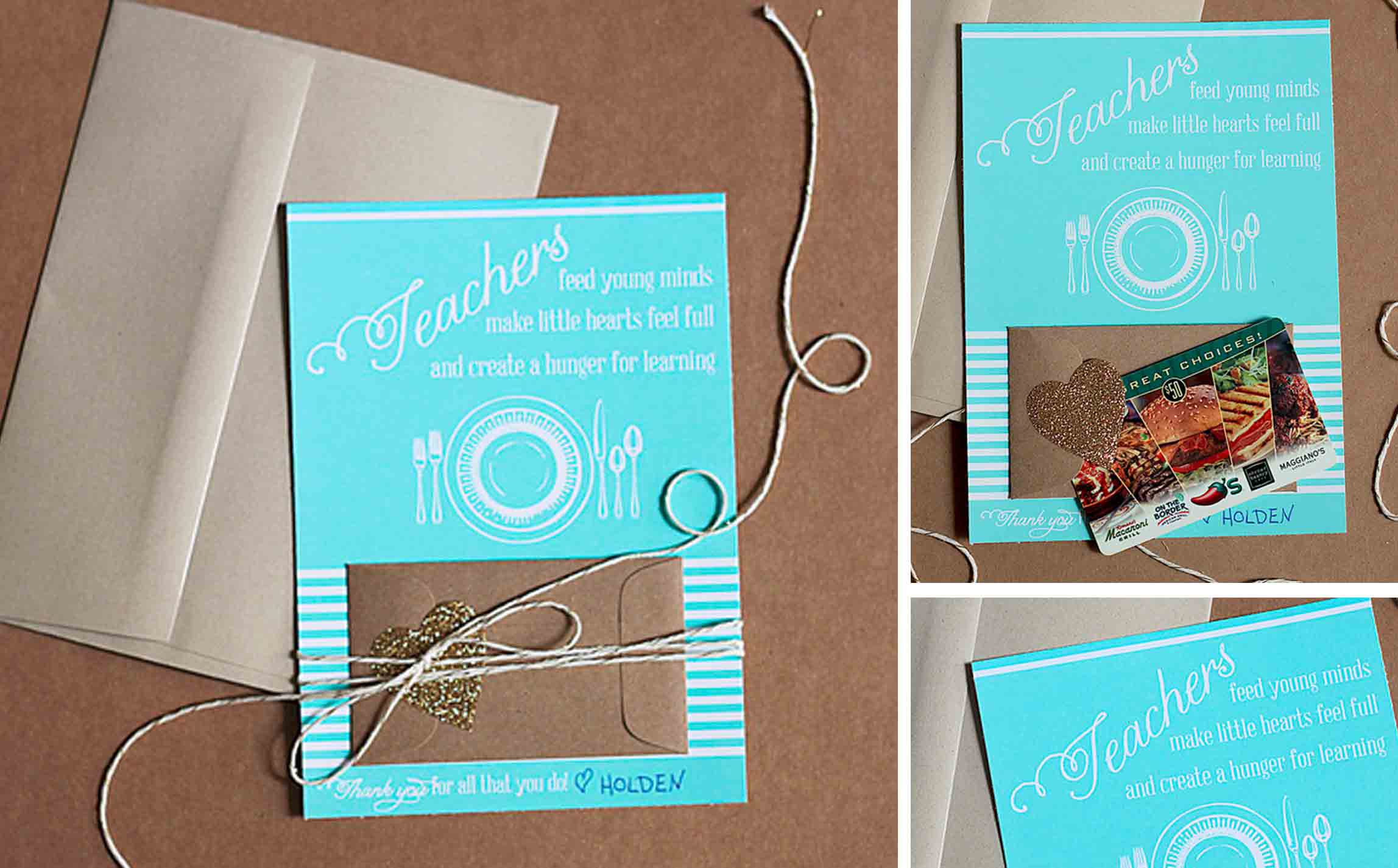 | | |
| --- | --- |
| 44.Food for Teacher | I chose this printable teacher gift card holder because of what it says on the front. "Teachers feed young minds, make little hearts feel full, and create a hunger for learning." Well said and well-placed with a restaurant gift card. |
45 through 49 Gift Card Printables from Around the World
You don't have to speak these other languages to appreciate the sound of "Merry Christmas" in Spanish, French, Italian or another tongue. Below are five festive gift card holders that I just love. (Don't hesitate to pop the instructions into "Google Translate" if you're not sure what the blog post itself says.)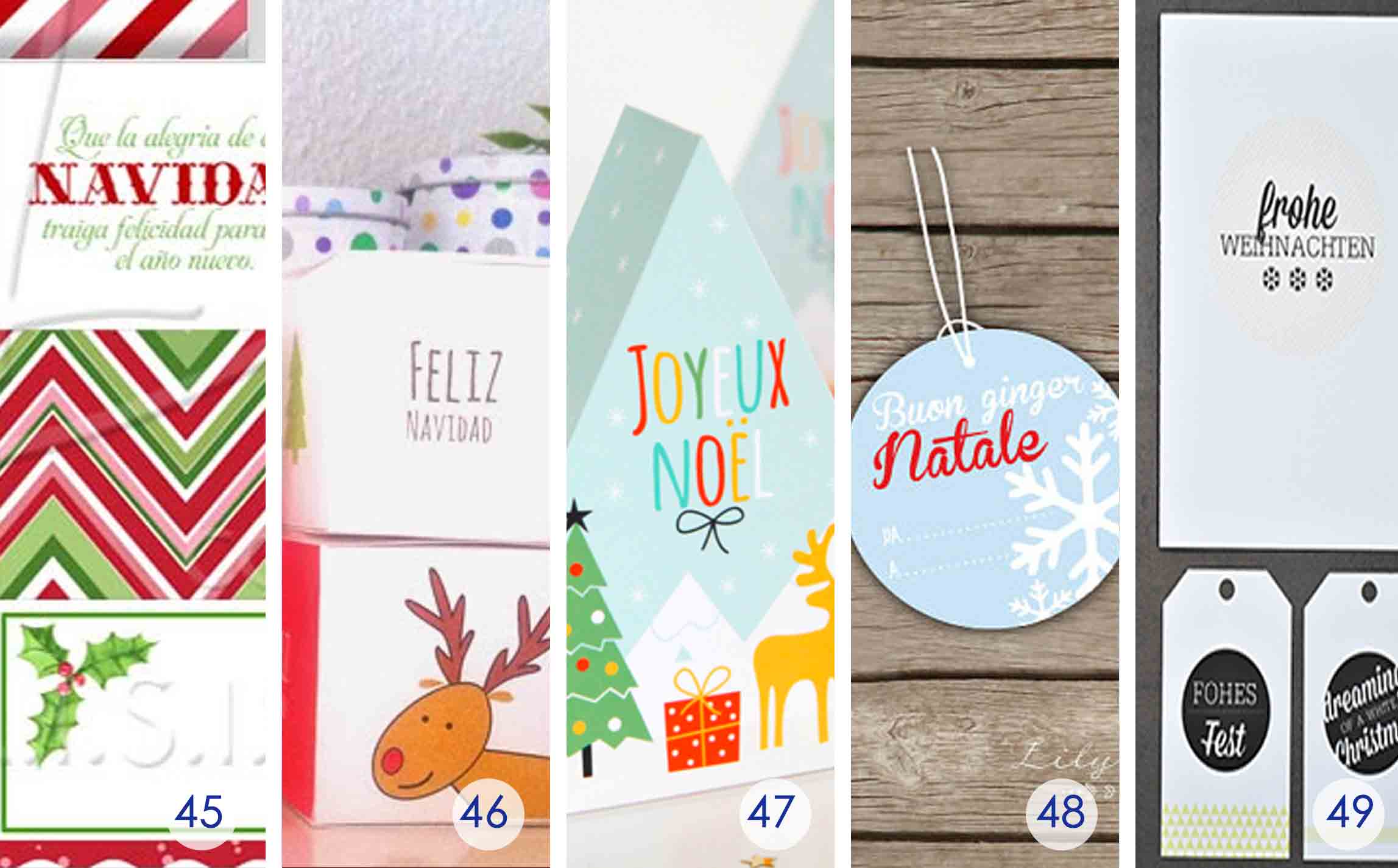 | | |
| --- | --- |
| 45. Feliz Navidad | In addition to three cards written in English, there is an adorable gift card holder written in Spanish that translates to "The joy of this Christmas brings happiness all year long"…or something like that…according to Google. |
| 46.Navidad Box | Foldable gift card boxes in two shapes. I really like the semi-cone shape of the bigger boxes and think they will work perfectly for cards. Although the smaller box may be too tiny to hold a gift card, you can enlarge the print to make a bigger box or use the template as a guide for making a box out of your own festive paper. |
| 47.Joyeux Noel | Not only are the words lovely, but the graphics are wonderful and the holder folds into the shape of a triangle! Amazing! You don't have to read the entire blog to use the printable. Just look for the words, "triangle box" and you'll find the .pdf file to download. |
| 48.Buon Natale | I almost gave up looking for a printable gift card holder written with the Italian words "Buon Natale" when I found these little circle tags. You'll pay about $3 for the download and you'll have to attach them to a box or envelope holding the gift card, but this is the best I could do. I think these would be adorable wrapped with red twine on a natural craft paper box. ("Buon ginger Natale" stands for "Have a ginger Christmas".) |
| 49.Frohe Weihnachten | Another beautiful language is German. This printable set of cards, tags and wrapping paper are equally beautiful with a mix of holiday sentiments written both in English and Deutsch Sprache. (Does anyone know if I wrote that correctly?) |
50. He is the Gift
Finally, I cannot wrap up this blog post on giving without acknowledging my personal belief (not the company's) that Jesus's birth and subsequent atoning sacrifice truly IS the greatest gift of all. Whether you believe in Christ or not, I hope that you truly enjoy the blessings and the spirit of giving this holiday season brings.
| | |
| --- | --- |
| 50.Christian Tags | This wonderful set of chalkboard gift tags bring the Spirit of Christmas to any gift card you give this holiday season. Print them out, grab some twine, punch a hole in the gift card (without hitting the magnetic stripe) and tie them to a candle. |
There's Plenty More
That's 50 links to 50 different printable gift card holders. Most of them are free, but a few cost little more than a couple of dollars. Within those links, however, you are likely to find several styles to choose from. One post, for example, contains 17 different envelopes than the one pictured and another has 14 other folding boxes. So that's another (17 + 14 = ) 31 holders right there. I honestly stopped trying to get a complete count. All I hope is that you are able to use these images and links to find exactly what you're looking for this holiday season.
If you find other holders or envelopes you like, leave a note in the comments below or contact me at @GCGirlfriend on Twitter.
Happy Gift Carding!
~Shelley Hunter, Gift Card Girlfriend