Ideas on how to use gift cards to perform random acts of kindness. Got a gift card? Pay it forward.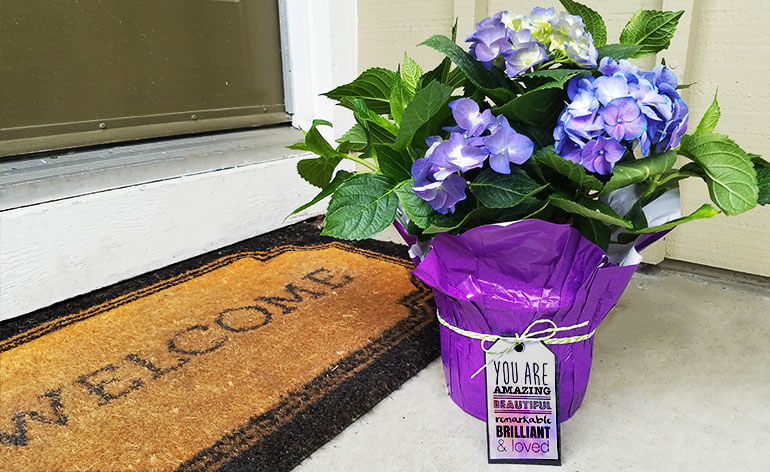 Last year, a mother from my son's fourth grade class came to school, with her coffee cup in hand, and announced to the other moms that she'd gotten her morning fix for free. Apparently, someone had come into Starbucks earlier that morning and left a gift card with instructions to use it to pay for as many customers as possible. My friend happened to be one of the people in line at the time. Elated. This simple gesture changed her mood and her morning entirely.
Although November 13, 2015 is officially World Kindness Day (the National Random Acts of Kindness (RAK) Week is February 14-20, 2016), you can use gift cards any day of the year to spread good cheer.
What Are Random Acts of Kindness?
In this fast-paced world that seems busier every day, some of the simple random acts of kindness you perform may not even be remembered–like when you let that minivan merge onto the freeway instead of keeping your nose bumper-to-bumper with the car ahead of you or when you let the teenager with two items go ahead of you in the grocery checkout line. Though seemingly insignificant, these small gestures can make a big difference in our world and can be done regardless of your economic circumstances. (So keep doing it!) What if you have the means to do more, though? What random acts of kindness could you perform to change a person's day and demeanor, like my friend from school? Here are some suggestions:
Adopt a Family
For years, our church congregation has gathered together to buy gifts for children living in foster care. For each child in the program, we receive a list of suggested items, all for under $25. I've noticed that, over the years, the requests have changed from specific toys or clothing sizes to mostly gift cards. While some complained that buying gift cards instead of presents removes the effort from the service, I feel just the opposite. Before, I worried that kids who might only receive one gift that year would end up with something that didn't fit or that they didn't like. With gift cards, I imagine these kids have a better experience.
You don't have to participate in a program in order to adopt a family. Thanks to the anonymous nature of plastic cards, you can simply leave one on the porch of a family in need. I would suggest gift cards to Target or Walmart because those merchants carry a range of products. Visa® or Mastercard® gift cards would be equally flexible.
Pay it Forward
Like the gentleman who randomly paid for my friend's latte, buy a gift card to the doughnut store, ice cream shop, coffee house or another merchant that typically rings up sales of less than $10 and leave the card at the counter for the cashier to use. My guess is that customers, rather than being greedy, will try to keep the giving going for as long as possible. At Starbucks that morning, several customers trimmed their order or paid for part of it with cash to ensure more customers could enjoy the freebie.
Phone a Friend
Give a prepaid phone card to someone living on the street. Not everyone has a cell phone. Giving someone a chance to call home for the holidays may be the loving redirection needed to recover from difficult times.
Leave an Extra Tip
The next time you go to a restaurant, leave more than just a cash tip for the waiter or waitress. Drop a gift card on the table as well. Gift cards like iTunes or Google Play work for just about everyone and they don't have to be in large dollar values to be a treat.
Bus Fare
Cover the cost of public transportation for a day, an hour or even the next rider. Buy a bunch of bus tokens and leave them with the driver to dole out as riders board.
Random Handouts
Whether you leave gift cards anonymously on car windshields or hand them over in person to complete strangers, carry a stack of gift cards in your pocket to give to those you see. Leave one with the bank teller, the cashier at the supermarket or the gas station attendant.
Tips for RAK Gift Cards
Grocery stores sell gift cards in multi-packs. Buy a bunch of iTunes, Starbucks or Target gift cards and have them ready to give when you feel inspired. Carry a permanent marker in your purse or keep one in your car. Before leaving a gift card anonymously, write a kind word or message on the front of the card. (Just don't write over the magnetic stripe or cover the terms and conditions on the back of the card.) Even easier, order Visa gift cards in bulk and write "HAVE A GOOD DAY" on the embossed message line. When the cards arrive, take a moment to activate each one so the recipients can use them immediately and without hassle.
Who Should you Gift?
Though it may seem natural to give random gift cards of kindness to people who appear to be in dire circumstances, I think you will be surprised to find that even those who are seemingly wealthy will react positively as well. After all, everyone has a bad day now and then, and we could all use a break that might have a ripple-effect on others. My friend at school certainly has enough money in her bank account to afford a cup of coffee. But having someone buy it for her had an untold impact on her day. She was still smiling and talking about the experience when I left the classroom that day, an hour later. Everyone around her felt inspired as well, each thinking about that one person's generosity. I imagine we all took the positive feeling with us and paid it forward in some way–even if just by slowing our cars down on the ride home to allow merging traffic into our lanes. What other ways do you think gift cards can be used to surprise people? Let me know in the comments below or send me a tweet at @GCGirlfriend on Twitter.
Happy Gift Carding!
~Shelley Hunter, Gift Card Girlfriend