Check out reusable gift bags and gift boxes from EverWrap, plus some D-I-Y ways to ditch disposable wrapping paper for an eco-friendly holiday.
My Problem with Disposable Gift Wrap
As much as I love gift card presentations, I am kinda the worst when it comes to wrapping traditional presents. My kids will tell you. I often slap bows on Amazon delivery boxes, present clothes still wadded up inside of shopping bags and have even used recycled cereal and granola bar boxes to wrap Christmas presents.
This is actual footage of my son opening his presents on Christmas morning.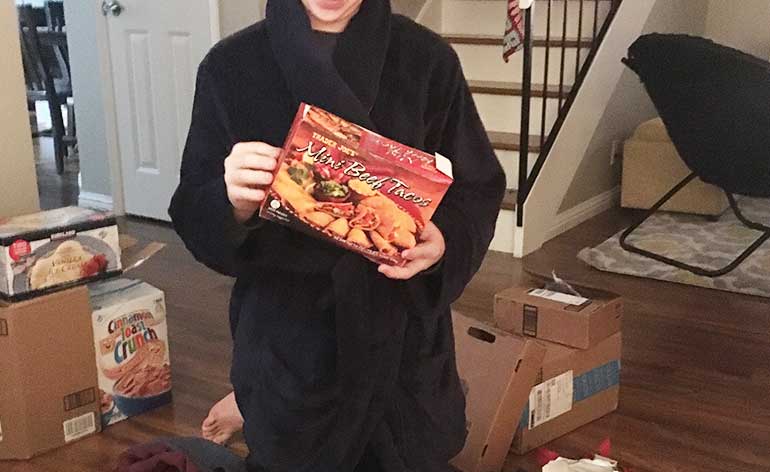 No, I didn't give him mini tacos, ice cream and cereal for Christmas, but you bet I used those boxes to wrap his presents!
I confess, however, my lack of effort in this area does not stem from being deeply devoted to the environment. I just don't like spending time and money on products that get discarded immediately. If you have ever stayed up late wrapping presents on Christmas Eve only to see the same items unwrapped before sunrise, you know what I'm talking about.
My Sister's Time-Saving Solution
My little sister is more creative than I am. She solved the problem of "throw away" gift bags and boxes more elegantly.
A few years ago, she got out her sewing machine and made a bunch of reusable cinch-sack style gift bags. When I am up late wrapping gifts in boxes from the pantry, she simply tosses her presents into these bags and places them under the tree. Brilliant.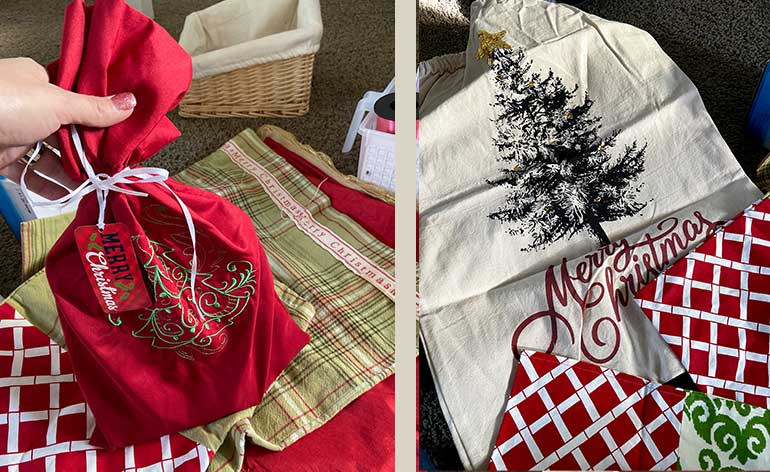 When her social media friends raved about the bags, she took the idea one step further and co-founded EverWrap, a business that creates and sells reusable gift boxes and gift bags. In the video above, you'll see my "unboxing" of EverWrap.
10 Alternatives to Disposable Gift Wrap
In the list below, I'll share a smidge more about that product as well as some easy D-I-Y sustainable gift-wrapping ideas you might want to try as well.
1. EverWrap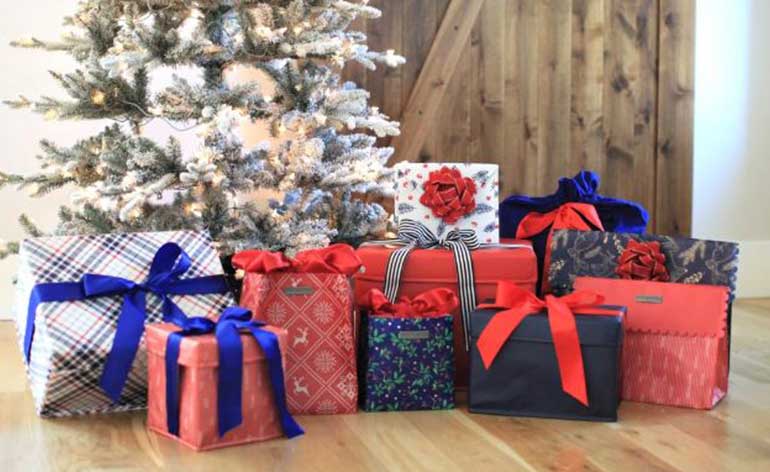 EverWrap is a subscription gift wrap service that delivers an annual holiday bundle and a quarterly everyday gifting collection of reusable gift bags, boxes and envelopes. Two unique features of the EverWrap solution are that the boxes and bags fold up for easy storage when not in use and you don't need scissors or tape to "wrap" the gifts. Fabric ribbon is attached to each container so all you have to do is put your present inside and tie the bow to keep it shut. Watch the video to see how easy it is.
Subscribe to EverWrap for reusable gift boxes and bags.
2. WraptEssentials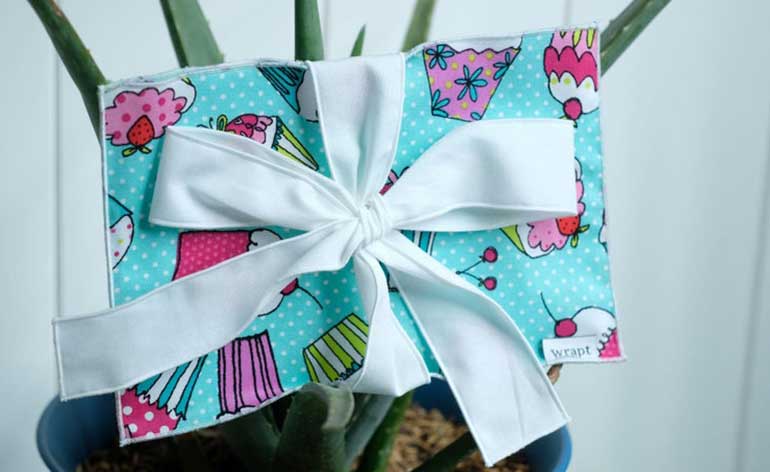 I found this cute account on Instagram a couple of years ago. WraptEssentials makes reusable fabric gift wrap, cinch sacks and gift card envelopes. You can buy each piece individually on their Etsy shop. I often give holiday treats on a plate with plastic wrap (that won't stay fastened) or in a bakery tin, but I like this idea better. Plate your treat and tie it up with a bow.
The gift card envelopes are cute too and useful. I like the idea of using a gift card envelope to hold ALL of the gift cards you receive over the holidays. Keeping your gift cards in one place is one of my top tips for remembering to use your gift cards.
Buy reusable gift bags at WraptEssentials.
3. Wrap Revolution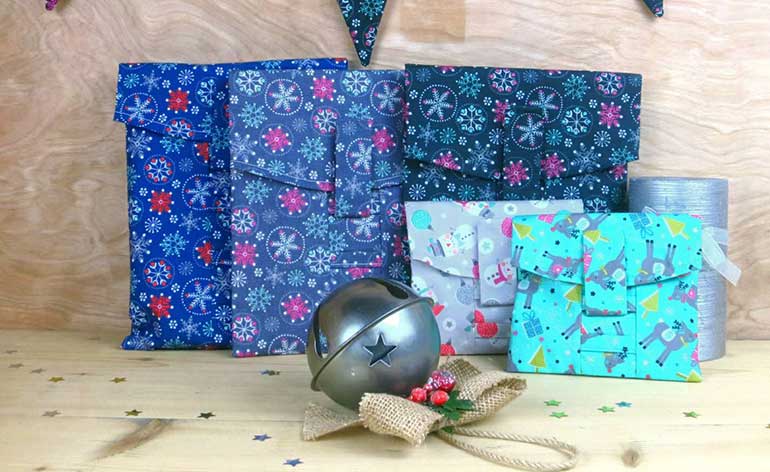 For my UK gift-givers, I found some eco-friendly gift bags over at Wrap Revolution. They have several cute fabric designs and a game called "Pass the Parcel" that I had not heard of before. It's like a fabric version of Russian nesting dolls. The person holding the last bag gets the prize. I love that! I will have to add this to my list of gift card exchange ideas.
Buy sustainable gift wrap at Wrap Revolution.
4. Lilywrap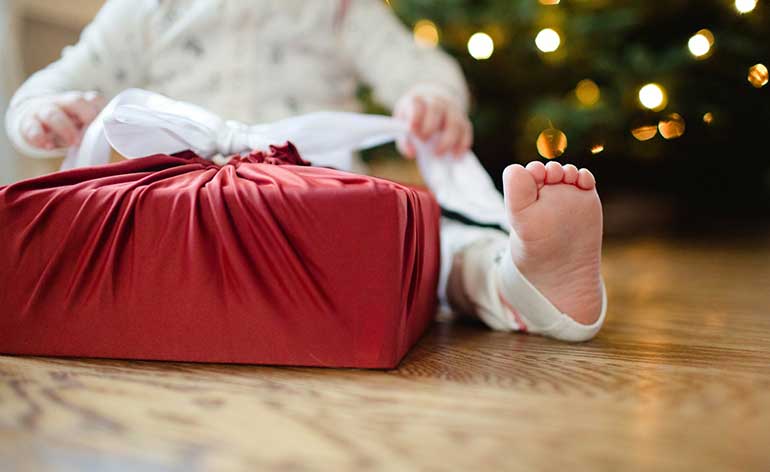 Here's another take on the cinch sack with a different shape and different fabric that makes the reusable wrap quite versatile. The fabric is stretchy so you can tie it up around items of various shapes and sizes, including boxes. Born out of a similar desire to "reduce, reuse, recycle," the creator of this bag cites research showing that "the average American spends 3 hours wrapping holiday presents (not including, birthdays, wedding showers, baby showers, etc.) and that we create 4 million tons of paper gift wrap waste each year." The Lilywrap is her answer to saving time, money and waste during the holiday season.
Buy eco-friendly reusable gift wrap at Lilywrap .
5. D-I-Y Cinch Bags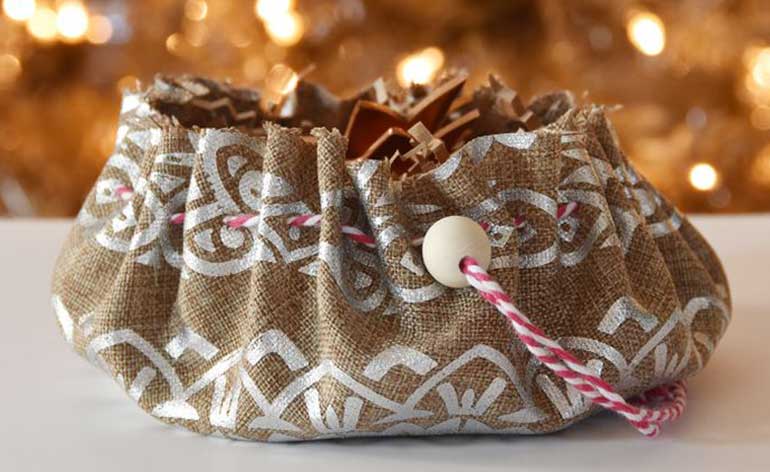 If you like the look and functionality of a cinch bag, but lack the sewing skills needed to make one, you should check out this cinch bag from Faith Provencher. All you need is fabric, scissors and a couple of other things to get it done. I think it's adorable.
Learn how to make a reusable cinch bag.
6. Sewn Gift Bags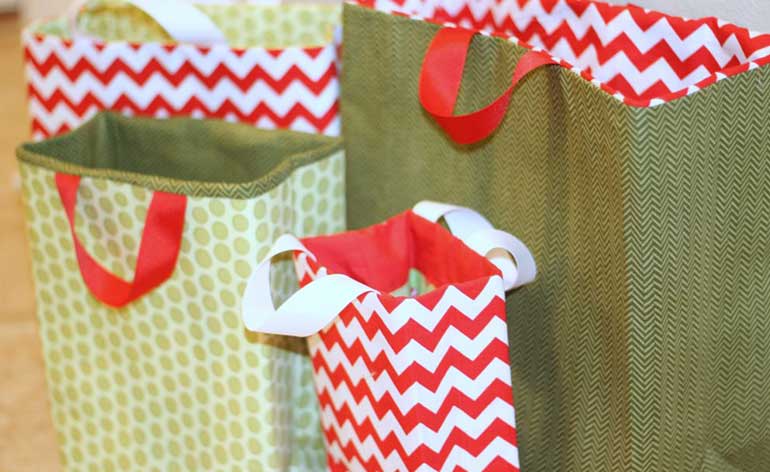 If you DO have the sewing skills and machinery to make a more elaborate gift bag, then check out this free fabric gift bag pattern. I like that it has a flat-bottom design so the bags stand up nicely. The coordinated fabric is a nice touch.
Get the free pattern for reusable gift bags.
7. Bandannas and Scarves
Bandannas, scarves, dishtowels and fabric squares are perfectly sized to wrap smaller gift items. Though you might not find the holiday look you want, places like Walmart, Hobby Lobby and your local dollar store often carry a variety of inexpensive options. You can also look for scarves and other fabric wraps at second-hand stores.
If you like the bandanna above, check out the free printable gift card holder that goes with it.
8. Pairing Items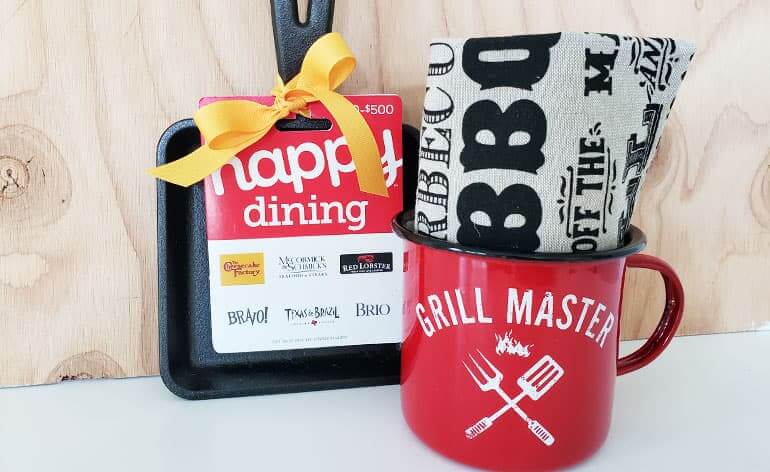 This entire blog started out as a way to show people how I like to pair gift cards with other products to turn any gift card into a thoughtful gift. I think being intentional with your gift is what makes it personal. The very act of selecting a gift card with purpose and delivering it with an item that matches it in some way shows you put effort into the giving.
Some of my favorite ways to deliver gift cards with reusable or sustainable packaging is to tuck a gift card into a journal, tie a gift card to a mug or reusable cup or clip a gift card to a useful tool. While it would be impossible for me to link to all of them, below is a list of some of my favorites:
Look for other fun gift card pairings with these free printable gift card holders.
9. Mason Jars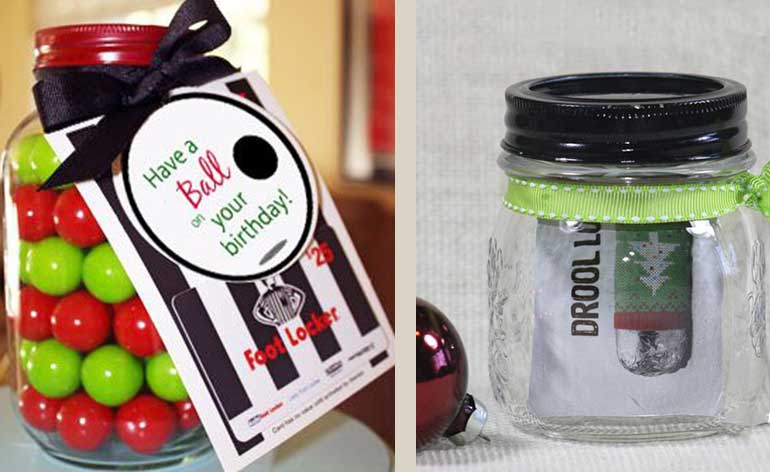 Finally, I can't end this list without hailing the almighty mason jar that continues to reign supreme on Pinterest. Though not right for larger gifts, mason jars and other small reusable containers are perfectly suited for delivering gift cards and other tiny items. For a simple presentation, drop a single item into a jar, top it with a lid and tie a ribbon around the top. For more elaborate gifting, paint the jar, paint the lid, add a fabric topper and more.
Search "mason jar gift" on Pinterest and prepare to be amazed.
10. Repurposed Paper and Boxes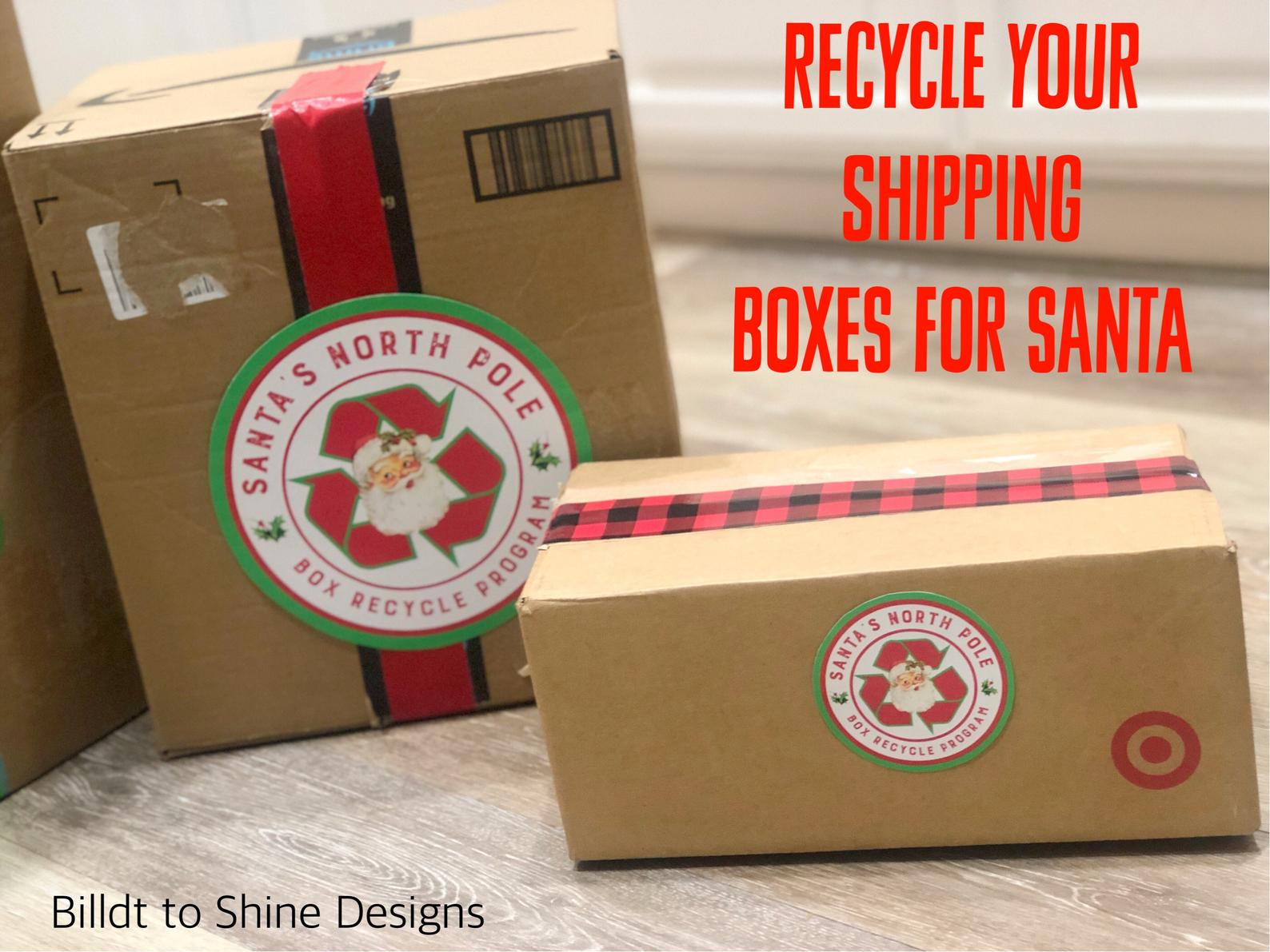 One way to reduce waste during the holiday season is to simply repurpose the paper and boxes you already have. If you're buying products online, then consider keeping the items in their respective delivery boxes and adding a D-I-Y touch to make the containers look more festive. Get the kids to color on the boxes or create their own wrapping paper. Add stamps, stickers and ribbon. Or check out these "Santa Recycled Program" stickers to disguise the boxes for the kids. Now THAT's an easy way to wrap a gift!
Download Santa's North Pole Box Recycle Tags.
ONE MORE TIP!
If you want to do a deep dive on the history of wrapping presents, check out this Beginners' Guide On How To Wrap Presents by UniqueGifter. It answers questions you didn't even know you had about wrapping paper and other alternatives.
What other reusable gift wrap options have I missed? What other ways have you found to make wrapping presents less time-consuming and more eco-friendly? Let me know in the comments below, on Twitter (@GCGirlfriend) or on Instagram (@Gift.Card.Girlfriend).
Happy Gift Carding!
~Shelley Hunter, Gift Card Girlfriend