The best gift cards to buy for kids graduating from college, chosen from top stores and restaurants plus ways to make gift cards for grad more personal.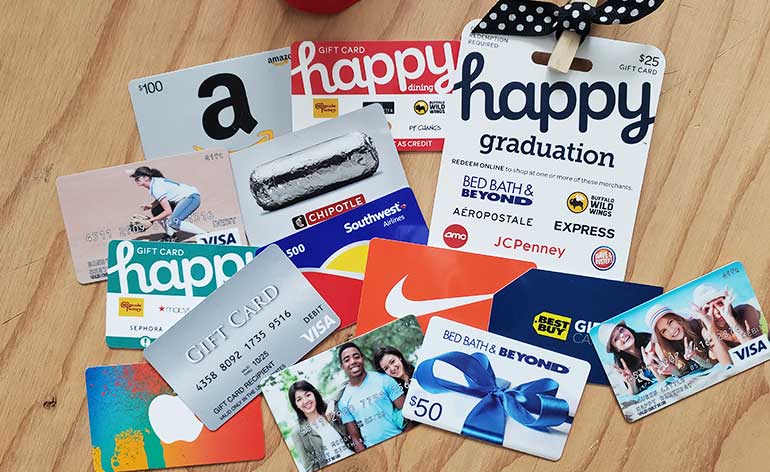 10 Best Graduation Gift Cards for College Grads
Whether you're graduating from middle school or getting a master's degree, completing a level of education is something to celebrate. Though certainly a lifetime of learning is encouraged (and frankly, required), for some college graduates, this final walk to "Pomp and Circumstance" may be the final mark of formal education. With life about to shift in a new direction, get a gift card to help graduates gear up for the change.
Below are my Top 10 Gift Cards for College Graduates. And just so you know, I primarily selected these gift cards from stores and restaurants that are on the National Retail Federation's list of Top 100 Retailers. That way, the gift cards should be easy for you to buy and easy for grad to redeem.
1. Happy Grad eGift Card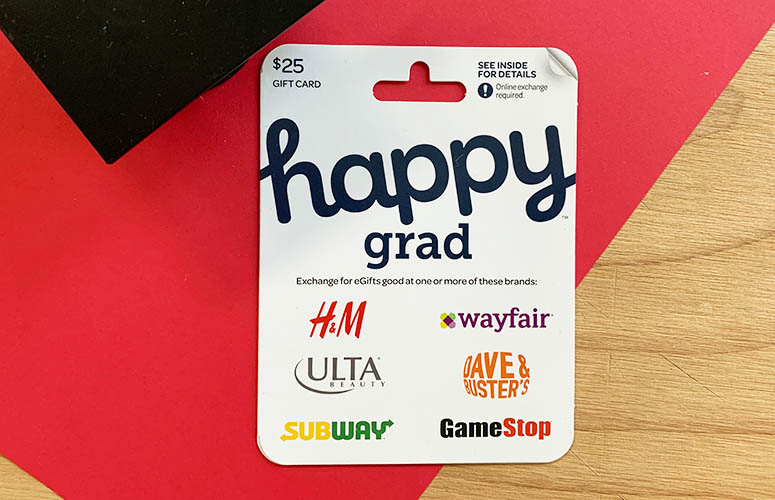 This gift card says it all. The Happy Grad gift card from the Happy Card collection is usable at any of the stores or restaurants listed on the card. Grads can use the card to buy bedding for the next apartment, pick up lunch, enjoy a nice dinner, go the movies and more. Just keep in mind, the recipient must swap the Happy Grad egift card for the store or restaurant egift cards they want before trying to use the card.
Here's an explainer video on how the Happy Graduation gift card words.
2. Visa Gift Card or Mastercard Gift Card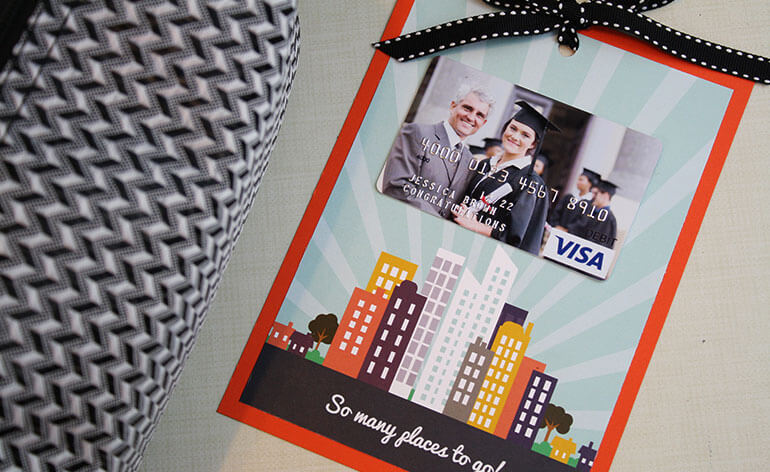 With a personalized Visa gift card or a custom Mastercard gift card, college grad can spend the dollar value of the card pretty much anywhere. It can be used to buy business clothes for the new job, an airplane ticket for a much-needed vacation or a down payment on a new apartment. If credit cards are accepted, a gift card most likely will be as well.

3. Ann Taylor or Men's Wearhouse
Ready or not, here comes real life, real work and possibly a dress code. If college graduate is moving into the working class, then get a gift card he or she can use to dress the part. Even companies with casual dress codes typically have some minimum expectations on what to wear to work. With an Ann Taylor or Men's Wearhouse gift card, graduate can pick up anything from a business suit to casual slacks and more.
4. Banana Republic, Gap or Old Navy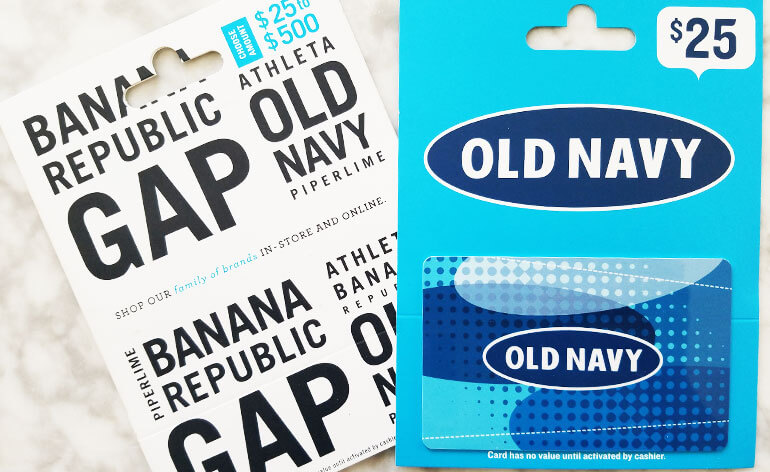 For the college graduate who is moving onto another degree or for sure gets to wear khaki's to work each day, a gift card to Banana Republic, Gap or Old Navy may be the perfect match. Since these cards are interchangeable and can be redeemed at all stores within that family of stores, these gift cards give the graduate plenty of shopping options to choose from. It's like a multiple-choice question where the right answer is "redeemable at all of the above."
5. Macy's or Nordstrom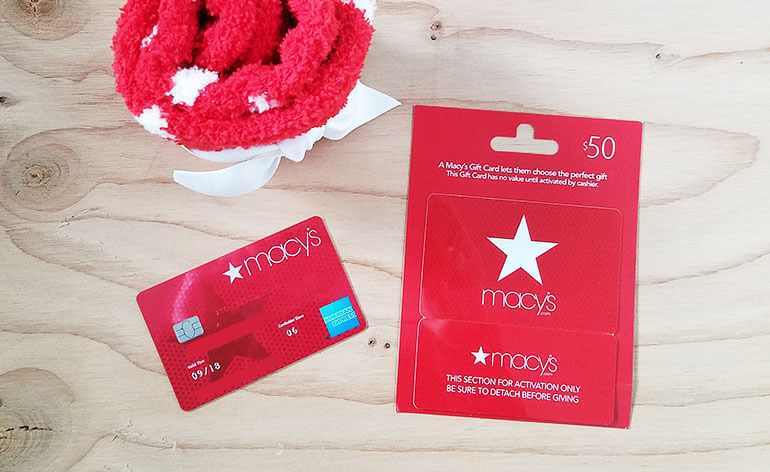 In addition to needing new clothes, college graduates may need a total makeover that includes shoes, makeup, skincare products and undergarments. They can buy those things at Macy's or Nordstrom with a gift card, but they can also choose to buy products for their next home such as a waffle iron, dinner plates that don't look like an entire fraternity has been eating off of them or a vaccuum cleaner. Department store gift cards for graduation can be used to fill a variety of needs.
6. JCPenney or Kohl's
To stretch gift card dollars just a little further, department stores that offer the same type of merchandise at budget-friendly prices may help graduates buy more for less. A JCPenney gift card or a Kohl's gift card can be redeemed for new bedding, towels, dishes and other living essentials. They can also be redeemed for shoes, clothing, luggage and more.
7. Target or Walmart
Speaking of versatility, Target gift cards and Walmart gift cards can be redeemed for an even wider variety of merchandise than other department stores. Graduate can redeem the gift card for clothes and housewares, but he or she can additionally use the gift card to pay for food, toiletries, prescriptions and more.
8. Bed Bath & Beyond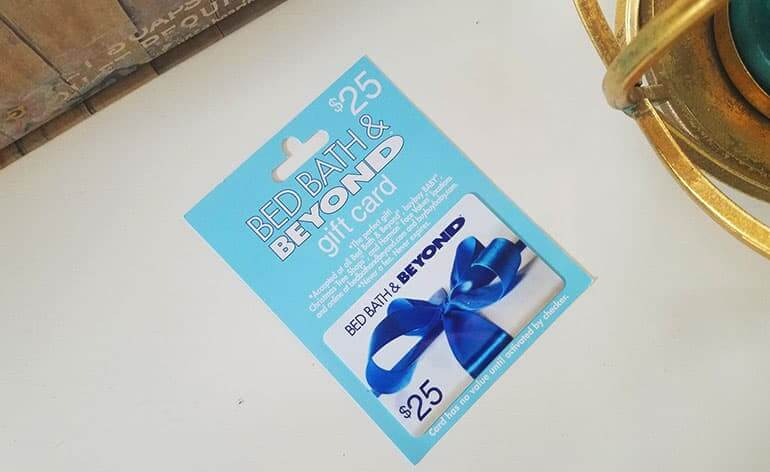 Although some college graduates stay in the same town and live in the same apartment after graduation, I think most people finishing advanced degrees pack up and move to a new place, a new job or a new adventure. Get graduate a Bed Bath & Beyond gift card to help set up the new digs–whether that's a new studio apartment in the city or a double-wide trailer out in the country.
9. Electronics Stores or Digital Content Gift Cards
I have yet to meet a student of any age who isn't impressed with or saving up for the next smartphone, smartwatch or extreme-action camcorder. Get graduate a gift card to Amazon.com, Crutchfield Electronics or Apple Stores so he or she can exit school in style. If gadgetry isn't graduate's thing, these gift cards can still be used to buy more practical items such as a new laptop, tablet or printer.
Also, finals are over and it's time for graduate to relax with some music, a new app or a little gaming. With an iTunes, Google Play or Xbox gift card, downtime is just a couple of clicks away. Let graduate enjoy a well-deserved break with an entertainment gift card.
10. Sephora or Ulta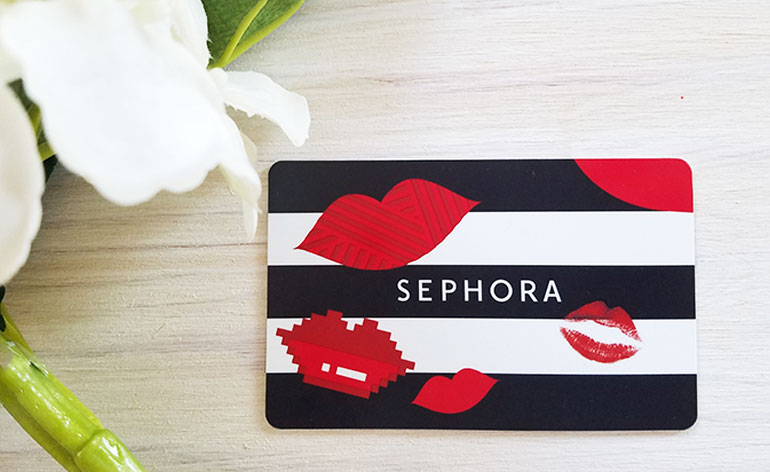 Beauty store gift cards such as Sephora and Ulta are some of the most popular gift cards among young women. So get college graduate a gift card she can use to freshen up her look, pick up a new fragrance or get a total makeover. She's about to take on the world and this gift card is the one to help her do it.
Did I miss any of your graduate's favorite gift cards? Like I said above, I opted for nationwide stores so that the gift cards are easy for you to buy and just as easy for college kids to redeem. But I certainly encourage shopping local as well. Get an exiting student a gift card to a favorite local hangout is great for one final visit before he or she gets on the freeway on-ramp to head out of town for the last time–just make sure he or she has time to use it before leaving.
If you have another suggestion for this list of top graduation gift cards for college grads, let me know in the comments below, on Twitter (@GCGirlfriend) or on Instagram (@Gift.Card.Girlfriend).
Happy Gift Carding!
~Shelley Hunter, Gift Card Girlfriend