The best gift cards to buy for kids graduating from high school plus ways to make high school graduation gifts more personal.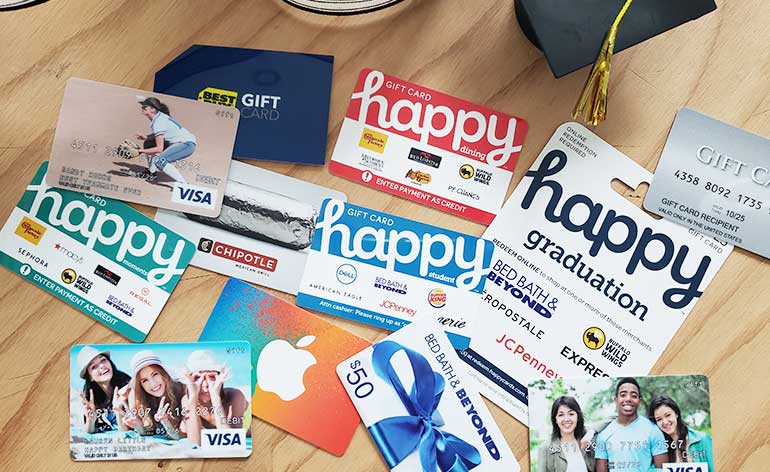 Best Gift Cards for High School Graduation
While all graduations are worth celebrating, I get particularly sentimental when I think about high school graduation because getting this degree is not just another accomplishment, it's a "ready or not here I come" launch into adulthood. For many students, graduating from high school also means leaving home for good. (Sniff…sniff…sob.) With that in mind, I've selected a bunch of gift cards that I think are perfect for high school graduates. Check out the list below and let me know if you think I have your graduating gifting needs covered.
Here's a list of the best gift cards for BYU Students. Maybe these ideas–straight from college interns–will help you think of others for your graduate.
1. Happy Grad eGift Card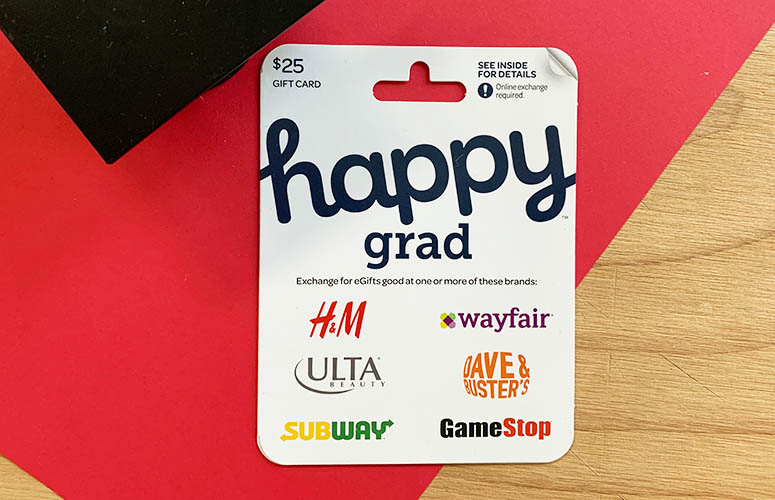 The Happy Grad gift card from the Happy Card collection is an easy way to surprise graduates of any ages, but is a little more fitting for older kids–kids who suddenly realize they might need to buy their own meals and decorate their own dorm rooms. This gift card is usable at any of the stores or restaurants listed on the card.
Remember that the recipient must swap the Happy Graduation egift card for the store or restaurant egift cards they want before trying to use the card.
Here's an explainer video on how the Happy Graduation gift card words.
2. Visa Gift Card or Mastercard Gift Card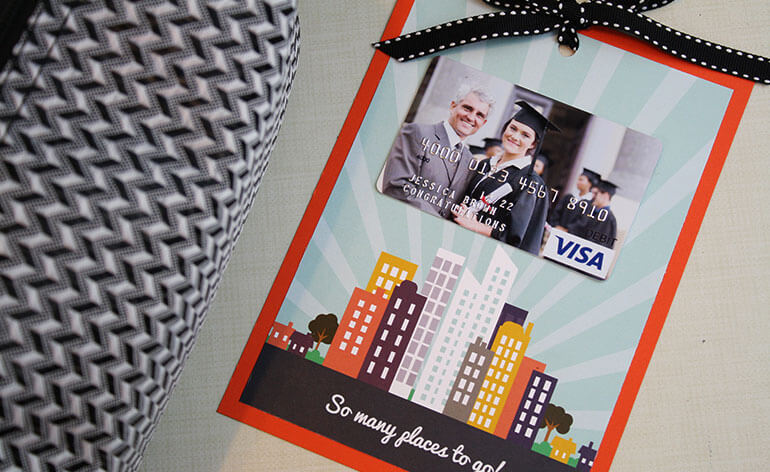 With a personalized Visa gift card or a custom Mastercard gift card, a high school graduate can spend the dollar value of the card in an almost unlimited number of ways. From shopping the college bookstore to paying for gas at the local service station, bank-issued gift cards are redeemable wherever credit cards are accepted.

3. Target or Walmart
Speaking of flexibility, Target gift cards and Walmart gift cards can be redeemed for a wide array of merchandise as well because these retailers sell everything from food and underwear to sleeping bags and stationary. Your graduate doesn't have to be an honors student to figure out how to use these gift cards.
4. Bed Bath & Beyond or The Container Store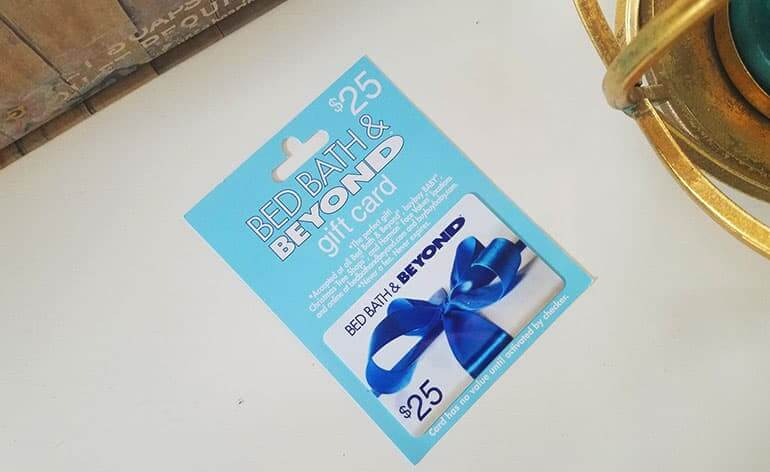 For the graduate who is moving to a dorm room or to an apartment across town, a gift card to Bed Bath & Beyond or The Container Store can help him get set up in his new pad. Both gift cards are redeemable for bedding, towels, small appliances and more.
5. Gap or Old Navy
Whether going to a local community college or trekking across the country to a school back east, graduate can use a gift card for a wardrobe update. At the very least, he or she can buy new khakis for a more studious look. If your graduate is entering the workforce instead of going for higher education, then looking the part is even more important.
6. Amazon.com
I hope you're catching onto the theme here. The best gift cards to give are the ones that offer the recipient the most convenience and flexibility. With those two criteria in mind, you won't find a gift card more convenient to give or receive than an Amazon.com gift card. And flexible? Well, with millions of products to choose from, I'd say graduate has more than enough ways to spend this gift card. With a digital Amazon.com gift card, the entire gifting process–from gift card order placed to package received–can be done quickly and electronically.
7. Best Buy or Apple Stores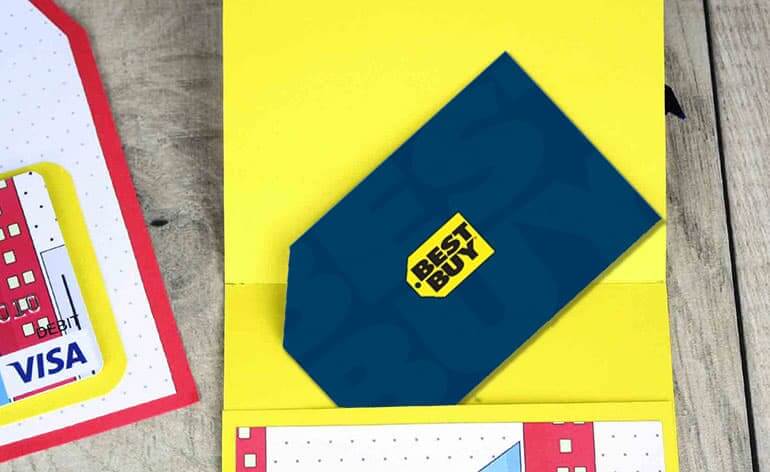 For the high school graduate who is into technology (aren't they all?), get a gift card to Best Buy or Apple Stores. He or she can use the card to buy accessories for the gadgets already owned or upgrade to new ones. Statistics increasingly show that kids are spending more money on technology and less money on clothes and entertainment these days, so might as well give where it will be appreciated the most.
8. Office Depot or Staples
Though you may think an Office Depot or Staples gift card might be more appropriate for a high school graduate going off to college, these stores sell a wide array of technology including laptops, tables, smartphones, printers and more that anybody can appreciate. If graduate is moving on to higher education, the gift card can be redeemed for old school supplies as well–think graph paper, mechanical pencils, backpacks and beyond.
9. Macy's or Nordstrom
Graduates can buy new clothes, small appliances, bedding, shoes (Oh, the shoes!), cosmetics and more at department stores like Macy's or Nordstrom. If your student is moving to a new climate, then a clothing gift card is especially appropriate. Use it to buy a new coat for colder climates or board shorts for warmer weather. As Gift Card Girlfriend, of course, I think you should deliver that gift card with a fun essential that matches the destination such as an umbrella or a pair of flip flops.
To get even more for your gift card dollars, deliver a budget-friendly department store gift card. With a JCPenney gift card or a Kohl's gift card, new grad can buy bedding, towels, dishes and other living essentials. These gift cards can also be redeemed for shoes, clothing, luggage and more.
10. Chevron or Shell
If the graduate you're buying a gift card for has a car or has to pay for his or her own gas, then pick up the tab at the gas station. With a Shell or Chevron gift card, that's one less pit stop graduate has to worry about. Add a note "Enjoy the Journey" and you're good to go.
So that's my list–mostly encompassing the gift cards I feel are the most flexible and convenient to both give and redeem. You can also opt for local gift cards if you know graduate has time to spend it before moving out. Otherwise, stick with the cards that are redeemable in the most locations possible.
If you have another suggestion for this list of top graduation gift cards for high school grads, let me know in the comments below, on Twitter (@GCGirlfriend) or on Instagram (@Gift.Card.Girlfriend).
Happy Gift Carding!
~Shelley Hunter, Gift Card Girlfriend