The best travel gift cards to give plus FREE printable gift card holders perfect for airline, auto, hotel and entertainment gift cards.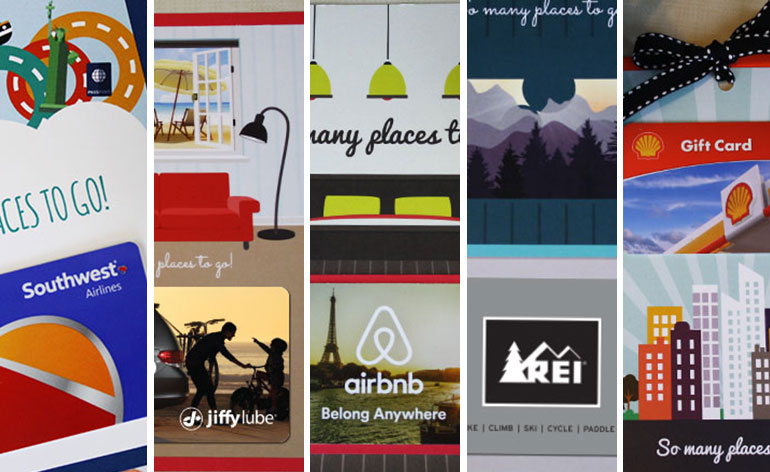 "Gifting Made Easy" by Gift Card Girlfriend
Gone are the days of focusing on things–things to buy, things to give and things to get. Nowadays people are into experiences. If you don't believe me, look at your social media feeds. How many pictures do you see of things compared to photos of family vacations, field trips with the kids, afternoons at ballparks and more? We are now less prone to brag about the things we buy and more likely to talk about the things we do. Lucky for us, gift cards adapt easily to this trend. While I will argue that any gift card provides the user an experience (getting to pick out your own gift is an experience, after all), travel gift cards are especially great for giving people something to boast (and post) about.
Let me also clarify what I consider travel gift cards to be. For me, travel gift cards include hotel gift cards, automotive gift cards (rental, gasoline or service), airline gift cards, cruise line gift cards, theme parks, water parks, zoos and any other gift card that can be used to make a trip possible or more enjoyable. Below you will find some of my favorite travel gift cards along with five free printable gift card holders to make presenting travel-themed gift cards easier than ever.
Travel Categories
---
Airline Gift Cards
Best airline gift cards to buy plus tips on when and how to deliver them.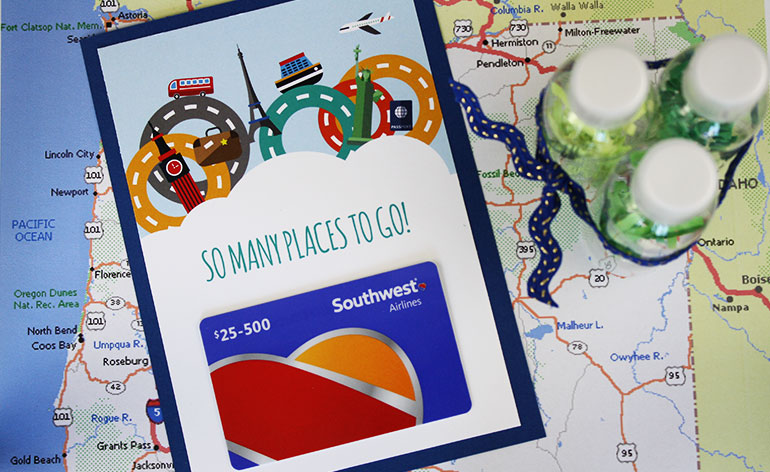 Where to Buy Airline Gift Cards
When I think travel, airline gift cards are top of mind for me because that is often the most expensive part of the trip. I can cut the costs of eating out by using coupons or making simple meals, we can stay with family and friends to save money on accommodations, but sometimes there is just no way to knock the price of airfare down to something I can afford. That's where airline gift cards would come in handy. They can be used to help people get away, encourage people to visit or help families defray the overall costs of vacationing. Here's all you need to make it happen:
Reasons to Give Airline Gift Cards
Years ago, if you wanted to pay for someone's airfare, you had to be part of the booking process either by calling the airline to make the arrangements and pay for the flight yourself or by giving the traveler your credit card. Now, with gift cards however, the process is more convenient for all parties (only the traveler has to wade through various flight options) and you don't end up paying more than planned. It's up to the recipient to pick a flight within the gifted budget or to pay the additional cost of conveniences like mid-day travel and direct flights.
Top occasions for giving the gift of airfare include graduations, wedding, anniversary, and retirement. These are all times in a person's life when a trip may be on the horizon. For example, graduates often take celebratory graduation trips. Newlyweds typically plan a honeymoon for right after the wedding ceremony. Couples sometimes plan dream vacations to celebrate significant anniversaries and retirees frequently kick off their new life chapters with extended trips that couldn't be taken while gainfully employed. These are all great reasons and special life events that can be honored with gift cards for a favorite airline.
Now let's think outside of the overhead bin and come up with other reasons to give someone the gift of airfare. You could send grandma an airline gift card so she can come see her grandson in the school play. You might send your niece an airline gift card she can use to come visit you in the summer. Perhaps you and your college roommates are planning a reunion. Send an airline gift card to a girlfriend who might not be able to able to afford the "girls only" getaway on her own. One time, my step-daughters bought me a ticket to fly to Portland so I could see my little brother's opening night. That was one of my favorite trips and one I wouldn't have made without their gift.
Here's a Tip:
If your friend collects airline miles or is part of a frequent flyer program, then get a gift card to that same airline so he or she can stack the gift onto other benefits available. Also, to make travel arrangements as easy as possible, pick an airline with a large route network or one that specifically services the areas the gift card recipient will be flying to and from.
Easy Way to Give an Airline Gift Card
This gift card idea is so cute and creative, it makes me want to buy one right now. Buy a gift card for an airline and attach it to one of the downloadable gift card holders below. Then buy an inexpensive set of travel containers. Tuck the gift card and the travel containers into a "quart-size, zip-top, clear plastic bag." Please tell me that isn't one of the cutest and easiest gift card presentations you've ever seen!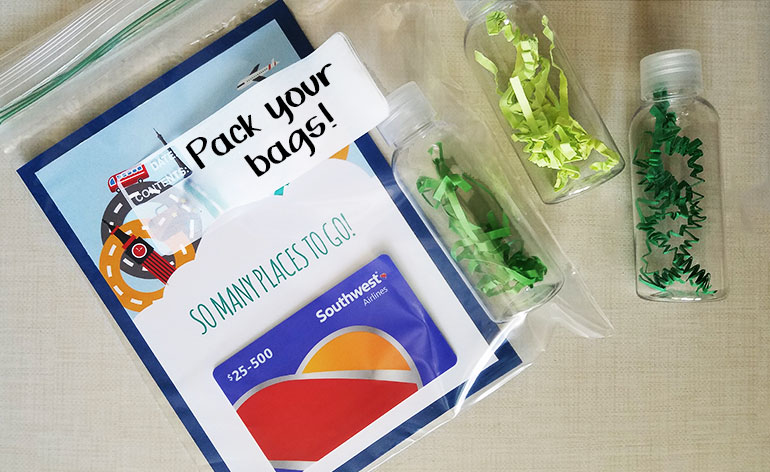 ---
Hotel Gift Cards
Best hotel gift cards to buy plus tips on when and how to deliver them.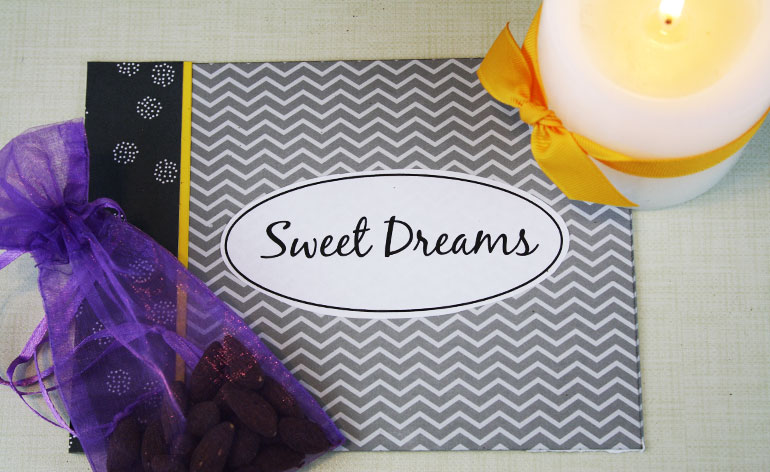 Where to Buy Hotel Gift Cards
I don't consider myself a frequent traveler, but I've stayed in many hotels over the course of my life. I bet I spend, on average, about 10 nights per year in a hotel. Sometimes the accommodations are top-notch with crisp white linens, turndown service and extra fluffy pillows. Other times, the room is just a room to sleep in before I head out the next day.
Though it is always important for me to keep costs down, sometimes finding a hotel I can afford is the difference between making a trip and not. So with that in mind, I want to encourage you to think of hotel gift cards when you need to buy someone a gift. Whether he or she will use the gift on a grand adventure or just enjoy a local hotel for a family staycation, matters not. You'll help the recipient create memories that might not happen otherwise. Here's all you need to put a fun hotel gift card together:
Reasons to Give Hotel Gift Cards
One of the great things about hotel gift cards is that several cards allow the recipient to choose from hundreds of hotels, motels, inns, bed and breakfasts and even private homes for a customized vacation. So you can rest easy knowing that the gift card will be convenient to use.
Take a hotels.com gift card, for example. The website boasts properties ranging from "international chains and all-inclusive resorts to local favorites and bed & breakfasts." When you visit the site, you'll see additional helps such as a list of top destinations and customer reviews. Plus you can earn free nights through the Hotels.com reward program. At BedandBreakfast.com, you'll find their gift card is welcomed at "nearly 4,000 bed & breakfasts throughout the USA & Canada." That's a lot of places to stay.
So when should you get someone a hotel gift card? Wedding and anniversary celebrations are obvious choices. A birthday is another great occasion for an adventurous gift. Have you ever considered giving mom or dad a hotel gift card for Mother's Day or Father's Day? We love our kids and all, but sometimes what parents need most is a night away from the family so they can refuel.
A hotel gift card is also a great choice for families. If the grand kids need to get away from the screens, get everyone a hotel gift card that can be used over summer vacation, spring break, fall break and winter break. If there's an athlete who participates on a traveling team, then get the parents a hotel gift card to offset the cost of taking their little slugger to pricey weekend tournaments. Or get the coach a hotel gift card as a thank you gift at the end of the season.
Here's a Tip: Check to see where the hotel gift card can be redeemed. A Hotels.com gift card, for example, must be redeemed on the Hotels.com website. It is not redeemable at hotel locations. At BedandBreakfast.com, however, gift cards can be used online and on-site at participating locations, but not all locations accept the card. Check for restrictions such as these before buying a gift card.
Easy Way to Give a Hotel Gift Card
Here's a simple idea for delivering a hotel gift card. Print the gift card holder above, attach the gift card to it and deliver the card with a small box of decadent chocolates or another hotel-type treat you might find on your pillow after turndown service. Write the words "Sweet Dreams" on the card.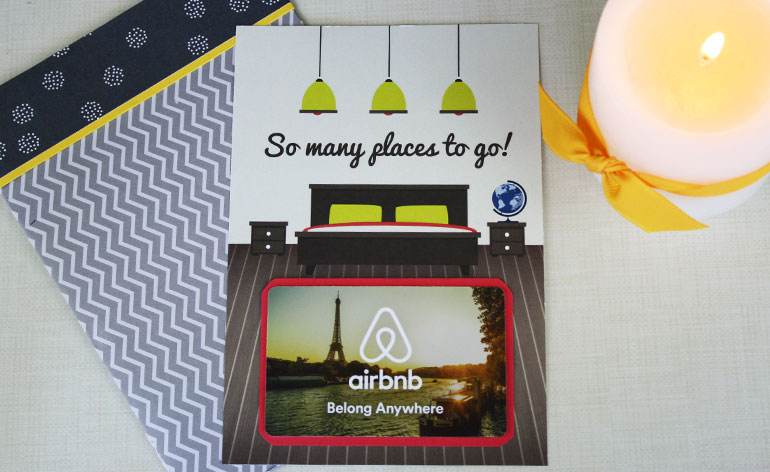 If you want to get crafty like I did, make a paper pillowcase to hold the gift card. I folded a piece of cardstock around the gift card holder, added a trim piece to make the homemade envelope look like a pillowcase, and tucked the gift card inside. If you want to get even more literal, buy a set of pillowcases and tie the gift card to the top with a ribbon.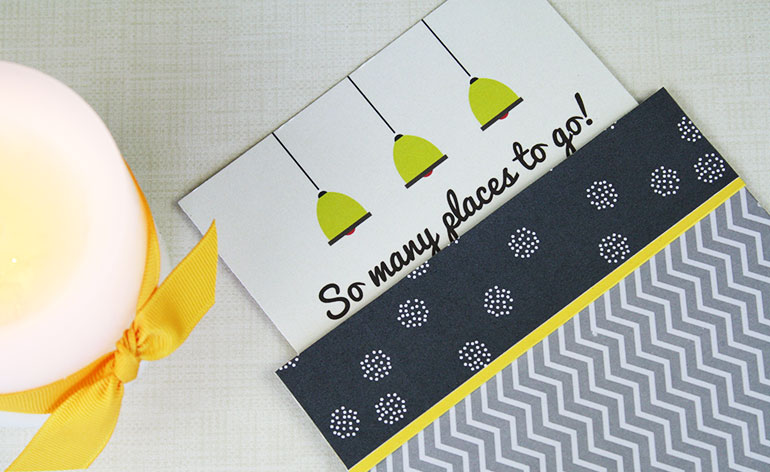 ---
Automotive Gift Cards
Best automotive gift cards to buy plus tips on when and how to deliver them.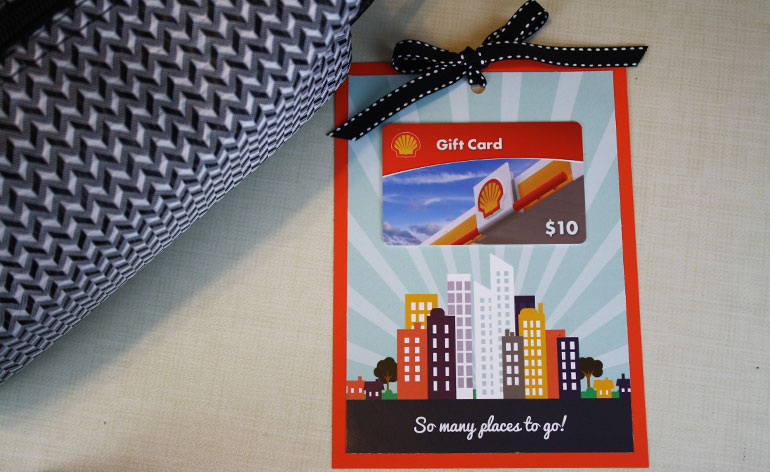 Where to Buy Automotive Gift Cards
Gift cards for gasoline, tire changes, oil service, auto parts and other automobile needs are among my favorite gift cards in the travel category. I love them because despite being so practical, they can still be delivered quite creatively. Sometimes I like to pair these gift cards with other car-related items and sometimes the words alone are all you need to make an automotive gift card feel thoughtful.
A few years ago, for example, my mom left town on her birthday to drive to my brother's house for the weekend. I sent her off with a gas station gift card tucked into a "to go" cup filled with road trip snacks. When a good friend of mine packed her little kids into a minivan to drive to their new home in another state, I wished her safe travels with a Road Ready Kit (printable from Creative Capital B) full of snacks and car games for the road. I dropped a Shell gift card into the bucket for gas along the way.
A super easy way to make a gas station gift card feel romantic is to deliver it with a note that reads, "I'd go anywhere with you." (Cue the love songs.) See that? With the right accessories and words, even the most practical gift cards can be turned into Pinterest top pins in no time! Below you'll find a gift card holder and some automotive gift card ideas to go with it.
Reasons to Give Automotive Gift Cards
Automotive and gas station gift cards are perfect for anyone who owns a car, borrows a car or needs a car. If the person you're gifting also has a trip coming up, then even better. I also like to use travel gift cards for people who may be embarking in a less literal way.
For example, I love a gas station gift card for a high school graduate going off to college. ("Ready to hit the road?") I love an oil change gift card for someone who is expecting a new baby. ("Get the car ready. Baby on board soon!") I love a car wash gift card for someone going on a job interview. ("Make a great first impression!") I love a car parts gift card for someone going into retirement. ("Now you have time to change your own oil.") I can't stop. These are too easy. Okay, one more. I love a tire change gift card for someone having a tough time. ("Difficult roads often lead to beautiful destinations.") That's it. You get the point. Even a practical car-themed gift card can be turned into a thoughtful gift with just the right words.
Here's a Tip: When you use a gift card at a gas pump, the terminal will automatically place a pre-authorization hold on the card since the gas station doesn't know how much gas you're going to pump. If the pre-authorization amount (typically around $75) is greater than the dollar value of the gift card, the transaction will likely decline and you might be standing at the gas pump wondering why your gas gift card doesn't work. To avoid this confusion, take the gift card into the gas station and tell the attendant exactly how much money to take off of the gift card so the pre-authorization amount isn't an issue.
Easy Way to Give an Automotive Gift Card
Here's a simple idea for giving someone a gas station or other automotive gift card. Print the gift card holder above and attach the gift card to it using double-sided tape or sticky dots. Using a hole punch and some ribbon, tie the gift card to a new toiletry bag. (If you want more instructions on how to decorate and use free gift card holders, check out my other free prints.)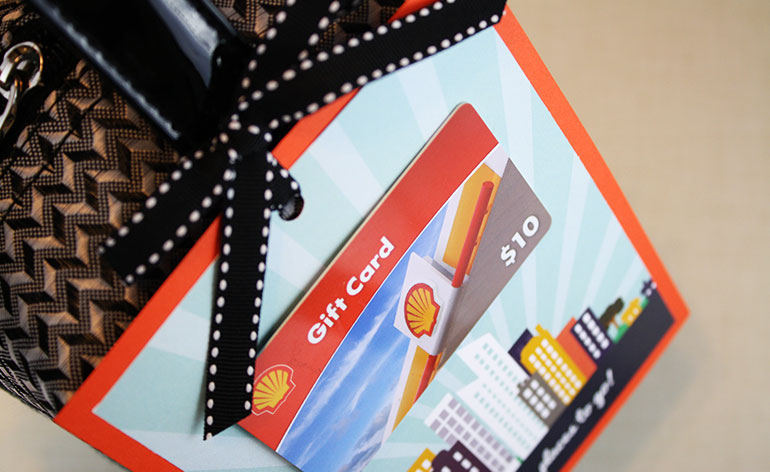 Another way to present the gift card is to tuck it into the toiletry bag instead. If you have a little extra money, try adding a few other things such as travel-sized shampoo, a bottle of conditioner, a razor and anything else you might need for a road trip.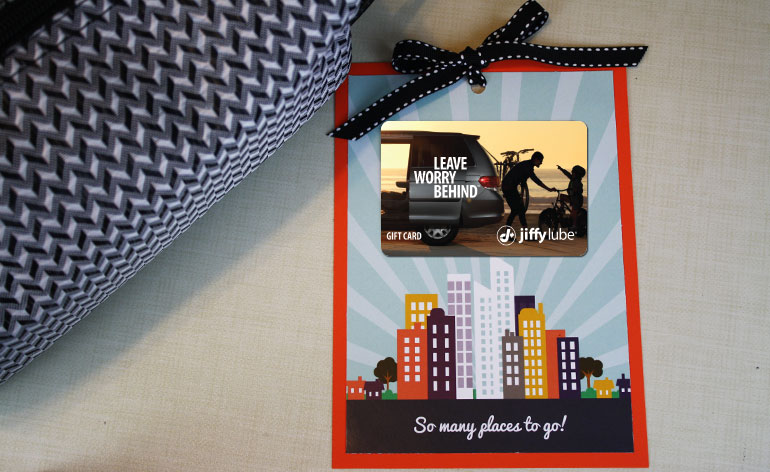 Here's a picture of that "Road Ready Kit" I mentioned earlier. Loaded up with snacks, filled with activities and stocked with gas, this is the perfect gift for sending loved ones on the road. I made a similar gift for another friend, but put everything in a travel cooler instead. She still thanks me for the gift.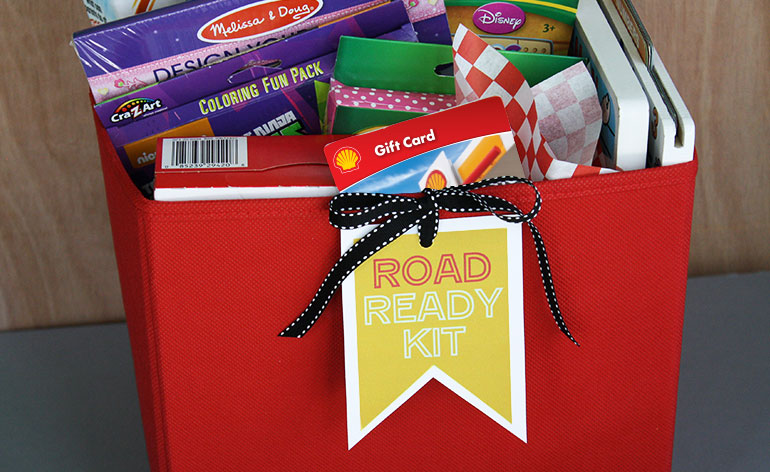 ---
Cruise Line Gift Cards
Best cruise line gift cards to buy plus tips on when and how to deliver them.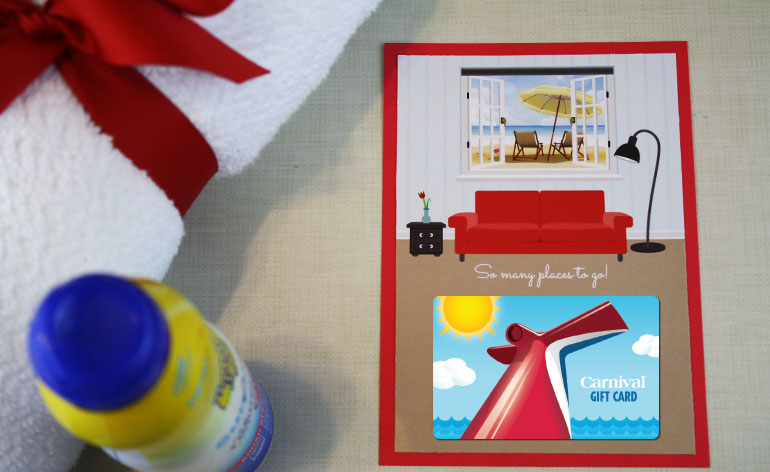 Where to Buy Cruise Line Gift Cards
What could be better than an all-inclusive vacation that comes complete with luxury accommodations, a leisurely travel pace, all-you-can-eat buffets and world-class destinations? What's better is getting to go on such a trip without having to pay for it or only paying for part of it. That's what happens when you give someone a cruise line gift card instead of a more traditional present. The recipient can use the gift to take a quick jaunt around the country or to disappear for a few weeks on a trek around the globe. Talk about giving someone an experience!
Below are some easy cruise line gift cards to buy plus a gift card presentation idea that will be as memorable as the cruise itself.
Reasons to Give Cruise Line Gift Cards
When I think about cruises, my thoughts fall into two categories. The first is a quick-trip cruise that lasts a few days (maybe a little more than a weekend) and makes a few stops. It seems to me that the people on board this type of cruise don't really care where the ship is going as long as the sun is up and the food and drinks keep coming. The second type of cruise that comes to mind is more of a destination trip. People who board this boat are in it for the long haul with much-anticipation for the bucket-list stops they'll visit along the way. Many are repeat cruisers and others have saved their whole life for such an adventure. Oh, and wait, there is a third group. I'll call these people the Disney devotees because I'm not sure if it's cruising they love or just another opportunity to be in the happiest place on earth.
With these groups in mind, top reasons to give cruise line gift cards include celebrations such as graduation, weddings, anniversaries and retirement. A cruise line gift card, especially the Disney kind, would also make a great family gift.
Here's a Tip: Carefully select the dollar amount you put on a cruise line gift card to make sure the gift card gets used. If the recipient is already planning to take a cruise, then any dollar value will be acceptable as long as you select a gift card for the same cruise line. That way the recipient can use the gift card to help pay for the cruise or he or she can use it to make on board purchases. If, on the other hand, the recipient doesn't have plans to go on a cruise, then the dollar value of the gift card should be enough to cover the cost of a trip. If the recipient has to pay a great deal more than the load value of the cruise line gift card, then there is a possibility the gift card will go unused.
Easy Way to Give a Cruise Line Gift Card
This gift card holder makes me want to book a cruise myself. I'm a sucker for the beach. The sea and sand just beyond the window looks so relaxing I can almost feel the warm sand between my toes. Sigh…
Deliver a cruise line gift card with a bottle of sunscreen, a new hat or a pair of flip flops for everyone in the party. If this is mom and dad's anniversary, then matching Hawaiian shirts might be entertaining as well. If you're gifting someone who has time to take a long cruise, then tuck the cruise line gift card into a good book.
If you can't find a gift card that matches the cruise line your friends are booked on, then get a Visa® gift card instead. Since Visa gift cards can be used nearly anywhere Visa is accepted, they can use the card to buy new clothes before they set sail or pay for meals when they disembark at each port.
---
Outdoor Gift Cards
Best outdoor gift cards to buy plus tips on when and how to deliver them.
Where to Buy Outdoor Gift Cards
Finally, we're heading outdoors for adventure. I'm lumping theme parks and other experience-based gift cards into this group as well. Outdoor gift cards can be for your typical sporting goods store such as REI or Cabela's, but they can also be more unique destinations such as Disneyland, Kemah Boardwalk and Space Needle. If you want to get someone outdoors for a camping trip, a hike in the mountains or a ride on Space Mountain, then here is all you need to make it happen:
Reasons to Give Outdoors Gift Cards
Any event or celebration is cause for getting off the couch and venturing beyond the malls. I think an outdoors gift card is especially appropriate for a wedding gift (couples who play together stay together!) because you're giving the newlyweds an experience they can share together.
Outdoors gift cards also make great birthday gifts for people who like to camp, hike, ski, waterski, trail run and more. Maybe you didn't quite notice it, but the sporting goods gift cards listed above are those that carry more than just clothing. I'm looking for gear, fishing licenses, tour groups, class sign-ups and other ways the gift card will inspire more activity. If you have an outdoorsy friend or family member having a birthday soon, then this is the gift card to get.
Here's a Tip: Get an outdoors gift card for someone who is already inclined to venture out. In my opinion, a gift card should be a gift–something the recipient will enjoy. It should not be a hint, as in…you should get off the sofa, you need some exercise and you never take me anywhere. Save those conversations for the other days of the year.
Easy Way to Give an Outdoors Gift Card
This gift card holder just screams camping to me which is why I put it in this outdoor category amongst other travel gift cards. The easiest way to package it up is to download the holder, attach a gift card and present the collective gift with some simple outdoor accessories such as a flashlight, insect repellent, sunscreen or a new hat. Another favorite outdoor gift idea of mine is to deliver a sporting goods gift card with all the fixings needed to make s'mores.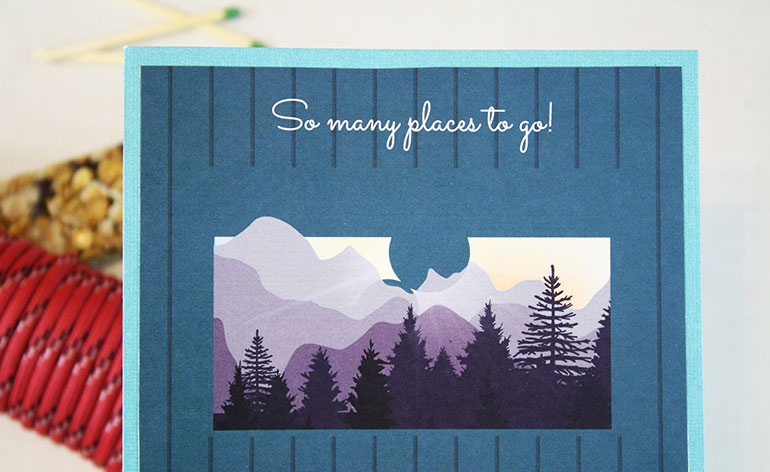 ---
The Best Thing about Travel Gift Cards
Are you still with me? The best thing about travel gift cards is that the outcome will be unique to every recipient. With national store or restaurant gift cards, people who receive the cards will likely have similar experiences. But a trip to Disneyland with the kids or a free flight to visit Grandma in North Carolina is the start of a memory that will be different for each person. So if you're looking for a one-of-a-kind gift card, check the travel section first.
More on Pinterest
If you want more creative travel-themed gift ideas, check out the other free printable gift card holders on our
free prints page
or follow
Gift Card Girlfriend on Pinterest
. If you use any of these printables, send me a link to your page in the comments below or contact me on Twitter
(@GCGirlfriend)
. I want to see what experiences you choose to share with other people.
Happy Gift Carding!
~Shelley Hunter, Gift Card Girlfriend