How to use Visa gift cards online and 9 reasons why Visa, Mastercard®, Discover or American Express gift cards don't work online. Top reasons why gift cards decline online.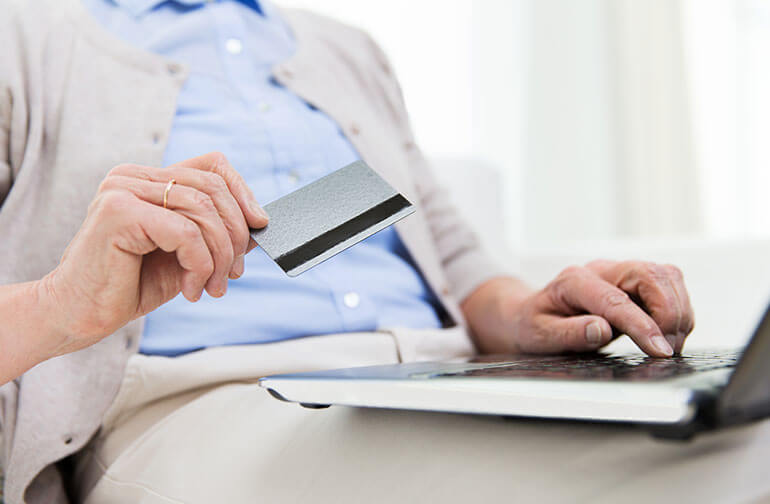 Where Do I Enter a Visa Gift Card Online?
When you get to the online payment processing portion of checkout, enter the gift card number, expiration date and Card Verification Number (CVN) into the fields you typically use for debit and credit card payments. Do not enter a Visa gift card number into the "gift card" field. That field is reserved for retailer-specific card numbers.
Below is an example of what only payment often looks like: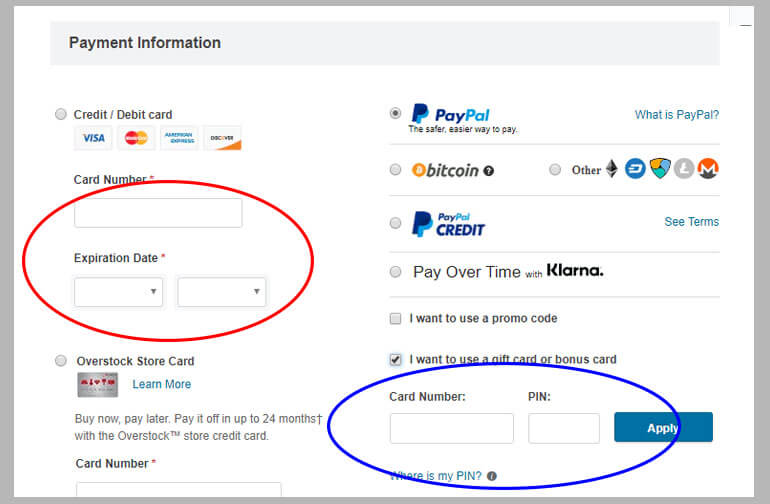 Where Do the Gift Card Numbers Go?
The payment example above shows many payment options including bank-issued debit and credit cards, store credit cards, PayPal, PayPal credit, a payment plan, store gift cards and even Bitcoin. Most online shopping carts do not have this many ways to make a payment, but nearly all have two separate fields for accepting Visa and other bank-issued cards versus store gift cards.
In the shopping cart above, you would enter gift cards as follows:
1. Visa Gift Card: Input a Visa gift card, Mastercard gift card, Discover gift card or American Express gift card into the "Credit/Debit card" fields circled in red.
2. Store Gift Card: Input a store gift card into the "card number" field circled in blue.
Incidentally, this example also shows how to make a payment online when a store gift card amount will not cover the full amount of the purchase. Using two forms of payment is called a "split tender transaction." You would enter the store-issued gift card into the gift card field and use another form of payment to complete the purchase.
If you do not have a store-issued gift card and need to make a partial payment with a Visa gift card, then read this tip on how to make a partial payment with a gift card online.)
Why Do Visa Gift Cards (Sometimes) Decline Online?
Although Visa, Mastercard, Discover and AMEX gift cards are accepted online, in stores and just about anywhere these major brand debit cards are accepted, sometimes people have difficulties using their bank-issued gift cards online. If you are entering the gift card into the correct field on the website, then it is possible the gift card is being rejected for another reason.
In addition to this list of things to try if your Visa gift card is not working, the most common reasons gift cards decline online are listed below:
1. Visa Gift Card Not Activated
For security measures, some gift card sellers require the recipient to activate the card before it can be used. Though stores often activate gift cards at the cash register, online gift card sellers generally require the recipient to activate the card once it is received in the mail or via email. If your gift card does not work online, check to see if it needs to be registered before use.
If you have a Visa gift card or Mastercard gift card from GiftCards.com, activate your card here.
2. Visa Gift Card Should be Registered
Registration usually involves linking a name and billing address to the prepaid card. Though you generally are not required to register a gift card in order to use it in stores or restaurants, the process is fairly important if you intend to use the gift card online.
To make it harder to use a stolen credit card online, many websites use a procedure called Address Verification System (AVS) to ensure the card number being used for payment matches the billing address on file with the bank. Since the Visa gift card number is entered into the same field used for a Visa credit card, the website will look for an AVS match. Registering the card allows you to update the name and address linked to the card. If the system will not let you update the information, you may at least be able to see what generic name and address has been associated with the card already.
If you have a Visa gift card or Mastercard gift card from GiftCards.com, activate your card and then look for a second step to "register" the card as well.
3. Waiting Period on the Card
Gift cards ordered from GiftCards.com are usable as soon as the card is registered. But some grocery stores will not activate gift cards for a specified period of time to make it harder for people to use gift cards that have been purchased with stolen credit cards. The delay gives banks, stores and victims a brief period of time to detect compromised cards. If the theft is reported before the gift cards are used, the gift cards can be cancelled before the funds are depleted.
If a gift card you just purchased at the store is not working online immediately, check the receipt or gift card packaging to see if a waiting period is specified.
4. Insufficient Funds on the Card
At GiftCards.com, we have found that the most common reason online transactions decline is that the card does not have enough money on it to cover the purchase. Though people generally understand this concept, online shopping is a little different than in-store shopping. If you handed a Visa gift card to a cashier and knew it did not cover the full amount of the purchase, you could expect the system to use the card balance and then be asked for a second form of payment. Since most websites cannot handle a split tender transaction as described above, the gift card is simply declined.
If you have a Visa gift card or Mastercard gift card from GiftCards.com, you can check the balance of your Visa gift card and review previous transactions as well.
5. Pending Transactions are Affecting the Balance
Every time you swipe or enter your Visa gift card number into a payment system (online or in person), the system checks to see if the card has sufficient funds to complete the transaction. During this authorization check, the system will place a "hold" on the funds needed for the purchase. If the transaction is cancelled or later declined, then the pending amount (or "hold") is released. If the transaction is completed, then the pending amount is finalized (or "cleared") and the card balance is reduced by the dollar amount of the final purchase.
Sometimes holds are not released immediately–it can take several hours or several days to remove a pending charge depending on how each merchant system works. During that time, your gift card may decline if pending charges are tying up a portion of the gift card balance that you know should be available.
If your card is not working and pending charges are still affecting the card balance, wait a few days and try again. If you want to understand the process more, here's an article on why it takes so long for charges to clear.
6. Non-U.S. Website
Visa gift cards issued in the United States must be used in the United States. That requirement includes websites too. If you are trying to make a purchase on a website or with a business that is outside of the country, the transaction will decline.
Here's a post on why gift cards will not work outside of the U.S. and what your alternatives are if you need one that does.
7. Recurring Payments Are Not Allowed
Some websites will not allow prepaid cards to be used for subscription services or any type of recurring payment such as dating sites, cell phone services or utility bills. You may be able to use these cards for one-time payments, but not for continued use.
8. Cash Back is Not Allowed
The bank or seller of the gift card may block transactions that could be used to obtain cash instead of products or services. To prohibit money laundering, your gift card may decline if the business you are trying to use it at is classified as a 'quasi cash' merchant (meaning the business provides a service where a payment can be converted into cash).
Though PayPal recently announced that you can link a gift card to a PayPal account, it will not work with gift cards issued from GiftCards.com.
9. Questionable Sites
Lastly, gift cards may decline if the merchant sells illegal or ill-advised products or services. At GiftCards.com, for example, our gift cards cannot be used on online gambling sites or adult websites.
10. Contacting the Wrong Company
If your gift card is not working online or you can't activate the card or check the balance, it is possible you are looking on the wrong website. There are many companies that sell Visa gift cards. To find out why your specific card is not working, look at the back of the gift card. You should find a website listed or a phone number to call for help.
If you have checked all of these reasons why gift cards decline online and your gift card still isn't working, then read through the comments below. If you don't find the answer to your question, post a comment and I will answer it as soon as I have a chance. You can also post a question on Twitter (@GCGirlfriend).
Happy Gift Carding!
~Shelley Hunter, Gift Card Girlfriend