From the gift card kiosk to online websites, insight on the best places to buy gift cards.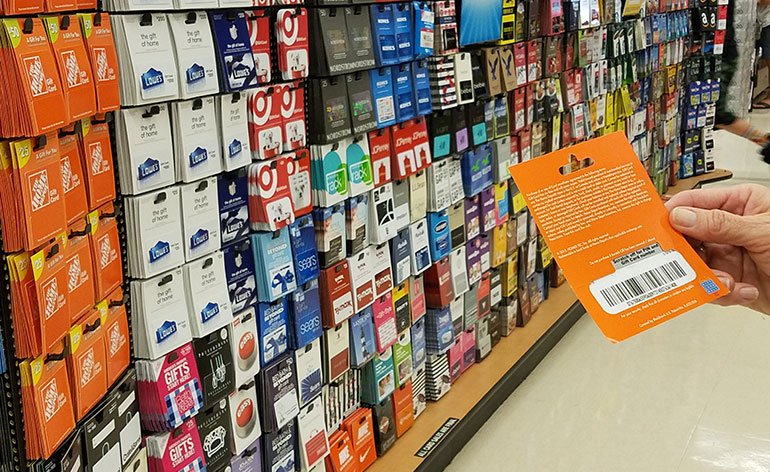 With so many places to buy gift cards, knowing where to purchase a gift card depends on the type of gift card you want to give and how soon you need it. I've shopped all the options including retailers, restaurants, grocery store kiosks, websites, mobile sites, and more. In the comparison below, I'll share my experiences on the best places to buy gift cards (online and offline) and my thoughts on the advantages and disadvantages of each.
At the Issuing Store or Restaurant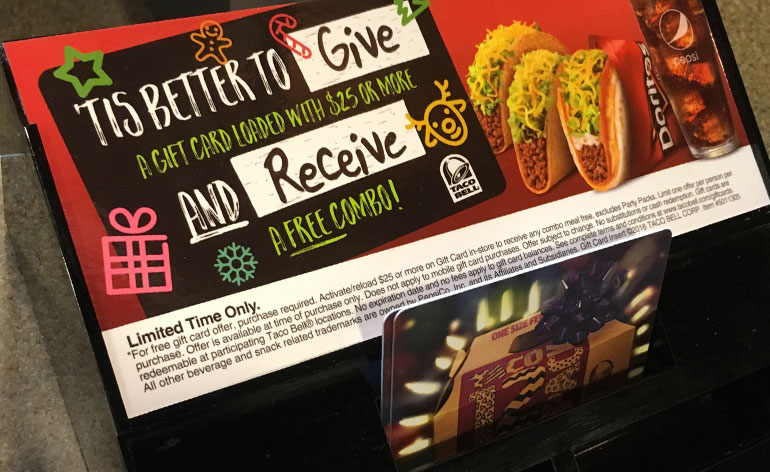 When gift cards first came out, you could only buy them at the issuing merchant. If you wanted a gift card to Applebee's, you drove there to get it. If you wanted a gift card to a small boutique on Main Street, you had to drive there as well. Although gift cards are now conveniently located in almost every store, at third-party locations and online, there are still some benefits to buying gift cards at the issuing store.
Advantages
When you buy a gift card at the issuing merchant, you'll likely receive a free gift card holder as well. While some stores simply provide a printed envelope, others will hook you up with tiny boxes, tissue paper and treats. Sephora, for example, packages their in-store gift card with a compact mirror, fan-folded tissue paper, and a quality handle bag. Nike puts their card into a micro-shoe box, and See's Candies delivers their gift card in a smaller version of the company's signature candy box. Other benefits to buying gift cards at the store include a possible choice of design, choice of gift card amount (you pick how much to put on the card) and the option to pick up a little something extra to perfectly match the gift card, such as a pair of lululemon socks to go with a lululemon gift card.
Another advantage to buying gift cards directly from the store or restaurant is that retailers sometimes offer gift card BOGO deals to people who buy gift cards. During the holidays you will notice several offers to "buy a gift card to receive a bonus gift card."
Disadvantages
You have to drive to the store to pick up the gift card, some smaller merchants still don't even have gift cards, and the recipient is locked into redeeming the card at the issuing merchant. (Though some gift cards are good for a family of stores. For example, an Old Navy gift card can be used at Gap, Banana Republic and other stores within the brand family.)
On the Issuing Store or Restaurant's Website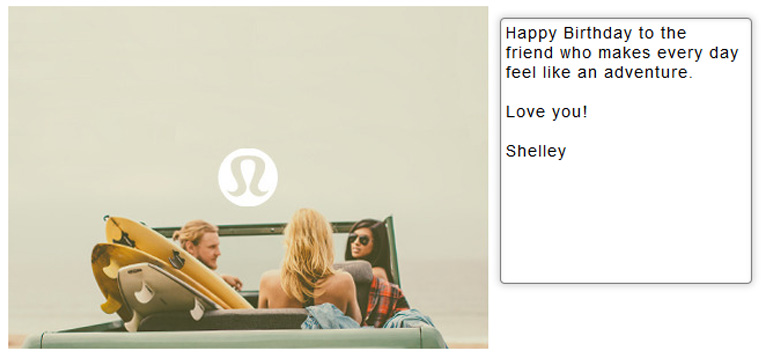 photo credit: Lululemon website.
Most major merchants sell both plastic and egift cards on their websites. Typically, you'll be given the option to mail a physical gift card (which may or may not come with a free holder) or send an electronic gift code via e-mail or SMS text message. Some stores offer delivery via social media channels such as Facebook as well.
Although the plastic gift card takes time to be delivered, you will save a trip to the store. The egift card will most likely be delivered as soon as your payment clears (e.g. instantly or same day) and some merchants allow you to schedule digital delivery. So if your dad's birthday is tomorrow, you can order the gift card today but have it e-mailed just before the party starts the next day. As with any digital delivery, you'll want to ensure the egift doesn't go unnoticed or fall into the recipient's SPAM or Junk Mail folder. (Read my advice on how to make sure egift cards get delivered.)
Advantages
Some restaurants and retailers put the same care into mailing plastic gift cards from their websites as they do handing them to you in person. Nordstrom, for example, gives you a choice of gift cards and delivers the one you select in a trifold envelope, tied with a bow. Home Depot offers a wide array of personalization including custom-printed plastic gift cards and creative gift card holders, but the upgrades cost extra. Most electronic gift cards can also be personalized with text. Some stores additionally allow you to add images or video.
Disadvantages
The main disadvantage of purchasing a gift card from a store's website is that you either have to wait for it to be delivered or you have to pay for expedited shipping. If you opt for an electronic gift card, the delivery will be quick but the digital presentation may be considered impersonal. Stores like Lululemon allow you to email the digital gift card to yourself so you have the option to print and hand deliver a paper copy of the egift card rather than have it go directly to the recipient's inbox. (Technically, you can always have an egift card sent to yourself, but forwarding an e-mail or printing one that comes to your own address might not look presentation-ready.)
At a Third-party Store
All hail the gift card kiosk! Giving consumers the ability to buy gift cards from a third-party is the biggest game-changer the industry has seen since the introduction of the gift card itself. No longer forced to drive to individual stores or restaurants to pick up our favorite gift cards, we can now grab the ones we want while shopping for groceries or filling up at the gas station. Though not every store is represented on the rack, the most popular, nationwide gift cards are typically available. Bank-issued gift cards are also available where third-party gift cards are sold.
Advantages
In a word: convenient. If you previously weren't sure where to purchase a gift card, the gift card kiosk (think Gift Card Mall in the grocery store aisle) changed all of that. You can now pick up a birthday present from the same store that sells you the birthday cake. In fact, you can check off your entire holiday gift list while picking up the fixings for a turkey dinner. You can even buy an anniversary gift when you stop for gas on the way to the party. Not only are third-party gift card kiosks convenient, they also carry a diverse selection of cards ranging from hardware stores and electronics shops to movie theaters, restaurants and more. Grocery stores often provide additional incentives for buying gift cards off the rack such as rewarding customers who do so with gas discounts or grocery savings. So, in one trip to Safeway, you could buy your groceries, buy your gifts and save money on your next tank of gas.
Disadvantages
Although highly accessible, gift cards sold on the rack are typically limited in design (one choice per merchant), mostly sold in preset dollar amounts and represent a small fraction of the gift cards available on the market. You might find one of two prominent hardware stores, a handful of restaurants and only the most popular nationwide clothing stores, but local gift cards are completely absent from the rack as are smaller national brands such as Big 5 Sporting Goods or Lululemon. Presentation is also lacking. Though there are often greeting cards or gift card holders for sale nearby, the personal touch you get at the issuing merchant is missing.
On a Third-party Website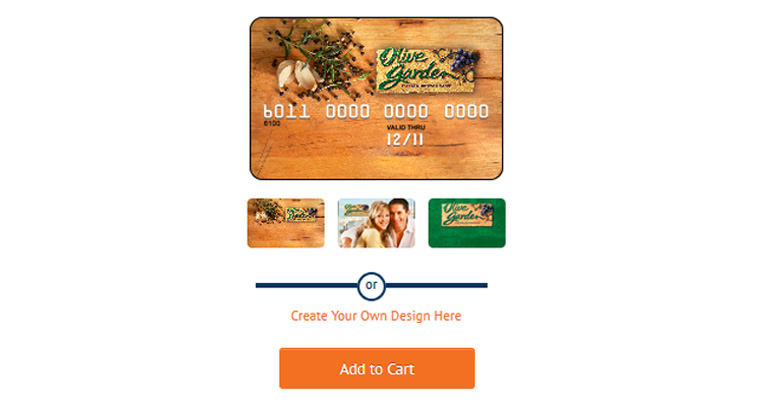 photo credit: GiftCards.com Gift Brands
In addition to discount gift card sites that sell used third-party cards for less than face value, there are also websites that sell new national brand and bank-issued gift cards. Typically the same merchant cards found on third-party kiosk pegs are also for sale in either plastic or digital versions on these sites.
Advantages
With the online kiosk, you get one-stop access to a wide range of gift cards and egift cards for national brands. Rather than visit individual store sites, you can put multiple third-party cards into an online shopping cart and pay for them all in one transaction. Regional brands that aren't on physical racks in every geographic area due to space constraints are also available on these sites. For example, Buster's Texas Style Barbeque is not likely to be found on kiosks nationwide but may be found on virtual kiosks where space is not an issue.
Disadvantages
Some third-party gift card websites charge shipping charges to deliver plastic and only a few offer electronic third-party gift cards. Local gift cards are only available on Giftcards.com. Though Giftcards.com will tuck a full-value retailer or restaurant gift card into a custom notecard for free, most other sites simply ship the plastic without a holder or adhered to a piece of paper with redemption instructions.
On a Bank-Issued Gift Card Website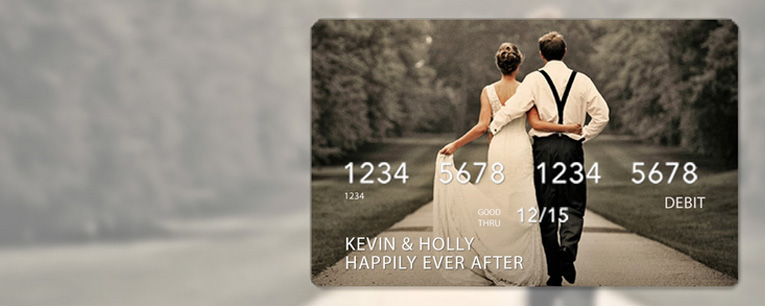 With flexibility in mind, bank-issued gift cards can be used anywhere major credit cards are accepted—online, in stores, by phone and so on. While these gift cards are typically available at the same kiosks that sell third-party gift cards (e.g. grocery store and gas station), they are also sold on websites such as Giftcards.com that specialize in selling personalized Visa® and Mastercard® gift cards.
Advantages
Deliver a plastic or egift card that is fully customized and usable at millions of locations. With this option, any lingering concern that a gift card may be misconstrued as an impersonal present will be dashed away when you upload a photo and add custom text to create a one-of-a-kind gift card that many consider worth keeping, even after the value is redeemed. With online rack space being a non-issue, there are thousands of gift card designs to choose from. At Giftcards.com, we also sell personalized local gift cards that run on the Discover network. So, if you want to give someone a local gift card but don't want to drive to the location (or the store itself doesn't sell gift cards), you can create one and ship it at your convenience.
Disadvantages
Personalized plastic gift cards must be ordered about a week in advance of the celebration, unless you're willing to pay expediting shipping charges. eGift cards can be delivered sooner, but may lack the "wow factor" that comes with the physical card.
Via a Mobile App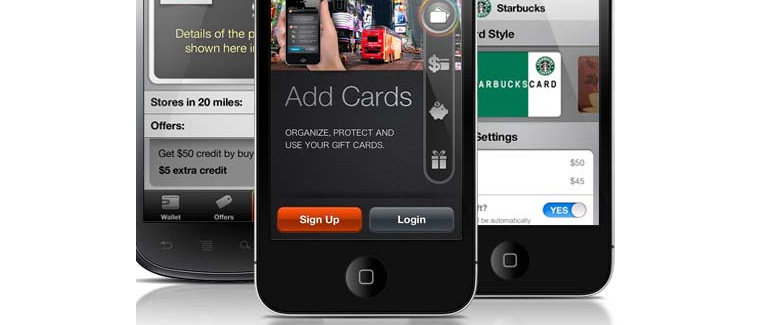 photo credit: GoWallet
In addition to simply pulling up a website on a smartphone, there are a few mobile apps designed to help you manage the gift cards you already have and either forward those virtual cards (send the code, not the plastic) to someone else or buy a new egift code to send. These digital codes can typically be sent via e-mail, SMS text message or social media.
Advantages
By using contacts on your smartphone or social media profile, you can ship a gift card on the fly—even on the way to the party. All apps allow you to send a personal message with the gift, and some include the option to upload a picture or video message as well. Because there is no physical plastic (everything is done by code), there are no shipping charges or wait times to contend with. As soon as your payment clears, the gift card may be delivered. You may also have the option to schedule delivery so the gift arrival is perfectly timed. Unlike receiving an egift card via e-mail that has to be printed and taken to the cash register, mobile gift cards often look like a digital version of a plastic card with either a barcode or QR code that can be swiped from the mobile app at the cash register. Gift codes can be used online and over the phone as well.
Disadvantages
The recipient may have to download the same app in order to accept and redeem the gift card. Recipients who don't have a smartphone may have to contact the sender or customer service in order to receive the virtual code another way. Plus, there is the possibility that the recipient won't notice the gift on social media, will ignore a gift text, or have an e-mail fall into a SPAM folder. For the best possible experience, deliver mobile gift cards on the technology the recipient uses most often and send the user a separate e-mail or text so they know to be on the lookout.
The Best Place to Buy Gift Cards Changes
As a gift card expert, I've researched all of these options. More importantly, as a consumer, I've used each one as well. When I have time to plan, I order personalized plastic gift cards. When I need a gift card for a kid's birthday party, I often buy one from Target. When I'm running out the door to a family gathering, I buy a gift card from the grocery store kiosk and pick up a little treat to make the gift more personal, and when I need to send a gift card to someone who doesn't live nearby, I send egift cards via a myriad of mobile apps and websites. In my experience, there's no single best place to buy gift cards–there are many great places that end up being the best place for you, depending on your timing and circumstances. I'd love to hear your thoughts as well. Where do you think the best place to buy a gift card is? Let me know in the comments below or comment on my Twitter feed (@GCGirlfriend).
Happy Gift Carding!
~Shelley Hunter, Gift Card Girlfriend