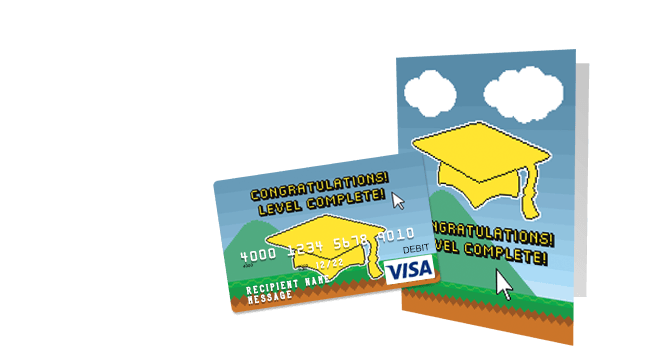 Graduation Gift Ideas
Graduation Gift Ideas
Whether graduating from elementary school, high school, college, or trade school, educational milestones deserve recognition. And since often times completing one chapter in life means another is about to begin, a graduation gift card is the perfect way to acknowledge the accomplishment while helping graduate prepare for the next stage of life.
Here's how to give a graduation gift card:
1. Senior Pose. Turn that graduation picture into a personalized graduation gift card. Upload the photo and add the words, "Congrats Grad" to the card. Tuck the gift card into the top of a graduation cupcake or deliver it with a treat bag filled with smart candies.
2. Hats Off to You. Take a photo of the graduating class and upload it to make a graduation gift card. Write "Hats off to you!" on the gift card's embossed message line. Craft up the presentation with a mason jar filled with tissue paper in the school's colors. Paint the mason jar lid black. Put the gift card inside, put the lid on, and cover it with a black mortarboard made out of black cardstock.
3. Smart Cookie. Do you have a picture of graduate studying, reading, or heading off to school with a backback? Use that photo to make your own gift card. Have the words, "One smart cookie" embossed on the card. For little graduates, give the gift card with a giant cookie, a bag of cookies, or a plate of homemade cookies. For older graduates, get a new cookie jar. Fill the cookie jar with cookies and punch a hole in the corner of the graduation gift card (being careful not to punch the card's magnetic stripe.) Tie the gift card to the cookie jar with a graduation-themed ribbon.
If you don't have a graduation photo of your own, select a graduation gift card design from our predesigned gallery. The gallery is full of gift cards created by our designers.
Graduation Savings
Using discount gift cards is a smart way to start post-graduation adventures. Whether you're taking a senior trip, moving away to college, or starting a new job, you're likely to need luggage, dorm room essentials, or new clothes. You can buy all of that and more with discount gift cards. Stock up at Bed Bath & Beyond, Stein Mart, and Target for everyday needs. Buy discount gift cards to Macy's, JCPenney, and Ann Taylor for professional clothes, or shop Pacific Sunwear and Sports Mart for active-wear. Wherever you're headed, using unwanted gift cards to save on the things you'll need is a smart move that will pay big dividends.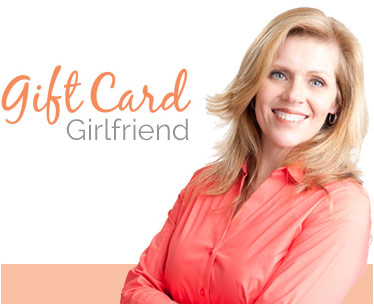 Graduation Gift Tips
"Whether graduate is going off to college or entering the workforce, he or she is likely to need new clothes. Tuck a clothing store gift card into a package of candies and write a note that reads, 'Congrats Smarty Pants!'"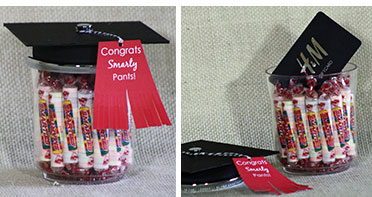 10 Great Graduation Gift Cards
Congratulate graduate with gift cards that can be used to close one chapter and open another in the book of life.