Why pay full price when finding a sale on gift cards is only a click away? Learn all the ways to find gift cards on sale.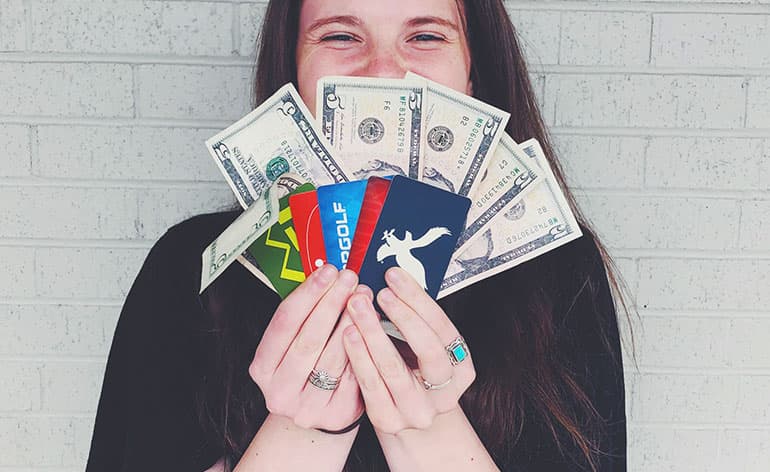 How to Find a Sale on Gift Cards
It used to be that gift cards only sold for face value, and you would rarely (if ever) find a sale of any kind on a gift card. But merchants have figured out that customers who come into their stores to redeem gift cards are profitable customers because they are more likely to buy full-priced merchandise than customers spending their own money, will likely overspend the value of their gift cards, and/or will make multiple trips into the store to redeem their gift cards.
So now I see more and more merchants offering gift card deals to get you big spenders into the store!
So where can you find great deals and savings on gift cards? Well, you've got several choices, but first let me clarify the difference between two types of gift cards that sell for less than face value. First, there are pre-owned discount gift cards that are sold through gift card resellers. And secondly, there are new gift cards for sale at a variety of physical and digital locations.
Here is a little bit more info:
Pre-owned discount gift cards
Pre-owned discount gift cards exist because sometimes people receive gift cards they don't want. For various reasons (e.g. they prefer another brand, the store is too far away, they are saving for something else, etc.), people sell unwanted gift cards for cash offers that are less than the face value of their cards. Gift card resellers then sell these cards for a little bit more but still less than face value. That's where the discount comes in–the difference between the dollar value on the gift card and the amount the reseller paid to the original owner for the gift card.
New gift cards on sale
New gift cards on sale are simply gift cards that are sold for less than face value. Additionally, sometimes merchants offer bonuses for buying a full-priced gift card rather than discounting the initial activation. These bonuses might come in the form of a second free gift card (BOGO: Buy One, Get One), a reward card that is good for a limited period of time, a coupon for future purchases, fuel perks or other incentives.
Below are 10 places to find gift cards on sale:
1. Gift Card Resellers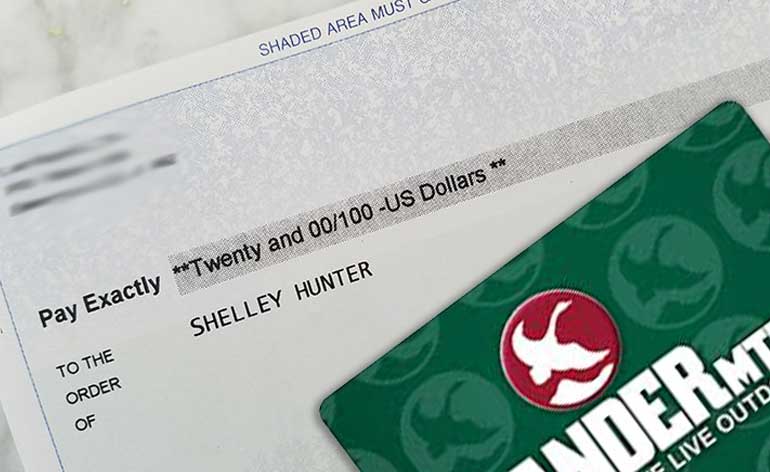 The best thing about buying pre-owned discount gift cards from a gift card reseller is that a wide variety of gift cards are always on sale. From shoe stores to pet stores and restaurants to movie theaters, you can guarantee savings if you buy discount gift cards before shopping at your favorite stores and restaurants. Of course, the number of cards available and the dollar amount you can save fluctuates with changes in inventory and seasonal availability, but there is nowhere better to dictate your own discount.
When selecting a gift card reseller, be sure to choose one that offers customer support and has a money-back guarantee you can rely on if there is a problem with the card you buy.
HERE'S A TIP! The best way to take advantage of pre-owned discount gift card deals is to be flexible in where you shop. If you want to buy a new pair of Nike tennis shoes, for example, check for discount gift cards to stores like Nike, Foot Locker, Macy's, Champs and any other store that sells the shoes you want to buy. Then buy the gift card that offers the best discount to save the most money on your next set of kicks.
2. Sign Up for Giftcards.com Emails
There is a promotions page on Giftcards.com, but the best deals are generally send out subscribers of our newsletter. Scroll to the bottom of this page and you should see a place to enter your email address.
HERE'S A TIP! Promotions sell out quickly. Though egift cards, for example, are available in almost endless quantities because they are digital products, merchants often put a limit on the number of discounted gift cards they want to sell. So when it says, "while supplies last," it means until we hit that number. So act quickly if you see a gift card on sale that you want to buy.
3. PayPal Digital Gifts
In addition to Giftcards.com, there are a number of sites that also sell third-party gift cards–meaning gift cards to stores and restaurants. Many of those sites run promotions on gift cards and PayPal Digital Gifts is one of them. For example, I just looked at their site and I can buy a $50 Gap Options gift card for $40. That's a 20% savings! There are other brands on sale as well.
Look for gift cards on sale on
PayPal's Digital Gifts Store
.
4. Kroger Gift Cards
Like PayPal, you can buy gift cards at Kroger.com. Often they give discounts in the form of "perks." At Fred Meyer grocery stores they call those perks one thing, and at Kroger or the Piggly Wiggly, they call it another. But the idea is that you get more fuel points or other perks when you buy their gift cards.
On the Kroger website as of this writing, I can get 15% more when I purchase $50 worth of Giving Good eGift Cards PLUS 4x fuel points. Since Giving Good gift cards can be used at any of the stores or restaurants listed on the card, you can choose the card that has the merchants you want. For example, the Wounded Warrior Project gift cards is usable at GameStop, Lowe's, Subway, Fanatics and a bunch of other places. PLUS, 3% of your purchase price gets donated to the charity on the card. That's a great way to do more with your holiday shopping this season AND save a little money for yourself!
If Kroger isn't the grocery store you regularly shop, check your own store to see if they have gift cards on sale for less plus fuel perks and other rewards to stack onto the savings.
Look for eGift Cards on sale at Kroger.com.
5. Mobile Phone Apps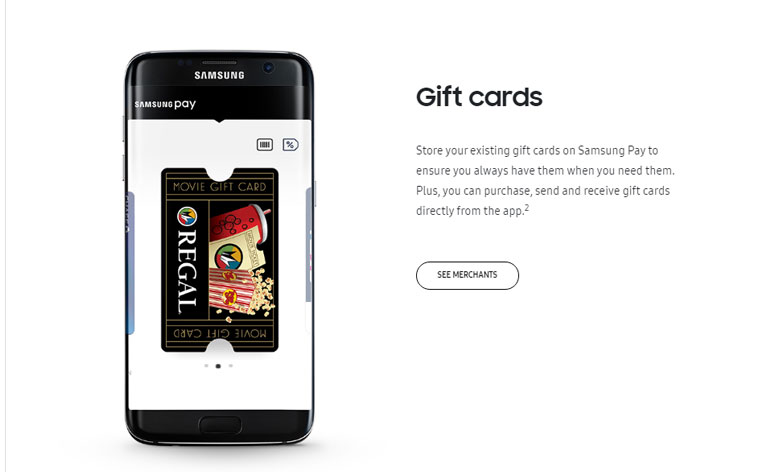 Discount gift cards drive sales both for the issuing merchant and for the retailer selling the gift cards so it should be no surprise that office supply stores, online auction sites and other physical and digital storefronts are selling discount gift cards these days. Guess where else you can buy new, unused discount gift cards? Straight from your phone.
With the Verizon Messaging App, United Plus Messaging App and Samsung Pay, you can buy new gift cards for less.
The great thing about buying gift cards from apps is that the gift cards are delivered and usable digitally. Storing gift cards electronically on a mobile device is one of the best ways to remember to use your gift cards.
HERE'S A TIP! Samsung Pay allows you to buy new gift cards at a discount plus load gift cards you already have into the mobile wallet. For many gift cards, when you load a gift card and enter the card number, the app will confirm the balance of the card as well plus allow you to check the balance at any time.
6. Amazon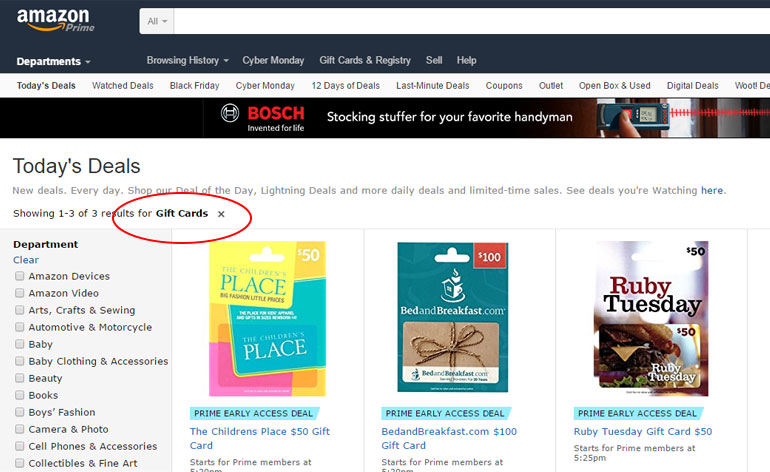 Amazon.com boasts the widest selection of egift cards available. When I reviewed top store egift card programs earlier this year, I found that Amazon has over 400 egift card designs for their own brand alone. That's huge. Amazon is now selling discount gift cards for other brands as well. Although the discounts are good, one of the tricky things about buying gift cards on Amazon is that the website doesn't post all of the discount gift cards at the same time like other stores do. Instead, Amazon releases a "deal of the day." So if you want to catch a discount gift card on Amazon.com, you'll need to stay alert and watch for gift cards as they become available.
HERE'S A TIP! Keep track of Amazon daily deals by following @amazondeals on Twitter, liking Amazon on Facebook and signing up for email alerts.
7. Target.com
If you have a Target Red Card, then you already know you get to save 5% on your total purchase price. For many stores, those discounts do not apply to gift cards, but with Target, they do! Target may run gift card deals on occasion, but you can always save 5% simply buy buying your gift cards from Target.
Look for eGift Cards on sale at Target.com.
8. Costco
One of my favorite places to buy gift cards is Costco because they have a selection of popular restaurants plus local eats and local attractions. Every year, I buy discount gift cards knowing I'm going to take my kids out to a nice restaurant on Christmas Eve. I buy the gift cards in advance, knowing I'll save anywhere from 20-25% off the total cost of the meal.
As of this writing, I could buy a $100 Xbox egift card for $89.99. That's a 10% discount on a gift card you seldom see sold for less.
Look for eGift Card sales at Costco.com or go into store to pick up their physical gift cards.
9. Grocery Stores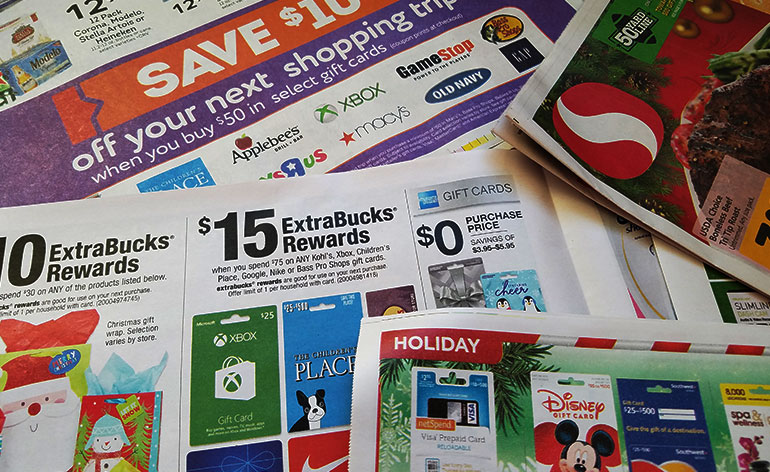 In addition to checking your grocery store online, look for deals in grocery store circulars or on display at their shelves. As of this writing, I see a deal for 2.5 times Fuel Perks when I buy select gift cards at Giant Eagle.
Previously, most gift card deals at grocery stores were plastic. But thanks to recent events that escalated the need for digital delivery, I see more and more available online. This is a great, fast choice when you are buying discount gift cards to save on the things you are already planning to buy.
HERE'S A TIP! At grocery stores, the best gift card deals are generally offered early in the season like the week before Thanksgiving or right around Black Friday. Unlike a department store that has to push its sweaters at full price clear up to the last-minute and then discount the merchandise after the holidays, gift card providers trust that consumers will turn to gift cards as the day of celebration approaches so they don't need to offer quite the same incentives down the stretch. So when you see gift card offers in store ads, on display racks and in your grocery store app, it's time to act!
10. Your Credit Card Reward Program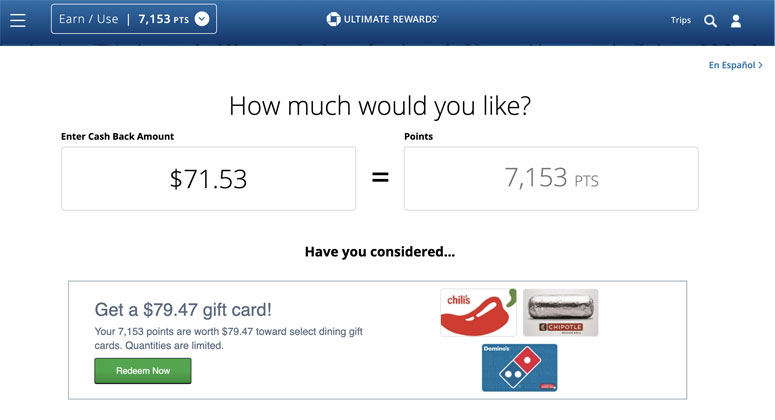 Are you participating in a reward program at your bank or with your credit card company? I know that Chase and United Mileage Plus often ofter cash out options on discount gift cards. For example, my bank recently posted an offer that said I could transfer reward money to my account or I could buy gift cards for less than face value instead. For example, I could get a $50 cash credit to my account or a $60 gift card for the same $50 reward–basically a $10 bonus.
When it's time for you to cash out your rewards, look for similar options. I've you're planning to give gift cards for an upcoming celebration, you can certainly save money buy selecting gift cards instead of cash.
Here's an article you can read on how credit cards offer discount gift cards for rewards.
BONUS: Gift Card Girlfriend's Deals Page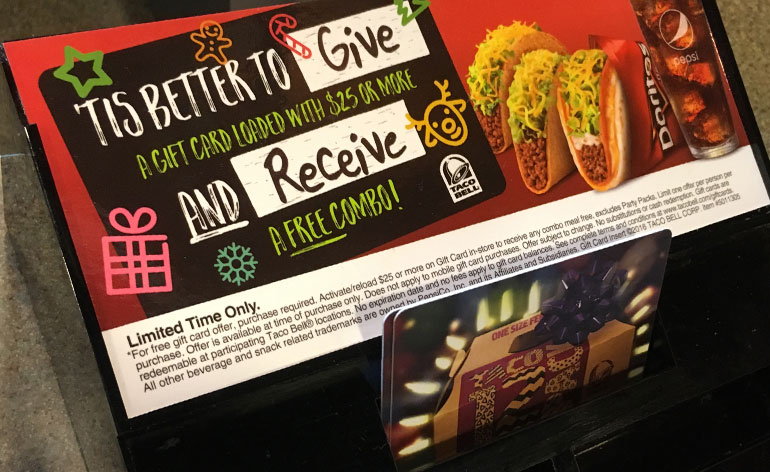 Many stores and restaurants (especially restaurants) offer "Buy one, Get one" gift card promotions during the holidays. On my current list of gift card deals, you'll find over 100 stores and restaurants offering discounts such as "buy a $50 gift card and receive a bonus $10 gift card," "Receive a free combo meal when you buy a $25 gift card," "For every $25 gift card you buy, you'll get a $5 coupon for a future purchase" and so forth. The idea is that the giver gets a little reward for coming into the store or restaurant to buy someone else a gift card.
Of course, you do not have to give either gift card away. If a restaurant you like to visit has a gift card deal going on, then buy the gift card to get the bonus card and use both to save on your next meal. Read this post on Gift Card BOGO Deals to see what is available this year.
HERE'S A TIP! The bonus gift card typically comes with restrictions such as how much you have to spend to redeem the gift card and when the gift card is redeemable. Generally I see that the BOGO gift cards are offered at the end of one calendar year and the bonus gift card is redeemable at the start of the next calendar year. So BOGOS available at the end of 2016 will be redeemable at the start of 2017.
Find my list of over 100 Gift Card Deals for the Holidays.
WARNING: Discount Gift Card Scams
In recent years, many gift card resellers have gone out of business due to an inability to stop gift card fraud or tightened security measures from stores and restaurants that make it hard to check the balance of gift cards automatically. While that has reduced the number of ways you can safely buy and sell discount gift cards, there are still a few good options. You can read more on my page about gift card resellers.
But I just want to issue a word of caution.
I do not advise buying discount gift cards from people you don't know. That includes online auction sites and social media. You don't need a physical gift card in order to use the value. You just need the numbers. So you might pay for a gift card that someone else still has access to.
Additionally, there are scammers out there who try to get you to buy gift cards for a variety of illegitimate reasons. These are gift card scams and I just want you to be careful.
For this reason, I always suggest buying gift cards from reputable businesses. And remember, no legitimate business or government agency will ever ask for payment with a gift card. Here are some tips on how to avoid gift card scams.
Got More Questions about Discount Gift Cards?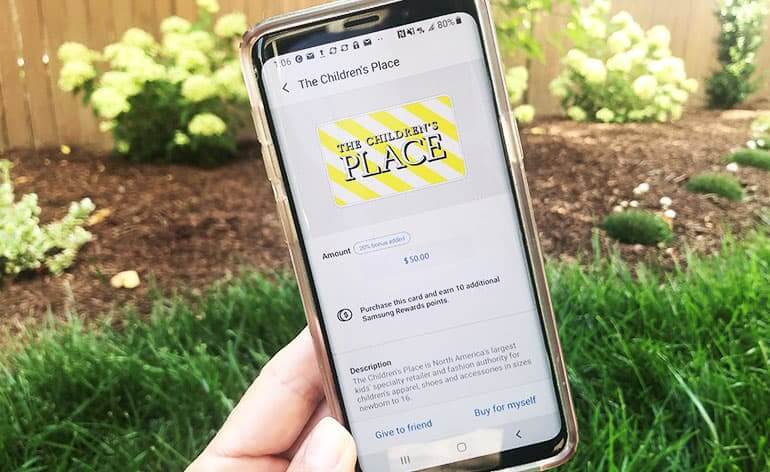 The way I look at it, there is almost no reason to pay full price for anything these days. If you can find a discount gift card for the place you want to shop, then buy the card and pocket the savings en route to make your purchase. Even bank-issued gift cards like Visa and Mastercard can be purchased for less. Here's a post I wrote on how to save on Visa gift cards. Check it out before the holidays and let me know how much you save.
Have you found another place to buy discount gift cards that should be added to my list? Or do you have questions about how to find gift cards on sale? Let me know in the comments below or reach out to me on Twitter @GCGirlfriend. I love gift cards and I love saving, so this is something I like to talk about…a lot.
Happy Gift Carding!
~Shelley Hunter, Gift Card Girlfriend