Ten creative ideas to add a personal touch when buying a gift card for Mom. Easy to do and fun to give!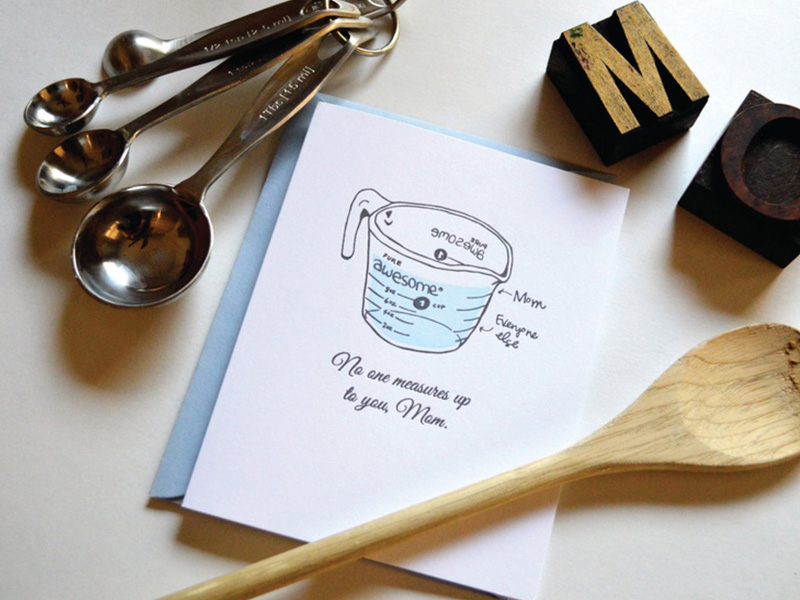 Image Credit:
Wild Ink Press
via
Etsy
All We Need to Hear is THANK YOU
Dragging to the parking lot shuttle after a long day at Six Flags, I shake my head in frustration. My youngest is mad because he didn't get to ride Superman, my middle child is whining for Dippin' Dots and my oldest wants to be dropped off at a friend's house on the way home. (Too much family time, I presume.) My kids, it seems, are never satisfied.
Just as I'm about to deliver a stirring lecture on gratitude, one of the little ingrates leans over and whispers, "Thanks Mom."
Like dominoes, the others fall in line with similar expressions of appreciation. I exhale, and my "anger balloon" (as the kids learned in school) empties. Just like that; the toll of the day disappears and I'm grateful for a day spent hanging out with my children. Those two little words—never, ever, ever, expressed often enough to moms—can change everything.
As Mother's Day approaches, I challenge you to sincerely thank your mom (or wife) for all that she has done for you (or your children). Even if she's more like Peg Bundy than Carole Brady, it makes no difference. The mere role of mother dictates that she likely changed your diapers, packed your school lunches and rode that flipping Viper roller coaster like I did so you didn't have to go it alone. For all this and more, she deserves a thank you. So from a simple note tucked into a gift card holder, to more elaborate gifts, below are ten creative Mother's Day gift card ideas that you can use to express your appreciation.

Gift Cards Mom Will Love
1. From Our Feet to Yours
Use paint to stamp the kids' feet onto cardstock or take a picture of all their piggy toes. With a permanent marker, add names and ages of all the kids to the finished product. Older kids can add thank you notes as well. Put the photo or artwork into a keepsake frame and add a pedicure gift card. Finish it off with a note that reads, "From our feet to yours."
2. Kick Off Your Shoes
On Mother's Day, tell mom to kick off her shoes. While giving her a foot massage, hand over a shoe store gift card tucked inside of a new pair of fuzzy socks. Make sure she keeps her feet up (preferably in a chaise lounge chair) for the rest of the day.
3. Spa Girl
Speaking of pampering, get mom a spa gift card for a relaxing massage or a rejuvenating facial. Pair this Zen-like Mother's Day gift card with her favorite magazine and a bottle of luxury mineral water. If she has little ones at home, offer to babysit for free so she can fully enjoy her time at the spa.
4. No One Measures Up
Are you honoring a D-I-Y mom this Mother's Day? Then give her a gift card that she can use for her next project at her favorite home improvement store, craft store or cooking store. Deliver the card with a new measuring cup, tape measure, ruler or other measuring gadget. Write a note such as "No one measures up to you" or "It's impossible to measure how much we appreciate you."
5. Just Her Style
Surrounded by kids who frequently outgrow their pants and wear out their sneakers, Moms often put the shopping needs of their children ahead of their own fashion desires. For Mother's Day, get mom a gift card to a store that only sells products she can use. (Think DSW, Lululemon, Sephora, Anthropologie and so on.) Deliver this gift card for her with something simple like a candle, body lotion or a favorite sweet. You can also tuck the Mother's Day gift card into a simple greeting card with a handwritten note listing all the sacrifices she makes for the family.
6. Grandma with a Green Thumb
If the mom in your life likes to get her hands dirty, then get her a gift card to a local garden center. Deliver the garden store gift card inside of a planter box with thumbprint art from the grandkids. You can make thumbprint ladybugs, handprint flowers, two-hand spiders and more. A quick search of "kid handprint planter" on Google will provide you plenty of ideas.
7. Night Off!
Don't just give mom a night out for Mother's Day. Give her a night off! No dinner, no dishes, no midnight feedings. Give her a hotel gift card for a real break. Deliver the gift card with a book to read and the room service menu. She'll come back relaxed and well-rested.
8. Entertain-Her
She sat through all of your ballgames and attended all of your dance recitals. Now it's her turn to choose what she wants to watch. Give mom a gift card to the theater, ballet, concert or art museum. Pair the entertainment gift card with a book, CD or piece of art that matches the experience. She wants to see Jersey Boys? Deliver a gift card for tickets along with the Jersey Boys soundtrack.
9. Spicy Mama
For the mom who loves to cook (even though it's Mother's Day), get her a cooking store gift card and tuck the card into the pocket of a new apron or tie the card to a new cooking gadget she's been wanting to try. You could also get her a restaurant gift card instead, so she can be served for a change.
10. Active Mom
If your mom is the active type, get her a gift card for a yoga class, tennis lesson, kick-boxing clinic or another activity she'll enjoy. Place the gift card inside a new sports bottle or tie it to a box of energy bars. She'll think of you every time she gets a chance to refuel.
Need More Ideas?
If you still need a few more ideas for mom, check out our
Mother's Day gift ideas page
where you'll find several personalized gift cards made especially for mom or follow
Gift Card Girlfriend on Pinterest
. Whatever you do, don't get lost or overwhelmed by the number of cute gifts you can make for your mom, because no matter what you give your mother on her special day, telling her "thank you" may be all she really needs in order to feel appreciated.
Happy Gift Carding!
~Shelley Hunter, Gift Card Girlfriend