Add gift cards to your Black Friday shopping strategies and you can save more than ever before, plus you decide what's on sale!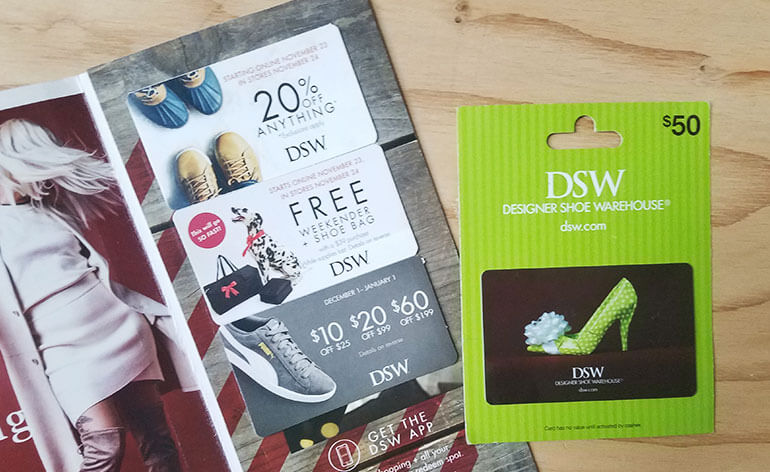 There are two ways to use gift cards to save on Black Friday. The first is to buy discount gift cards ahead of time so you can use them to save additional money when you get to the cash register (at 4AM!). The second way is to take advantage of gift card promotions that are prevalent leading up to the holidays. Thanks to various incentives, you'll be able to buy the gift cards on your list for less. Read on for more Black Friday shopping strategies.
Best Gift Card Deals are Early in Season
The best deals on gift cards are often available several weeks before the holidays. Why? Because stores know that the closer you get to Christmas, Hanukkah and other celebrations, the more likely you are to give up looking for a traditional present and buy a gift card instead. Think about it.
How many times have you walked the mall, gone through every store looking for the perfect gift and ended up buying a gift card anyway? Merchants don't have to entice you to buy a card at that point. In your 11th-hour desperation, the plastic present is your friend. Earlier, however, the gift card may not be your first choice. So merchants will offer incentives to get their gift cards into your hands. Below is a list of ways I believe you can use gift cards to save on Black Friday shopping.
1. Give one, Get one ("GOGO Deals")
When Black Friday kicks off shopping crunch time (and even a couple of weeks before), merchants will give away free promotional gift cards when regular gift cards are purchased. The incentive increases gift card sales, and for every gift card sold, the store gets two shoppers back to redeem their gift cards. Since statistics show that shoppers frequently overspend the value of their cards, the freebie is worth giving. However, there's no rule that says you have to give the full-value gift card away. If your favorite restaurant is offering a "GOGO" gift card, snatch it up yourself and save on your next dinner out.
TIP: Here's a list of BOGO gift card deals at restaurants and other stores. If you find others, let me know!
2. Sale on Gift Cards
New gift cards are rarely sold for less than face value because the profit margin is so slim. During holiday seasons, however, merchants will sometimes knock the price down just a smidgen to get you to buy their gift card instead of others. If you're going to buy gift cards this season (and statistics show that you will), buy when the offers hit. The closer we get to Christmas, the fewer the savings you'll find. In fact, though you probably won't pay more than face value to buy a gift card at the last-minute, you may end up paying expedited shipping charges if you wait too long.
TIP: Here's a list of all the gift card deals I can find. I keep this list of discount gift cards updated all year round.
3. Gas Perks and Grocery Coupons
Grocery stores notoriously bump up their gift card-related gas perks and grocery coupon offers when Thanksgiving is on the radar. Where you once saw gas points doubled with the purchase of a gift card, you'll likely find them advertised at four-times the typical rate. Offers such as "Buy $100 in gift cards and earn $10 in groceries" will abound as well. Forget about giving these gift cards away. Pick up the cards you know you'll spend in order to earn the freebie. Buy a $100 gift card to the gas station you fill up at, the clothing store you'll buy your son's Christmas clothes at or the electronics store on your daughter's Santa list. Buying gift cards to save is a great way to get money back on the things you're already planning to buy. (Read more on buying gift cards for gas points.)
TIP: Visa has a new gift card that gives you 5% back on your purchases. It's called the Five Back Visa. The money you get back can put you at break-even on the activation fee and you'll even make money if you load the card with about $200 and use it exclusively at participating merchants.
4. Buy Discount Gift Cards Before You Shop
So you're planning to hit the Walmart Black Friday sale. Great. Buy a discount Walmart gift card before you roll out of bed in the wee hours of the morning. In looking at CardCash right now, Walmart gift cards are on sale for about a 2% discount. That's not a ton of money, but it adds up. Smaller retailer gift cards are often on sale for bigger discounts.
TIP: Go where the biggest discounts will take you. If you can buy the same item at multiple stores for about the same price, then buy the discount gift card that can save you the most money. Gift cards to category merchants (e.g. clothing, electronics, etc.) often sell at deeper discounts than general merchants such as Target and Walmart.
Here are few other tips on using discount gift cards.
I can't stress enough that people under use the ability to save with gift cards by not thinking of them as a tool for personal shopping. I wouldn't recommend buying a gift card you might not use in order to earn freebies, but if the stores and restaurants you frequent are giving away extra gift card dollars, then take advantage. While getting the savings may take a little pre-planning, most Black Friday shopping strategies do.
Just remember, promotional gift cards often come with an expiration date. Check the terms and conditions of the card before tucking it into your wallet. Better yet, load it into a gift card app so you don't forget to use it before it expires. Read here for more information on how to use promotional gift cards or tips on remembering to use your gift cards.
If you have other gift card questions or need gift card help, add a note in the comments below or leave a message for @GCGirlfriend on Twitter.
If I don't answer you right away, it's because I'm out grabbing my own black friday deals!
Happy Gift Carding!
~Shelley Hunter, Gift Card Girlfriend