Saturday 11.25.2017
The Best Gift Cards for Kids
Top gift cards for kids plus tips on how to pick out gift cards that kids will like.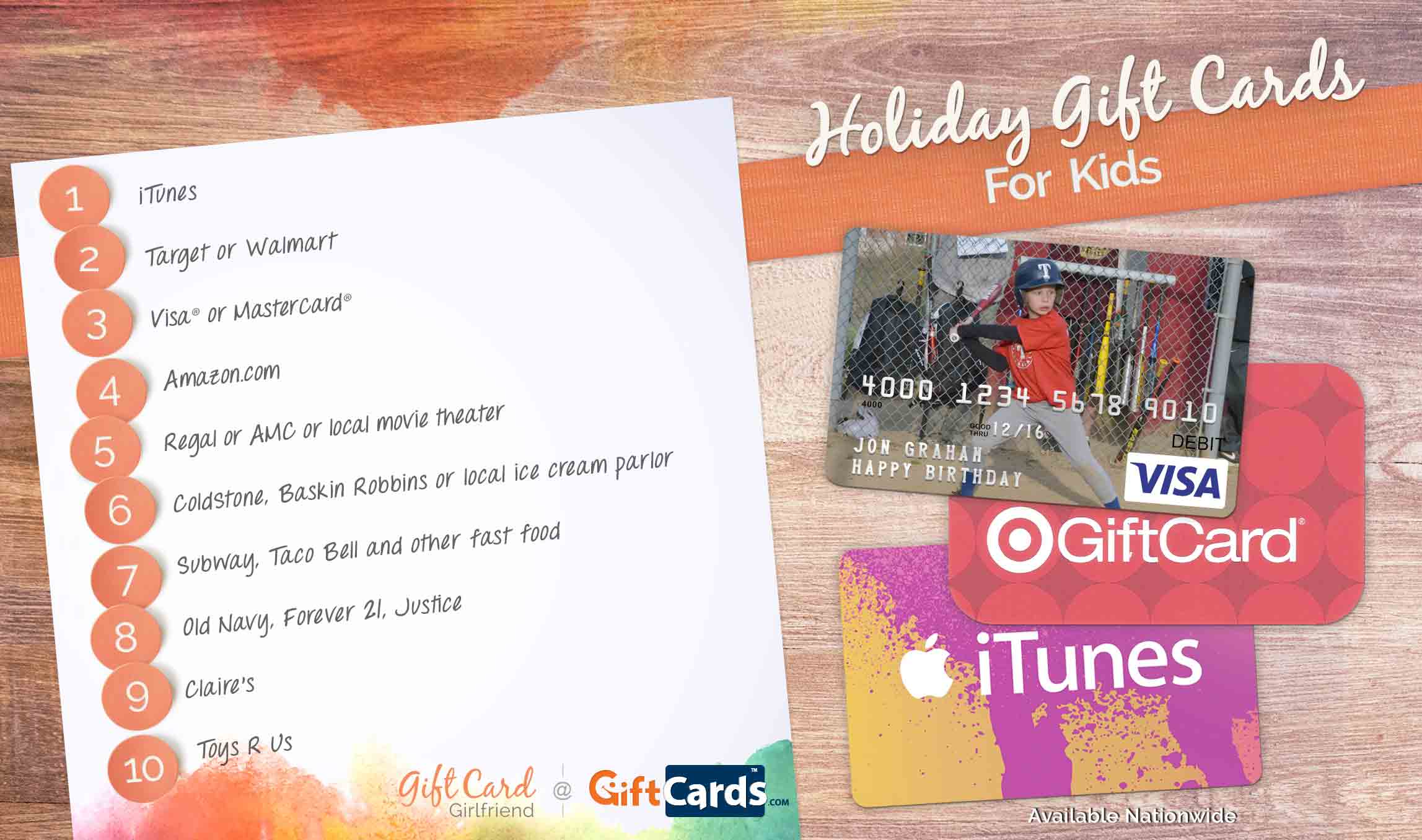 Kids and gift cards is one of my favorite subjects! I'm often asked, "What are the best gift cards for kids?" For me, that's a two-part answer. First, you have to understand the types of gift cards that work well for kids such as cards they can redeem without needing mom to go with or dollar values that are spendable without chipping in additional money. Once you understand how kids use gift cards, you can easily pick one that meets the criteria. I love this topic so much, I did a study on kids and gift cards last year to find out even more.
What Makes a Good Gift Card for Kids?
Shortly after having my first child, I read the advice, "see the world through your baby's eyes." When trying to decipher a cry, for example, I would employ this strategy, envisioning her surroundings in an effort to deduce what she might be upset about. That advice has stayed with me all these years and is now a tool I use to sort through teenage frustrations and injustices. The lesson also applies to kids and gift cards. Imagine your child receiving a gift card only to discover it can't be used unless mom is willing to drive 100 miles to the nearest store or unless he adds $20 of his hard-earned weed-pulling money towards the purchase. Trust me, even big kids will cry like toddlers if using a gift card is a challenge. To that end, gift cards for kids should meet the following criteria:
1. Low-Price Options
Kids shouldn't have to use their own money in order to redeem a gift card. This is true for everybody, but especially true for children who may not have money in their piggy banks. Put a dollar amount on the gift card that can be easily used. If your budget is limited, then get a gift card to a store that offers low-price options. For example, a $10 ice cream store gift card is usable. A $10 clothing store gift card, on the other hand, may be hard to redeem without additional funds.
2. Easily Accessible
Ideal gift cards for kids can be redeemed within walking distance or a short trip in the car. If you're not sure what stores, restaurants, or movie theaters are located near the recipient, get a gift card that can be used online or a Visa gift card that can be used anywhere.
3. Variety
How fun it is to shop like a big person! The fun can quickly fade, however, if the recipient can't find something he or she wants to buy. (Read how my kids struggled to use a gift card from Disney.) Adults may be disappointed, but frustrated kid shoppers can get ugly in a hurry. Be sure the gift card you give can be redeemed for a variety of items. Let me also caution you, however, that too many choices can be frustrating as well. That's why I always suggest making a list before taking kids shopping with gift cards.
4. Bailout Bonus
For kids who need mom to take them shopping in order to redeem a gift card, selecting a merchant that she enjoys will help ensure mom is willing to take the trip and could even give junior a way to liquidate an unwanted gift card. My son, for example, was saving up to buy something on Amazon.com. When he got a Target gift card for his birthday, I bought the gift card from him at face value so he could apply the money towards his savings goal. I have no problem cashing out gift cards that are easy for ME to use. I won't, however, cash out gift cards to the toy store or game store. The bailout option is a bonus, not a requirement.
10 Best Gift Cards for Kids
With the criteria set, it's time to talk specifics. Below is my list of the 10 Best Gift Cards for Kids and why I think these merchants make the list.
1. iTunes
Meeting all four criteria, iTunes gift cards can be purchased in spendable dollar amounts, are easily accessible, offer a range of music, movies and apps for a variety of tastes and ages, and mom won't mind cashing it out if needed.
2. Target or Walmart
Also meeting the criteria, Target, Walmart, and other large merchants have a variety of products in all price categories, have stores everywhere (including online) and are easy for mom to cash out if desired.
3. Visa Gift Card
Gift cards that can be used anywhere are wonderfully convenient because kids can shop locally or online at any place Visa is accepted. You can even make your own gift card with the child's image, name, and a special message. I've made personalized gift cards for each of my kids, and, even though they spent the money right away, they kept their cards afterwards.
4. Amazon.com
The only reason this gift card isn't at the top of the list is because of shipping charges. My kids often shop Amazon.com, looking for items precisely within their budget, but get disappointed when shipping charges are tacked on at the end. Then, they to make the hard choice to pay extra for expedited shipping or wait longer for the gift to arrive.
5. Movie Gift Card
A gift card to the local theater or a Fandango gift card that can be used at almost any theater is a good choice for kids. I like to put at least $20 on a movie gift card to cover admission plus popcorn. Deliver with a pack of theater candy that the child can enjoy immediately or save for the movie.
6. ColdStone, Baskin Robbins, or a local Ice Cream Store
Kids enjoy buying treats for themselves and may even spring for the rest of the family with this gift card. Low dollar amounts are usable. Just be sure the location is accessible because online isn't an option and mom may not be inclined to cash out a gift card she doesn't want either. Same goes for Frozen Yogurt shops.
7. Subway, In-n-Out Burger, Taco Bell, and other fast foods
Provided mom is okay with fast food, these gift cards are fun for kids and tweens to receive. My daughter is obsessed with Taco Bell (please don't ask me why). She received a $20 gift card to Taco Bell, has been there four times, and still has money left on the card.
8. Favorite Clothing Store
Clothing stores only make the list if you put a usable dollar amount on the card and know where the recipient likes to shop. If you're not sure about stores like Old Navy or Forever 21, get a gift card to a department store with a variety of brands instead.
9. Accessories
Similar to the clothing recommendation, girls might enjoy a gift card to Claire's. Just make sure there is a location nearby the recipient. Since trying on stuff is half of the fun, girls likely won't enjoy shopping for accessories online near as much as they will at the store.
10. Sporting Goods
If you have a sporty guy or gal on your list, then a gift card to Nike, Sports Authority, or a local sporting goods store is a good choice. Don't underestimate the importance of the amount. My son loves the Nike Elite socks, but a $20 gift card only buys one pair.
Though you might be tempted to buy a gadget instead of a gift card, I suggest holding off on that. Check our my informal study of "Gift Cards or Gadgets" and this post on the "Worst Gadgets of 2017."
What do you think? Is there anything I forgot? The gift cards listed above are fairly universal and follow my criteria for the best types of gift cards for kids. You can always get more unique gift cards such as a gift card to the local bowling alley, bounce house place, or cupcake shop. Although local cards are fantastic (and are encouraged!), they should still fit the rules above for a successful experience–being usable and accessible as a top priority.
Happy Gift Carding!
~Shelley Hunter, Gift Card Girlfriend