The best gift cards for kids graduating elementary school and moving up to middle school or junior high school.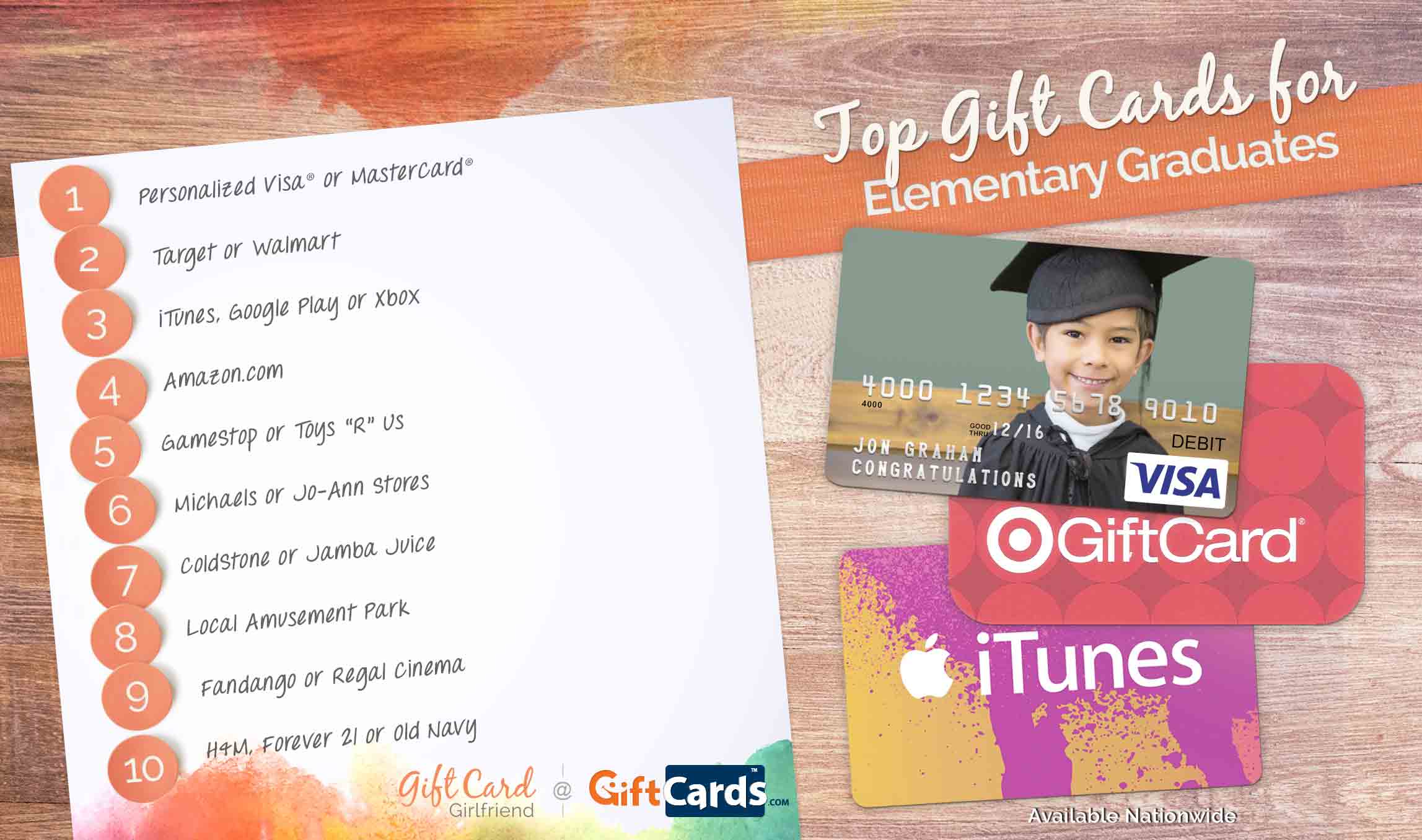 I've got three kids and my youngest just "graduated" from elementary school. I put that in quotation marks because I've heard moving from elementary school to middle school is more of a promotion than a graduation and I recently received an email from the school district saying my son had matriculated to middle school. That's probably not a word I would use, but whatever. The point is, he graduated fifth grade and I got him a gift. I bought him a Big 5 gift card for completing "The Big 5." He's a sports nut so he loved it, and I took care of the gift in a matter of seconds, so I loved it as well.
Below are my Top 10 Gift Cards for Elementary School Graduates, selected from stores and merchants on the National Retail Federation's list of Top 100 Retailers.
1. Visa® Gift Card or Mastercard® Gift Card
While any gift card is fun to receive, a personalized Visa gift card or a custom Mastercard gift card is truly the most fun for kids to receive. In fact, my son and I just got done making a birthday gift card for one of his friends. We picked a photo from my phone and used it to create the card and placed the order–then he unpaused the Xbox game he'd been playing and went back to "work." Super easy and super fun.
2. Target or Walmart
My kids love to receive Target and Walmart gift cards because they can shop for so many different products including everything from electronics and toys to clothes and makeup. The hardest part for me is that when we hit these stores, the kids scatter, each wanting to get to their preferred sections first.
3. iTunes, Google Play or Xbox
Just this morning, my kids downloaded a game on Xbox and later my son asked for money to buy an editing app for Instagram. I think we used to ask my mom for money to buy new vinyl 45's. Not anymore, if it aint digital, it's just not as exciting. Get a gift card to iTunes, Google Play or Xbox to celebrate elementary school graduation and give the kids the technology they're going to bug you for anyway.
4. Amazon.com
Speaking of electronics, a gift card to Amazon.com can be used to buy a new smartphone, tablet, smartwatch or hundreds of other gadgets. For kids who don't care as much about digital stuff, Amazon.com has books, clothes, toys and a million other items to choose from. This gift card can even be used to download movies and other forms of entertainment as well.
5. GameStop or Toys "R" Us
It may be a formal ceremony, but these graduates are still just little kids. What do kids like? Toys and video games top the list. Get your elementary school graduate a gift card to GameStop or Toys "R" Us to get the summer started off right. If you don't have either store nearby, both gift cards can still be used online.
6. Michaels or Jo-Ann Stores
Crafting isn't just for girls and summer boredom isn't just for boys. With a gift card to Michaels or Jo-Ann Stores, your graduate can pick up supplies for a project or take classes to learn a new skill. My son loves to make paracord survival bracelets so for a few dollars, we can stock up on enough nylon rope to keep him busy for hours. A gift card to a craft store just may save your summer.
7. ColdStone or Jamba Juice
I scream, you scream…you know how the rest goes. What I love about gift cards to ColdStone, Jamba Juice and other kid-friendly stores is that a little bit of money can go a long way. A 25 dollar gift card, for example, could be used 5 times or more! That's a lot of treats for a tiny little card. Since kids like the experience of shopping for themselves, you might find these gift cards are delightful as well as empowering.
8. Local Amusement Park
If you're planning a trip to an amusement park over the summer, get your little graduate a gift card that can be used when you get there. I took my kids to Disneyland on their birthdays a few years ago and it happened to be the Disneyland birthday extravaganza year, so each got a 50 dollar gift card to spend in the park. They loved shopping the shops to pick out a souvenir that I definitely wouldn't have purchased for them. Gift cards that make an upcoming adventure even more memorable should definitely be on your list for elementary school graduation.
9. Fandango or Regal Cinema
Speaking of summer adventures, a movie theater gift card is totally appropriate for graduation from elementary school. With blockbuster movies coming out this time of year, kids can use a gift card to Fandango, Regal Cinema or another theater to buy tickets or just spring for popcorn after you pay for admission. (Admittedly, my kids are on the fence when it comes to movie gift cards. They think that since I typically pay for their movies, this is more of a gift for me than it is for them. But I think there are many more kids in this country who don't have the luxury of seeing every movie that comes out and who might enjoy the opportunity to do so. That's why movie gift cards make my list.)
10. H&M, Forever 21 or Old Navy
All of my kids morphed a little when they went from elementary school to middle school. They suddenly noticed they weren't wearing brand name clothes and suddenly cared what their hair looked like when I dropped them off in the morning. I don't think my kids are unique in this area. If your child is making a similar transition, celebrate graduation with a gift card to H&M, Forever 21, Old Navy or another store with the fashions he or she is leaning towards. Your baby is growing up. Might as well embrace it.
As you consider which gift card to buy for elementary school graduates, remember that these kiddos can't run to the store themselves to redeem the cards. So you'll want to make sure that a parent is able and willing to make the trip or that you offer to take the child shopping instead. Gift cards that can be redeemed online may be the perfect solution for everyone.
If you have another suggestion for this Top 10 Gift Cards for Elementary School Graduates, then let me know in the comments below or reach out to me on Twitter (@GCGirlfriend).
Happy Gift Carding!
~Shelley Hunter, Gift Card Girlfriend