The best gift cards to buy for dad on Father's Day, chosen from top stores and restaurants plus ways to make gift cards for dad more personal.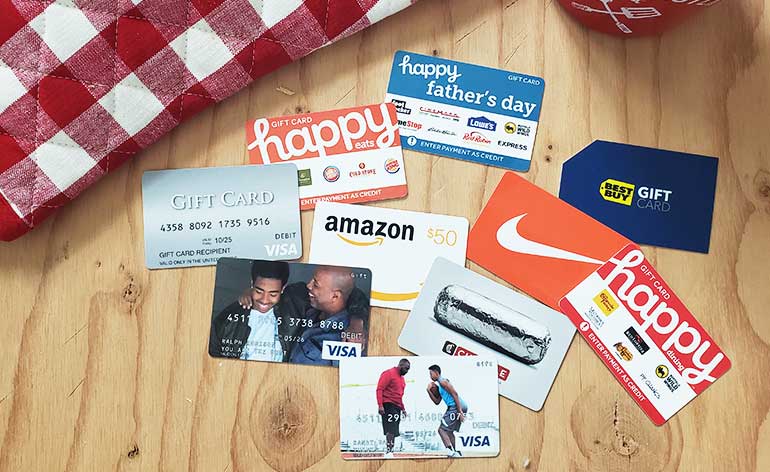 10 Best Father's Day Gift Cards for Dad
When it comes to Father's Day gifts, my advice is to keep it simple. Maybe I'm being stereotypical here, but the dads in my life (husband, father, father-in-law and a bunch of brothers) are all pretty down-to-earth, hardworking men who try to be good dads and who probably don't spend enough time taking care of themselves. So this list includes a little bit of everything–from the classic hardware store gift card to the more unique, custom gift card–in hopes that you'll find at least one of my Top 10 Gift Cards for Dads will make the perfect Father's Day gift.
And just so you know, I primarily selected gift cards from stores and restaurants that are on the National Retail Federation's list of
Top 100 Retailers
. That way, the gift cards should be easy for you to buy and easy for dad to redeem.
1. Happy Father's Day Gift Cards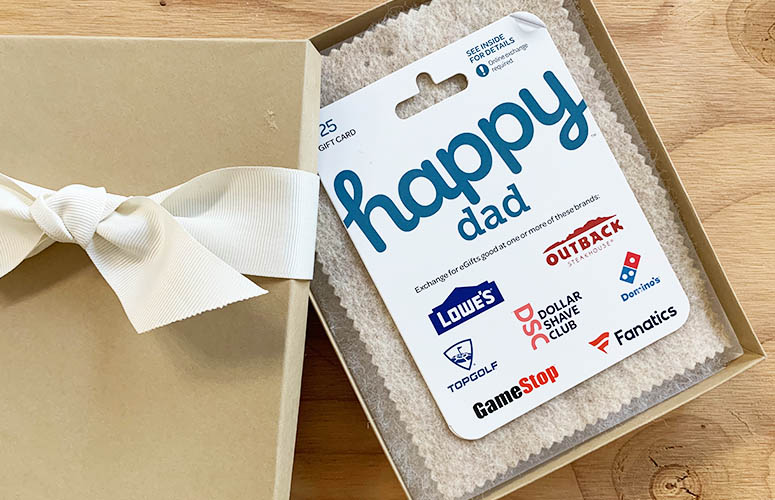 This gift card says it all. The Happy Dad or the #BestDadEver gift card from the Happy Card collection is usable at any of the stores or restaurants listed on the card. Dad can use the card to go the hardware store, pick up lunch, enjoy a nice dinner, go the movies and more. Just keep in mind, these gift cards must be used in person–not online.
Here's an explainer video on the Happy Father's Day gift card for more information.
2. Visa Gift Card or Mastercard Gift Card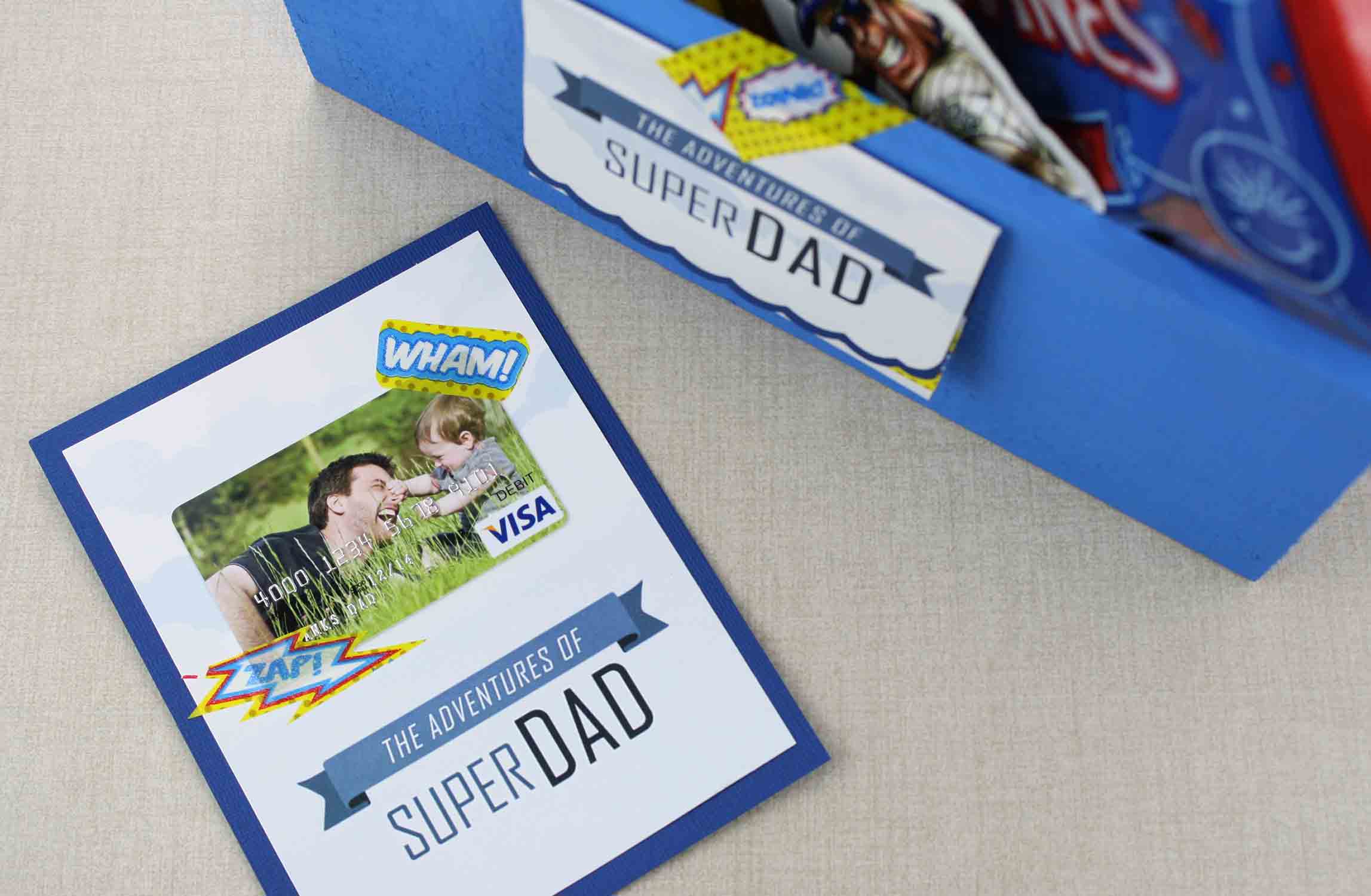 With a personalized Visa gift card or a custom Mastercard gift card, dad can spend the dollar value of the card pretty much anywhere he wants to shop. He can throw the card in his wallet and keep it handy for an emergency or spend it on something fun like his next concert t-shirt or a bratwurst at the ballpark.
3. Gaming and Grubbing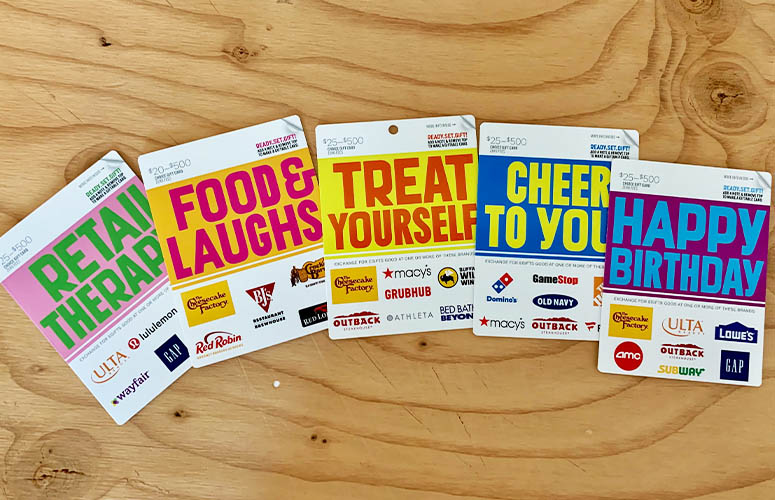 Electronics store gift cards used to be reserved for the gadget guys and tech nerds, but that is no longer the case. With the proliferation of personal computing devices, mobile technology and gaming devices, almost any dad will enjoy a gift card he can use to upgrade his smartphone, buy a new phone case, test drive a fitness device or level up on his favorite game. Rather than guess which store he prefers to shop, check out the increasing array of multi-store gift cards to give you (and Dad!) even more options.
Check out Game & Grub for sure.
4. Home Depot or Lowe's
Dad doesn't have to be super handy or sport a tool belt on the weekends to enjoy a gift card to the home improvement store. Home Depot and Lowe's both sell outdoor patio furniture, barbecues, plants and hundreds of other home accessories. For the dad who does like to get his hands dirty, a hardware store gift card can be used to buy lumber for the new deck he's building or a hammock to hang in the backyard when he's done.
Get this free printable gift card holder for dad: Nobody measures up!
5. Bass Pro Shops, REI or Cabela's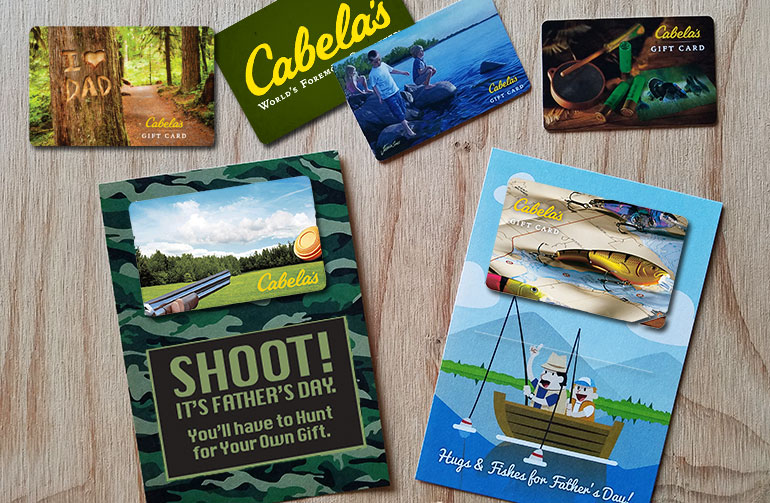 If your man works hard for the money, then he deserves to be a little self-indulgent on Father's Day. Get him a gift card to Bass Pro Shops, REI or Cabela's so he can renew his fishing license, pick up a new pair of hiking boots or finally upgrade his tackle box. If dad is more apt to dress the part than actually venture into the great outdoors, he can always use a sporting goods gift card to pick up some casual clothes for relaxing around the house.
For the dad who loves to play ball, a Dick's Sporting Goods gift card is the perfect choice. He can buy new game gear or pick up a new swimsuit for the summer.
Get free printable gift card holders for dad
6. Amazon.com or Barnes & Noble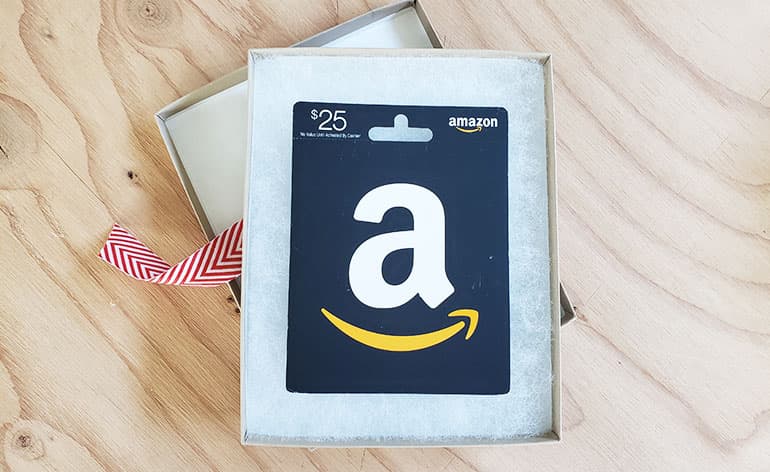 An Amazon.com gift card is almost as universal as a bank-issued gift card because the website sells everything from Swedish Fish to Apple watches. Seriously. About the only thing I don't consider buying on Amazon is fresh fruit–which the company actually does sell. While Barnes & Noble doesn't carry quite as much merchandise, dad can certainly use it to download a new ebook or update his music collection.
Here's a tip. Send dad a digital Barnes & Noble gift card. With so many things you can buy electronically, digital gift cards are as easy to use as plastic cards–and shipping is free.
7. Google Play or Xbox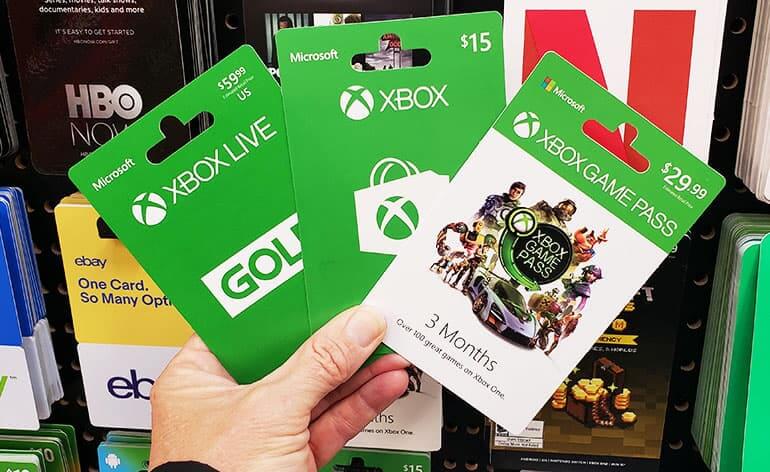 For guys who like to play games or listen to music, an iTunes gift card, Google Play gift card or Xbox gift card may be the way to go. Just be sure to check which devices he has before making a purchase. Although you don't need an Apple device to download music via iTunes, a Google Play gift card works best with Android and you'd obviously need an Xbox device to use an Xbox gift card.
8. Nike, Champs or Foot Locker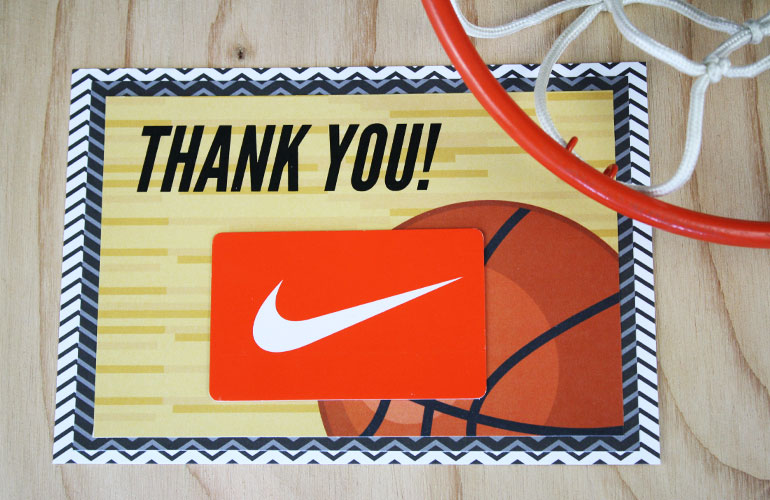 Like the sporting goods gift cards already discussed, brand name sportswear gift cards such as Nike, Champs and Foot Locker are in high demand for dads on Father's Day as well. What I like about these gift cards is dad can use them to buy game-specific athletic wear or simply comfy clothes to wear on the weekends. Since Nike gift cards can be used and their discount and outlet locations, dad may even be able to use the gift card save a little money on his way to looking sportier than ever.

9. AMC Theatres or Regal Cinemas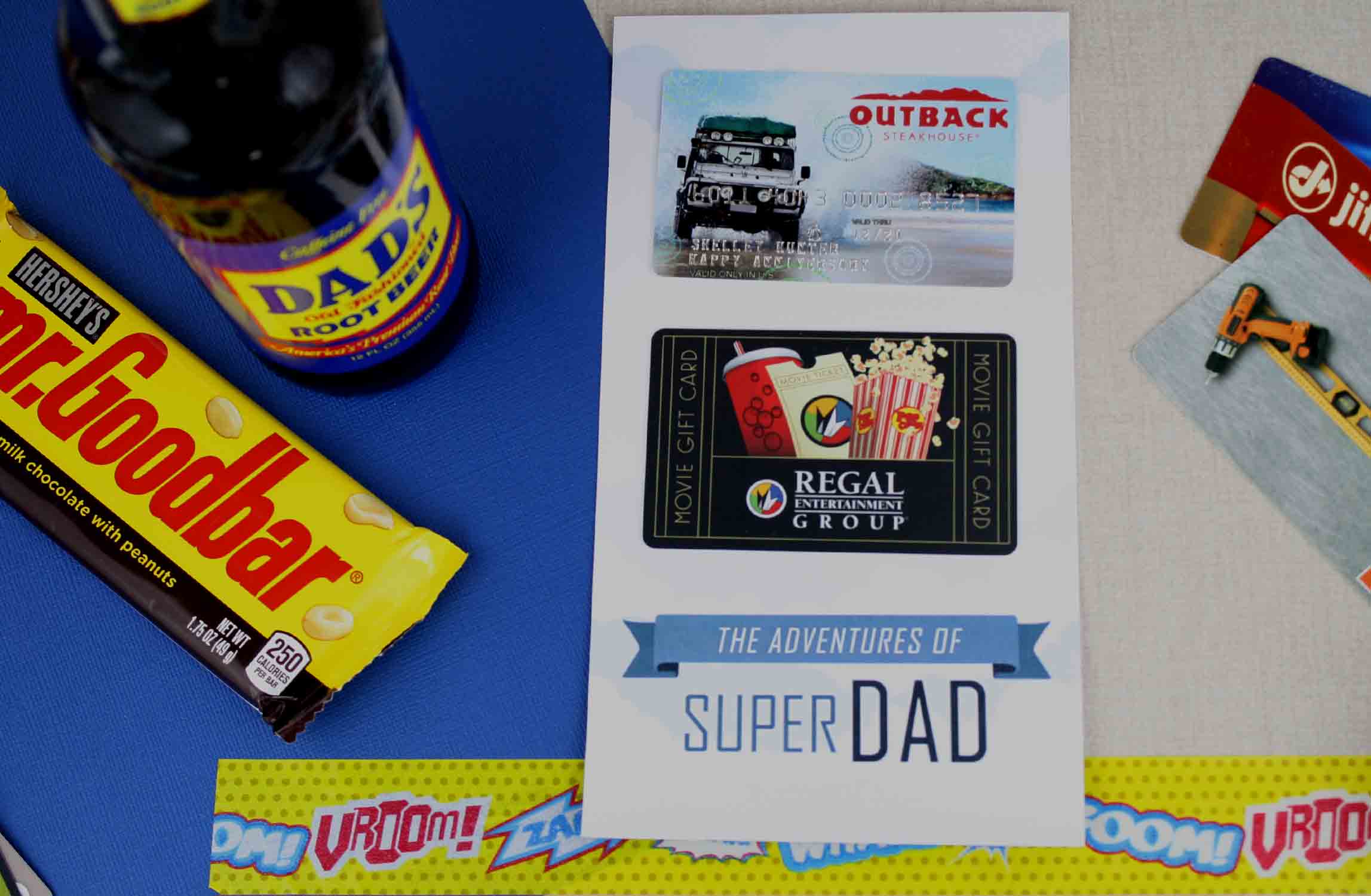 If dad likes the movies, then a gift card to the cinema is a perfect choice. With action films being the norm during summer months, dad can use an AMC Theatres or Regal Cinemas gift card to see the latest Will Smith or Dwayne Johnson blockbuster. Since these gift cards can also be used for concessions, dad can fill up on a bucket of popcorn and a gallon-size soda while he's at it.
10. Starbucks, Jamba or local coffee shop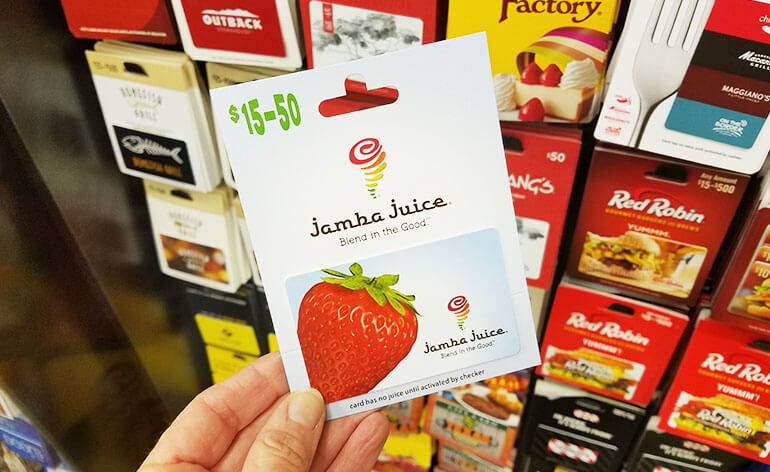 When all else fails, get dad his morning fix for Father's Day. With a gift card to Starbucks, Jamba or his favorite local coffee shop, dad can fill up on your dime for days. That's the great thing about gift cards to places like these–a little bit goes a long way. If dad is a loyal visitor to one of these shops, you can probably even send a digital gift card right to his mobile app. That's a quick way to check Father's Day off your list in seconds.
Did I miss any of your dad's favorite gift cards? Like I said above, I opted for nationwide stores so that the gift cards are easy for you to buy and just as easy for dad to redeem. But I certainly encourage shopping local as well. If there's a sports venue in your area, a downtown restaurant dad likes to visit or a local barber shop in town, then get him a gift card to one of those places. By paying attention to the retailers dad regularly visits, picking out the best Father's Day gift card for him shouldn't be a problem.
If you have another suggestion for this Top 10 Father's Day gift cards, then let me know in the comments below, on Twitter (@GCGirlfriend) or on Instagram (@Gift.Card.Girlfriend).
Happy Gift Carding!
~Shelley Hunter, Gift Card Girlfriend